LUXURY BLUE CRUISE IN TURKEY
A Blue Cruise, also known as a Blue Voyage (Turkish: Mavi Yolculuk) is a term used for recreational voyages along the Turkish Riviera, along with the magical Aegean and Mediterranean seas that are crystal clear. The cruise allows passengers to enjoy a one week trip aboard with traditional gulet schooners to many hidden destinations, ancient cities, harbors, intimate private beaches, bays with lush forests, and tranquil bays. This type of holidays provides you with a unique holiday experience that offers many possibilities and everything can be planned out by your wishes and special requests.
Top luxury gulets to consider for the blue cruise
Most preferred super luxury yacht with superb amenities and exquisite design! Gulet can accommodate 8+2 guests in 4 deluxe suits that provide lots of space for your leisure time and personal stuff. Modern luxury Silver Moon will stand out among other Turkish yachts with her sleek lines, 36-meter size, exquisite design. It was built in 2010 and since then it provides astounding Blue Cruise experience clients who come back with a hundred percent satisfaction that is secured by 5 attentive crew members.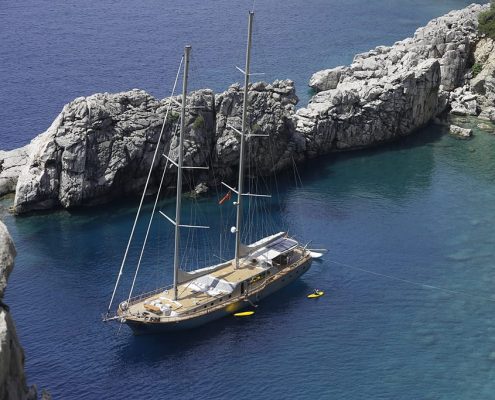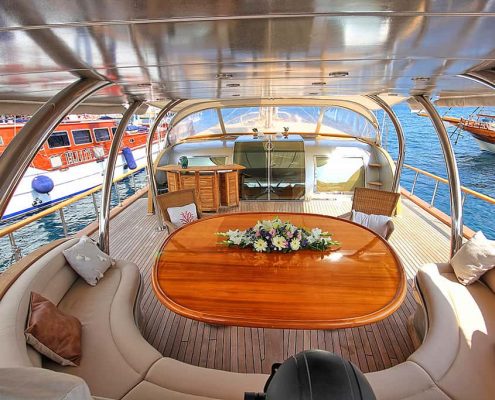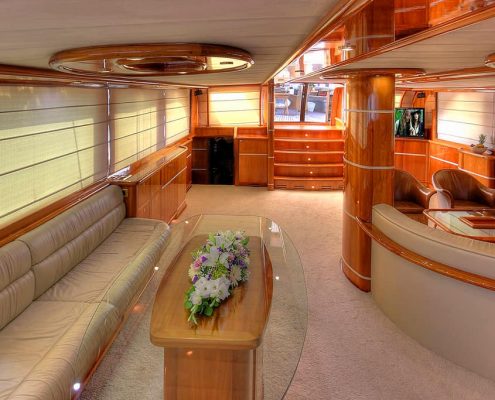 If you like the modernity of motor yacht but you like the design of a traditional wooden gulet that can also sail then you hit the jackpot! Daima built out if high-quality materials and excellence in craftsmanship that doesn't fail to amaze everyone. Exterior and interior are both sophisticated and provide guests with features that secure pleasant cruising. There all overall 5 cabins that can accommodate up to 10 guests, and they are well equipped with everything that 5-star hotel would offer too! Daima has also been a champion of Bodrum regatta with her captain and crew of 6 two times! Anyone looking for amazing gulet sailing experience should definitely consider Daima.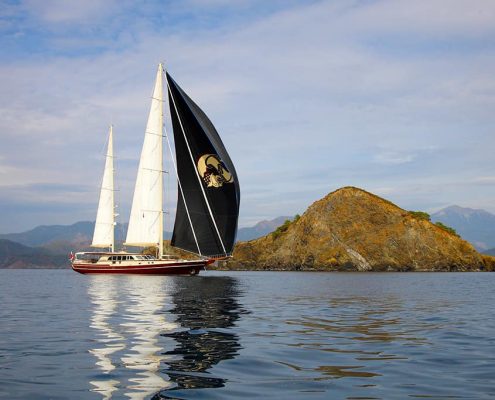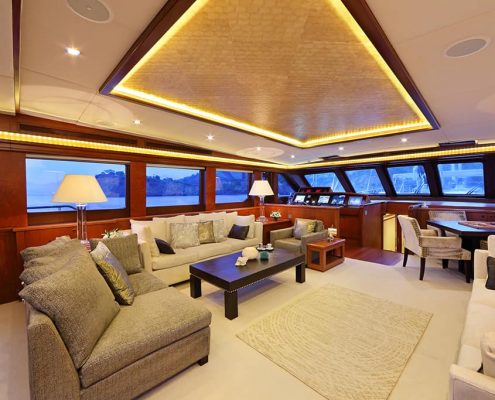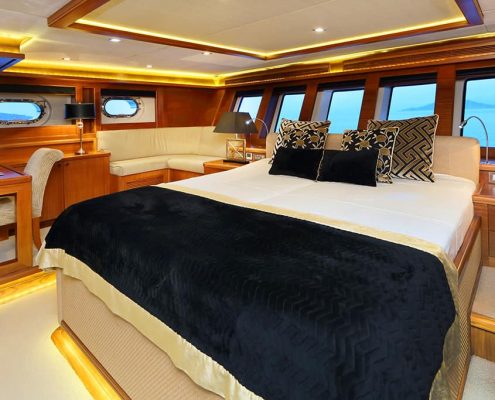 Elegant lines raise the standards of a luxury cruise. This is a super-sized traditional wooden gulet that raises the standards of on-water luxury yachts in Turkey pretty high. Her interior is gorgeous and in warm colors filled with elegant details, which gives an overall classy interior feel. It is a great choice for family or friends cruise who wish to explore the coastline of Turkey with the possibility of having a babysitter on board too. The amazing chef will wake up all your taste buds with his amazing meals and a crew on board is very professional and they will make sure you are always comfortable and stress-free during the whole cruise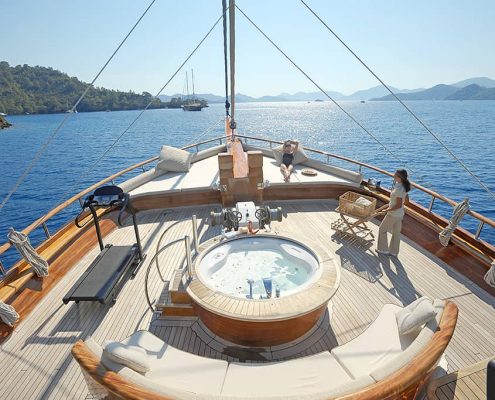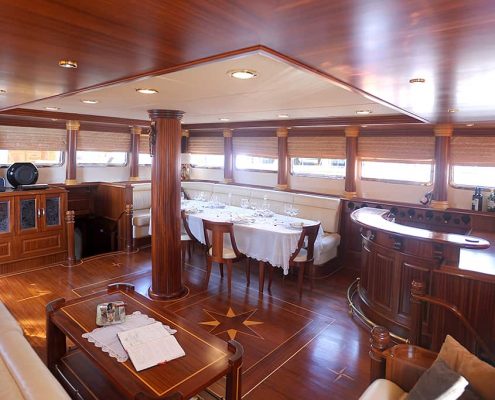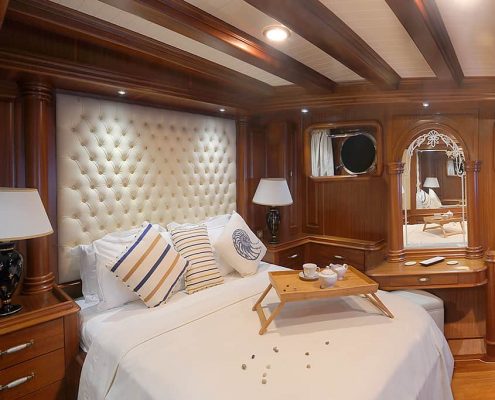 Designed to provide all guests on board with an unforgettable active cruise experience. Each detail was planned out with the comfort of guests in mind which can be seen in the interior and spacious cabins with lots of room for your luggage and leisure time. A professional 6 person crew will provide you with everything you might need while chef's skills will impress even the toughest critics since he will prepare meals personalized according to your demands. Double Eagle with a vast choice of watersports available ensuring that everyone will find their type of fun.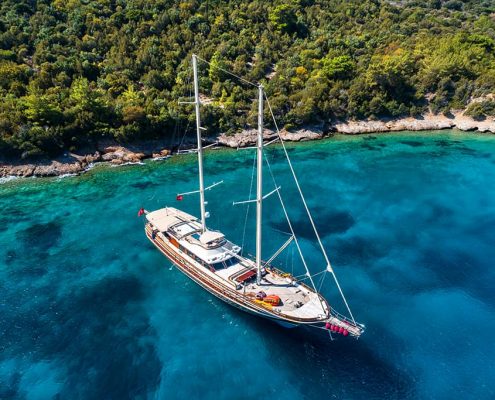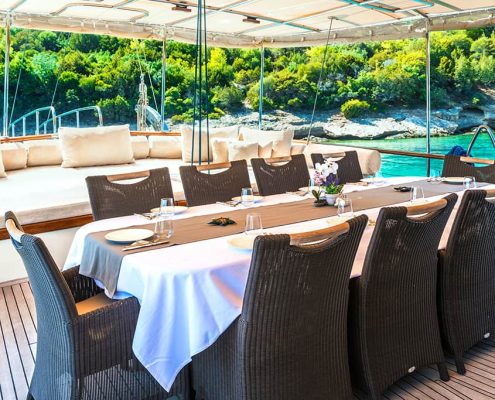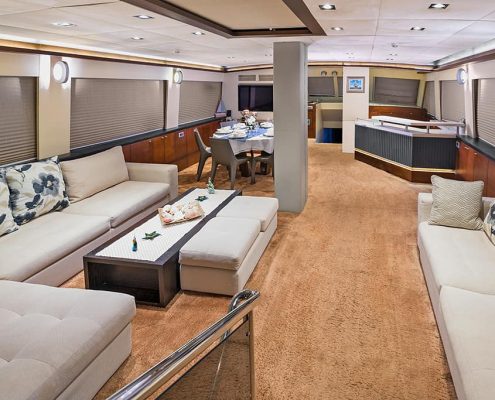 If you are looking for a fine relaxing cruise this is the choice for you. Beautifully designed exterior and interior provide comfort for 12 guests on board. On deck, you'll find spacious lounges, jacuzzi, water toys, jet ski on request and sun cushions ideal for relaxing and enjoying during the cruise. Your personal Chef will take care of your luxury meals, buffet breakfasts, and dinners created to please everyone. Crews approach will make your cruise special and a memory you will treasure for life.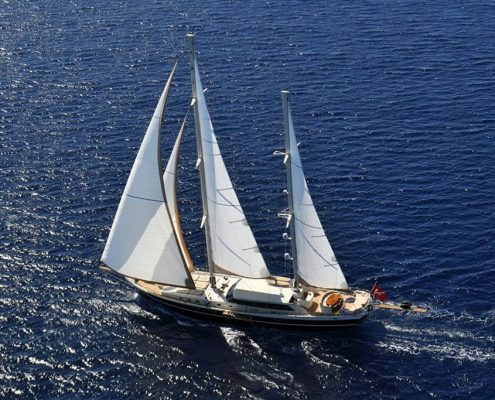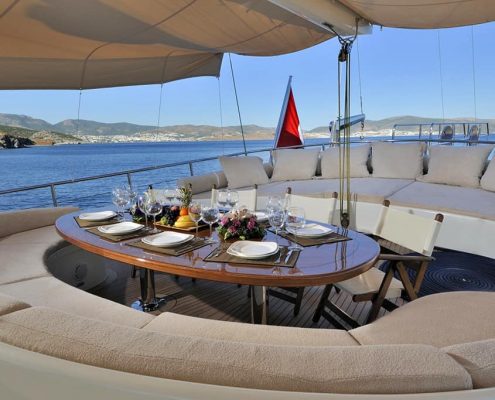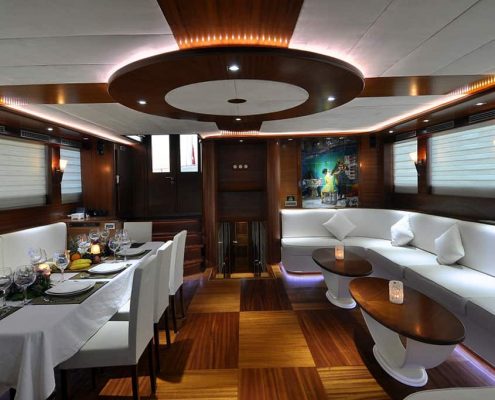 Best routes for blue cruises
There are different route possibilities available raging from ones designed for those looking for getaways from large crowds, nature lovers, food gourmands, culture and history enthusiasts, adrenalin seekers looking for thrilling watersports and activities, to routes best fitted for groups who want to engage in various activities… Here are few of the best routes for blue cruises in Turkey that might suit you!
1. Blue cruise route sample: Bodrum – Gokova gulf – Bodrum
Enjoy in active holidays on the Turkish peninsula.
This amazing route will amaze everyone who wishes to have a balanced mix of active and relaxing summer holidays filled with unforgettable memories, beautiful destinations. nature, cities, and islands. Get ready to be amazed by continuous beauty, amazing food, never-ending activities and ultimately relaxing and having the best cruise experience!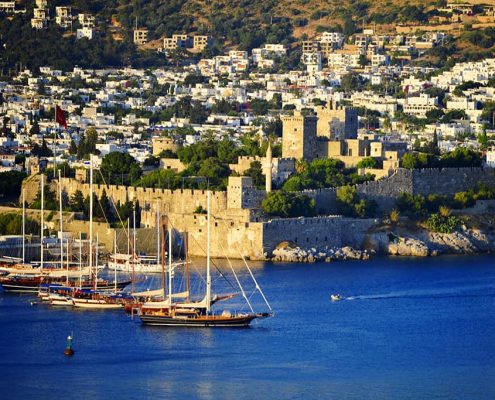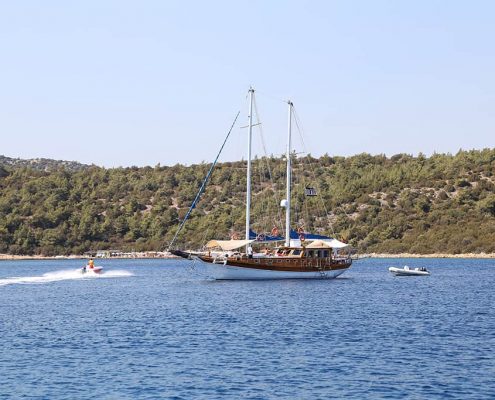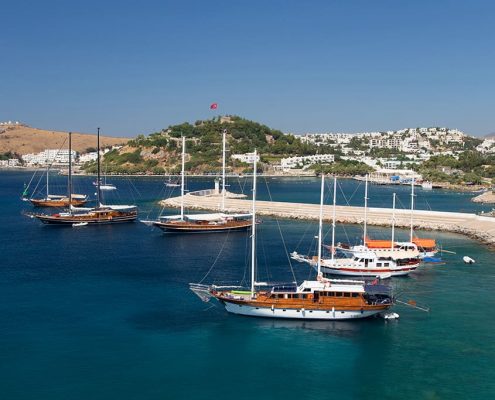 2. Gocek – Gulf of Fethiye – Gocek
Get inspired by the beauty of Turkish coastline and culture.
Perfect route for groups who want to explore all the hidden gems of the Turkish coast to the fullest. Visit some of the most beautiful beaches, islands, and bays away from mass tourism. Enjoy and relax in the stunning secluded picturesque bays, anchor swim in the clearest sea, sunbathe and enjoy in watersports and other extra activities. With this cruise, you can truly have the most of your holidays.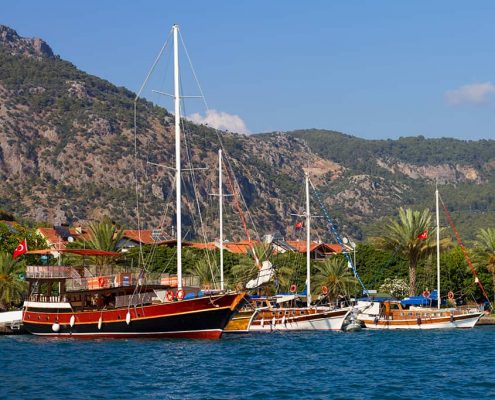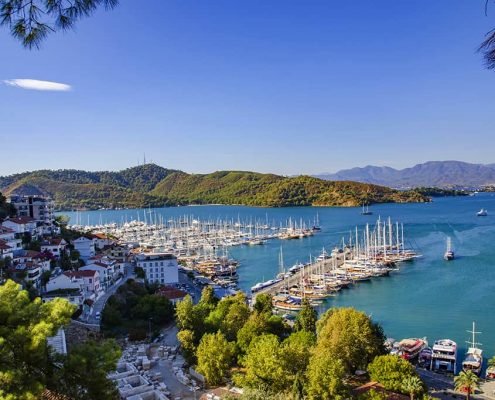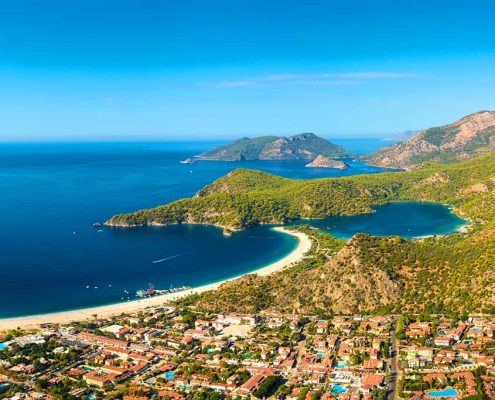 3. Gulet Charter Route: Gocek – Kekova – Gocek
Perfect holiday getaway away from mass tourism.
With this route, you will get to see some of the most amazing bays and hidden gems that the Turkish coast has to offer. There will be many opportunities to have fun on the sea and on land as well, with watersports, hiking, paragliding, enjoying on beaches etc. There is something for everyone, no matter if you are watersports enthusiast or family with kids, this route is quite adaptable for almost all need and generations. If your idea of perfect holidays consist of going on a getaway from mass tourism that this is your lucky choice!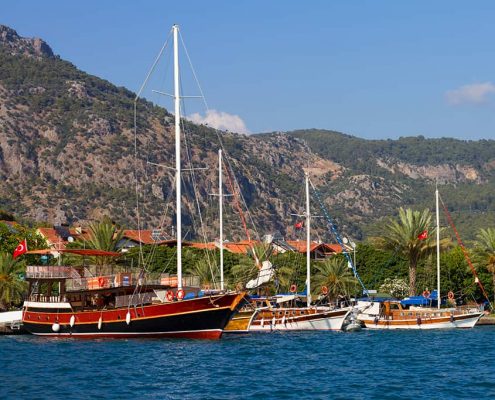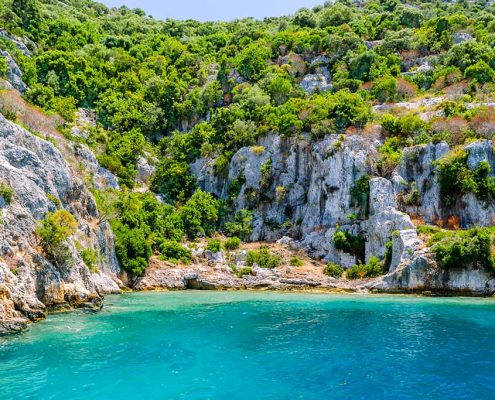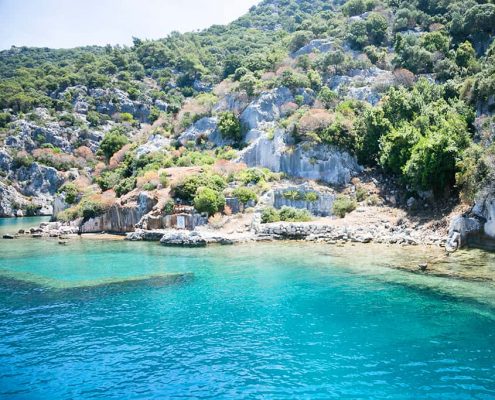 4. Marmaris – Bozburun – Greece – Marmaris
Discover treasures of the Bozburun peninsula with a touch of Greece.
Enjoy in all the benefits of the relaxing gulet cruise and explore the nature of Turkish coastline with a touch of magical Greece. Here you'll have the opportunity to combine the best for both worlds and enjoy in many opportunities for diverse watersports activities, spending days under the sun on the beach and ultimately relaxing and having truly the best holidays of your life.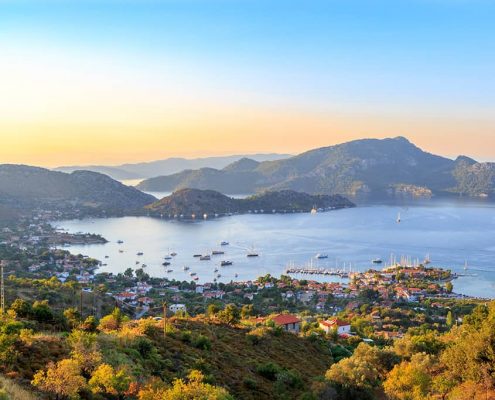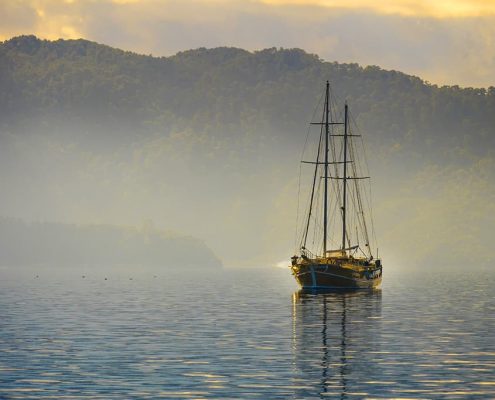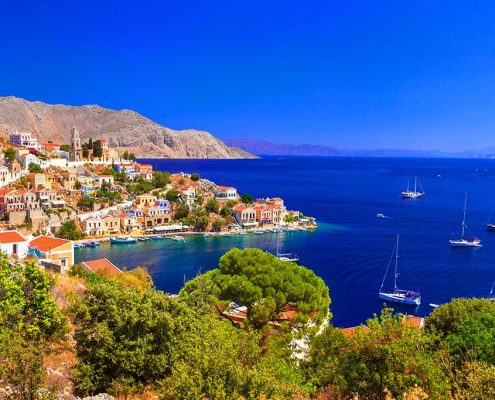 How to organize the best blue cruise in your life
We'll help you find the right yacht for you:
Finding the ideal fit for your group that matches your expectations is more of an art than anything else and you can fully trust our yacht wizards with that.
We will persist in looking until we find a yacht that you will immediately fall in love when you see it!
All your wishes will be taken into careful consideration in order to provide you dream yacht and holidays.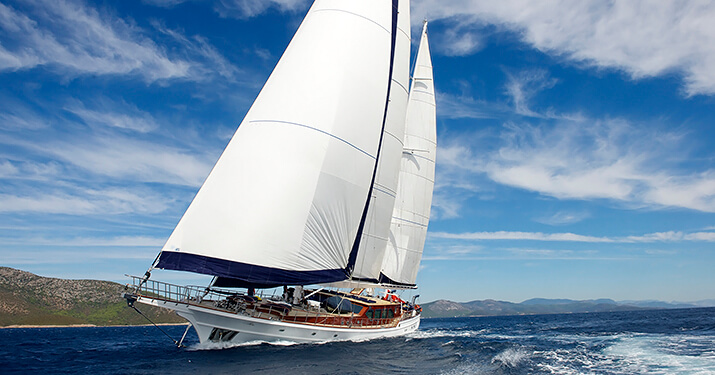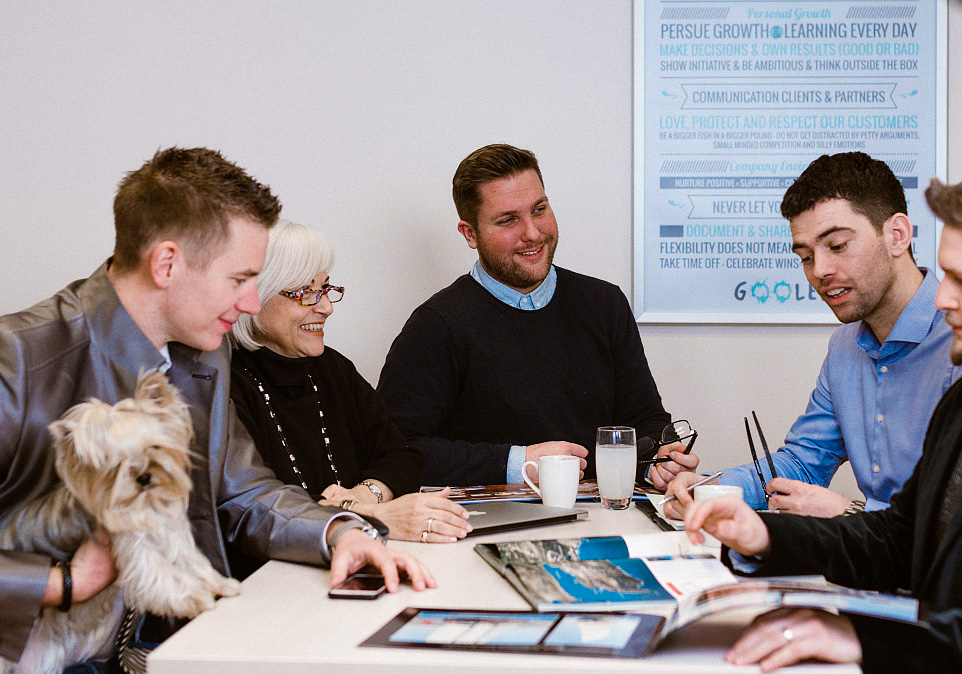 We will fully prepare you for the cruise and help you with planning the route of your choice.
Whether you are looking to explore the Turkish coastline, the decision where you go is completely up to you!
Our mission is to make it happen for you and ensure that it's a truly outstanding vacation.
We will gladly advise you on:
The most exquisite locations you can't afford to miss!

Popular local and touristic activities – that suit your group preference.

How to combine it all together so that you get the most out of your cruise.

This preparation phase starts five weeks before your cruise date, so you have more than enough time to plan everything out
Food and drinks preparation, remember that everything can be personalized!

We give special attention to pleasing your taste buds. Before the cruise starts, our experts will work closely with you and gather all the information about your food and drink preferences, allergies, strong dislikes, or any special occasions you might be celebrating (birthdays, anniversaries, etc.).
We gather food from well-trusted suppliers, fishermen, and butchers that is later double checked by Chef on board who will make and serve you with exquisite meals.
We will make sure none of the details gets lost on the way to the captain, chef, and other deckhands.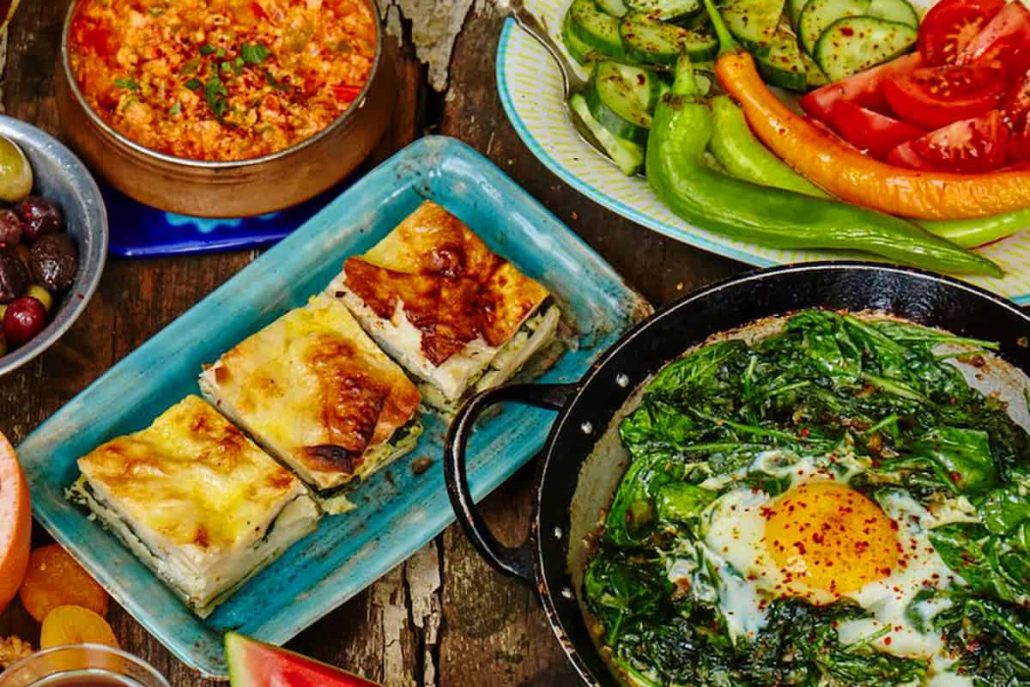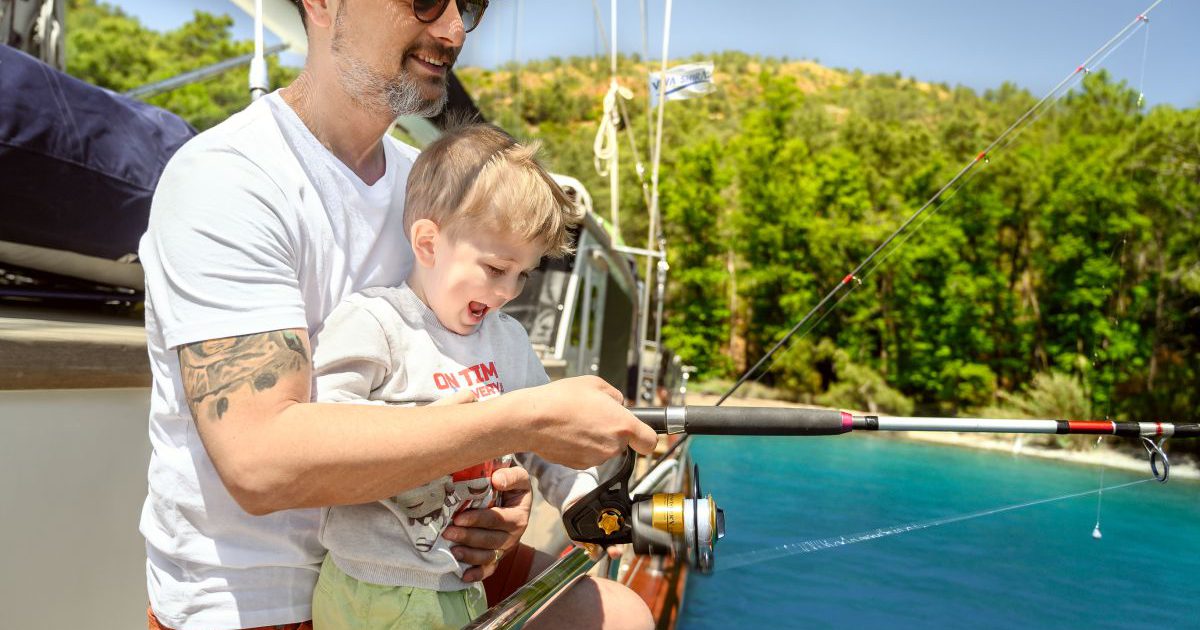 You can count on our 24/7 support BEFORE, DURING & AFTER THE CRUISE

Check in & Arrival Procedure
We'll do our best to ensure your cruise check-in is fast and pleasant! The first impression always matters.
Support during the cruise
We leave nothing to chance so anything you require, desire, or think of just reach out to us and we'll assist you as soon as possible!

Support after the cruise
Our work is not finished until you happily step back on the plane. We will help you with transfers or any activities you might need to fill out the time until your departure.
Payment methods: