Family gulet cruise in Turkey: Best gulets to consider, places to see & things to do
Traveling anywhere for a holiday when you have children can seem challenging at the start but we can help you with that. We are bringing you all the information you should know before booking a family luxury gulet cruise around Turkey. We advise you to get your kids involved in planning a perfect family cruise, especially teens because incorporating some of their wishes can be very helpful later on.
A – Our recommendations for the best luxury gulets for families
Is the most preferred super luxury yacht that comes with superb amenities and design!
35-meter long it was built in 2010 provides astounding Blue Cruise experience to our its dear clients who come back with a hundred percent satisfaction that is secured by 5 dedicated crew members. Gulet can accommodate 8+2 guests in 4 deluxe suits consisting out of one Master, two double and one twin cabins in utmost luxury. Except for luxury interior, the size of the cabins is impressive and all of them offer everything you and your kids might need for a safe, comfortable and luxurious stay that can be compared to hotel rooms.
Is among the most elegant modern gulets with a wide choice of watersports. With 38 meters in length and only 5 cabins, it provides lots of comfort for all guests. There are mentioned 5 cabins that can accommodate up to 12 guests and each cabin is equipped with bathroom, air conditioning, TV and DVD players. The elegant saloon is beautifully furnished, while the deck has cushioned lounge seats and wide deck expanding towards the bow for deck chairs. The crew of 7 members is the final touch to this equation since they will be making sure you are having the best holidays of your life and that you don't miss a thing during the cruise.
Gulet Double Eagle is 39-meter ultra luxury gulet yacht that can accommodate 12 guests on board in 2 masters,1 double,2 triple cabins. She is ideal for cruising in bays of Turkey and Greek islands with a vast choice of watersports for endless fun for you and your kidsIf you need any help with water toys just ask your crew and they will gladly assist you. A professional 6 person crew will provide you with everything you might need and offer high-end service that matches the luxury and design of the yacht. The crew on board consists of the 5 members (Captain, Chef, Waiter, 2 Deckhands).
Dolce Mare is a luxurious gulet popular among many clients looking for a fine relaxing cruise.
Beautifully designed exterior and interior provide comfort for 12 guests on board. On deck, you'll find spacious lounges, jacuzzi, water toys, jet ski on request and sun cushions ideal for relaxing and enjoying during the cruise. You and your kids surely won't be bored! Your personal Chef will take care of your luxury meals, buffet breakfasts, and dinners that will please your kids who are sometimes the toughest critics out there.
B – Best places to visit during gulet cruise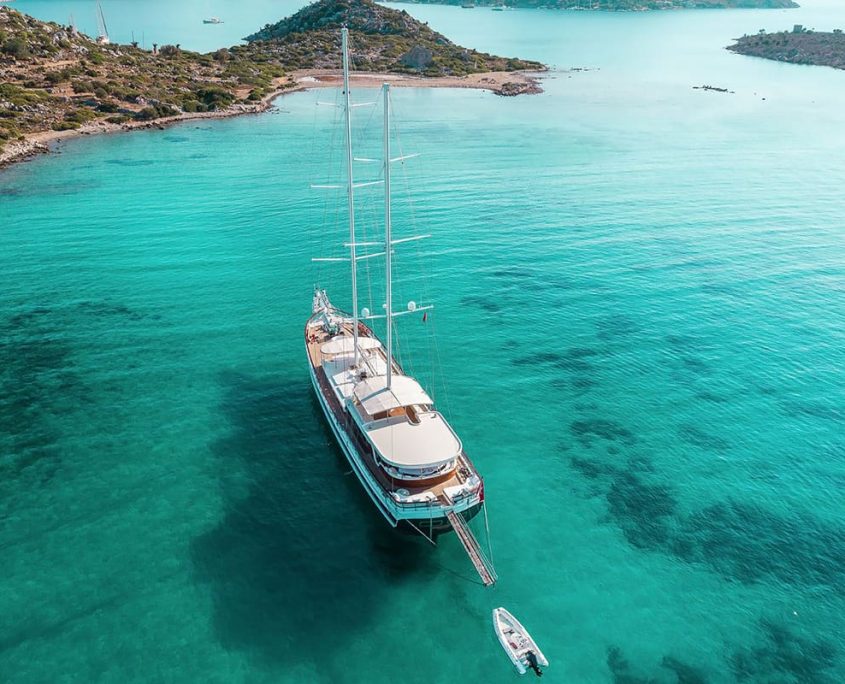 Orak Island is an island dotted with olive trees and surrounded by a crystal clear sea best known for its rich sea life. It is the perfect spot for the kids to swim or snorkel. You can use this time to relax on board, read a book, get some tan or stay active with your kids and use some watersports. Later you can visit Cokertme tiny village where you can visit unique taverns.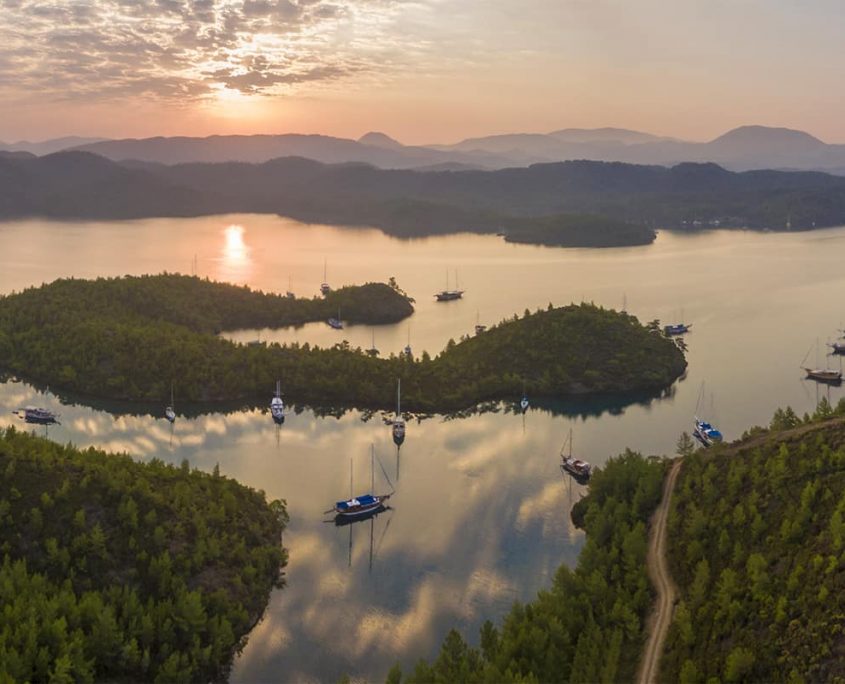 Gokova bay is a popular place for children to snorkel and take part in great water sports.
Go on the Yedi Adalar "7 Islands" cruise and experience nature that is unspoiled and away from the masses. The cruise is of 7 small islands near the Turkish coast and is a beautifully relaxing place where parents love to take walks and bask in the sun as the kids play in the water.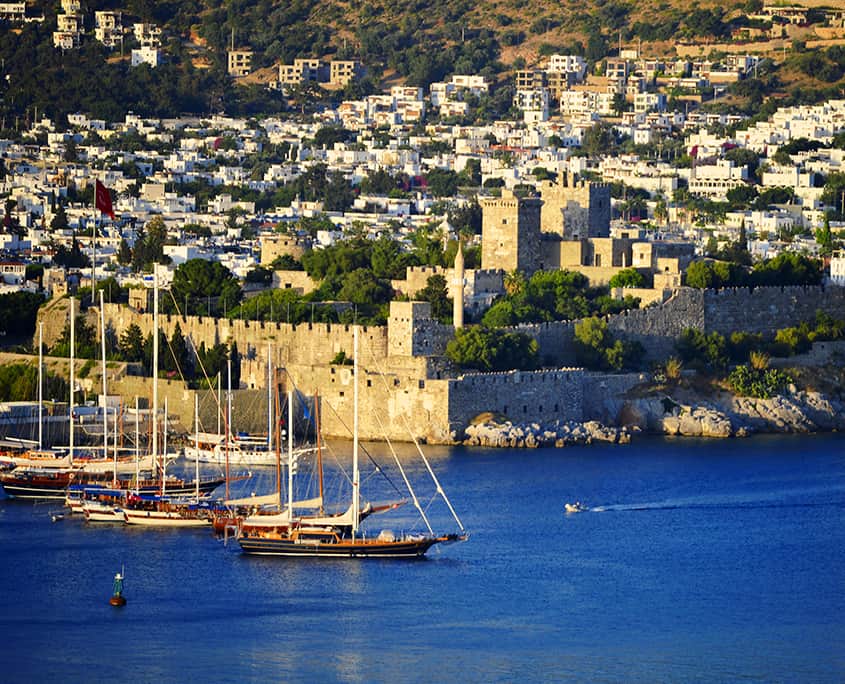 Usually, cruises in Turkey start in gorgeous Bodrum located in a beautiful area that has an amazing harbor. Bodrum is an exciting and vibrant place and you can easily take a day to explore the wonders of Bodrum rich culture and history, and the shops are great too, or you can set off on your cruise straight away.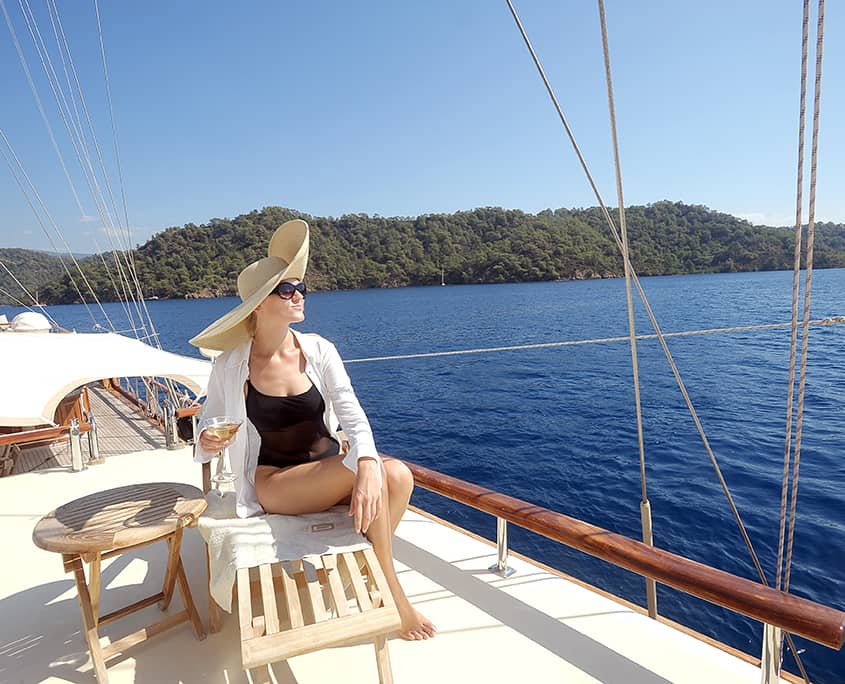 Tuzla and Longoz bay are both equally stunning, but unique places to escape the crowds and enjoy a relaxing experience or for swimming and snorkeling in the calm Turkish waters. You also visit Karacasogut village for the amazing Dolphin Park here you can swim with dolphins or go horseback riding! A tour through Yaliciftlik Village will provide you with genuine Turkish experience which is also unforgettable.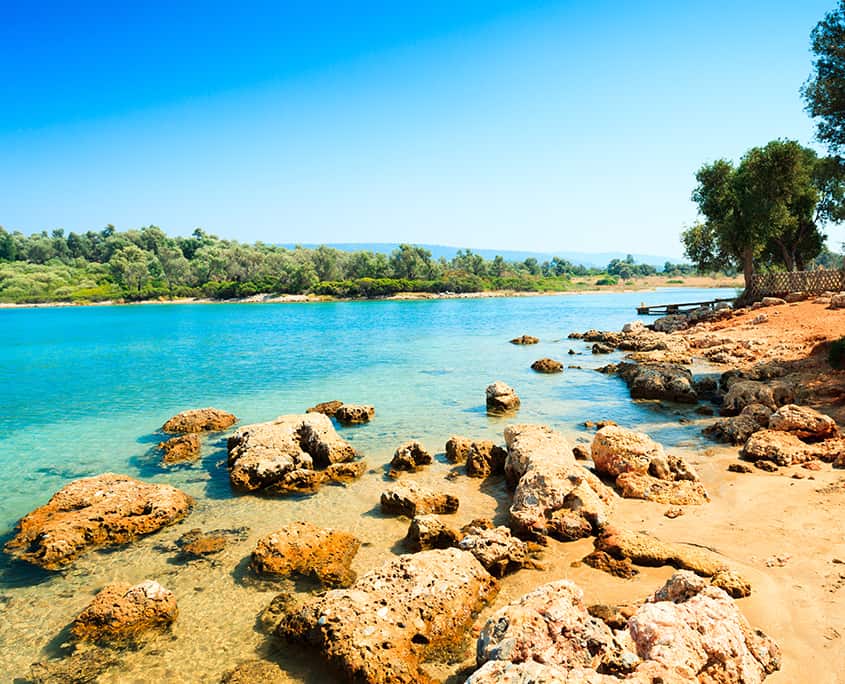 Cleopatra Island is a breath-taking destination with pristine nature. Kids love it because the water is amazing for swimming and parents can sit back and enjoy nature all around them.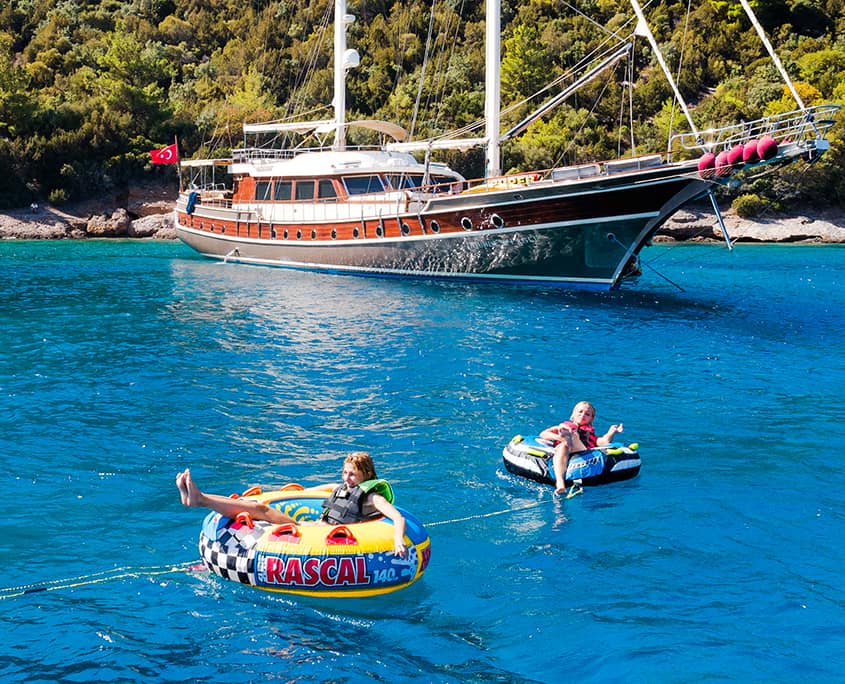 Here you can relax in unique bays, swim, enjoy in watersports, good food, and gorgeous landscapes. Take part in some water skiing, canoeing, donut rides & more.
C – Things to do on a luxury gulet
Before booking a cruise, you here are a few things you can do on luxury gulet: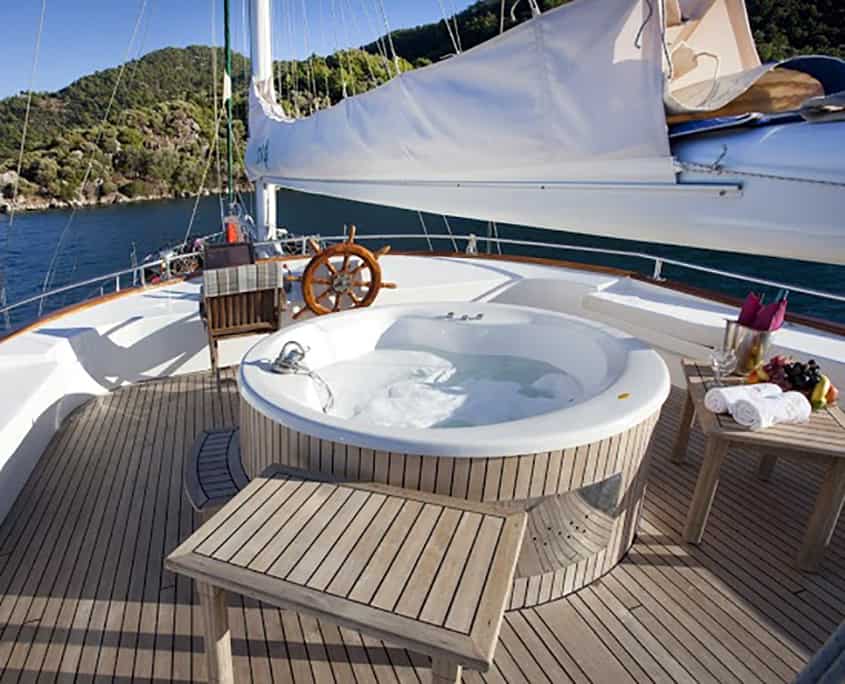 1. Enjoy in pristine nature and views from jacuzzi or pool on board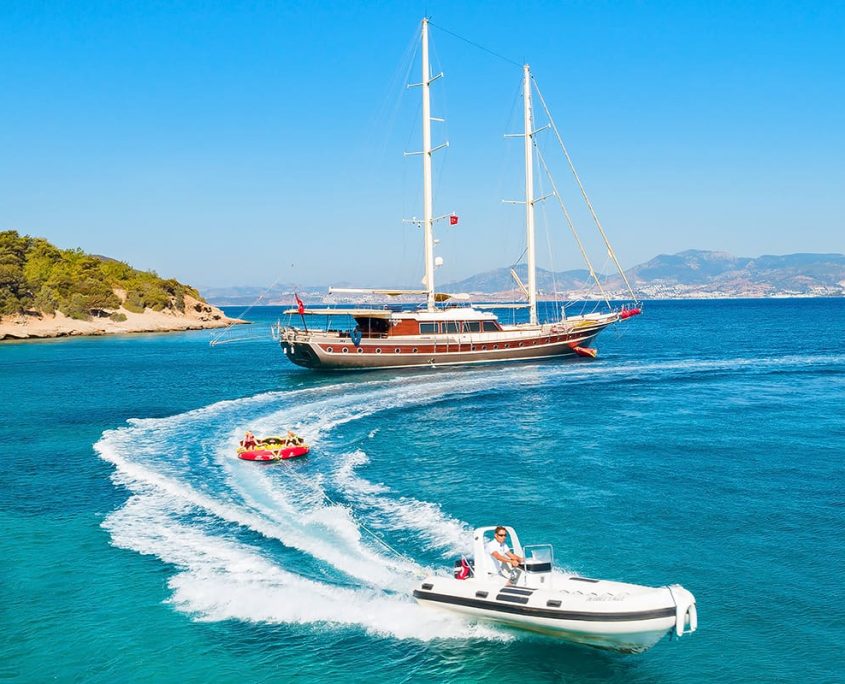 2. Have fun with various water toys, board games, and different amenities available on board
3. Consider booking full board on your cruise (this includes breakfast, lunch, and dinner) – this makes mealtimes easier and less stressful waiting around in taverns and restaurants on land.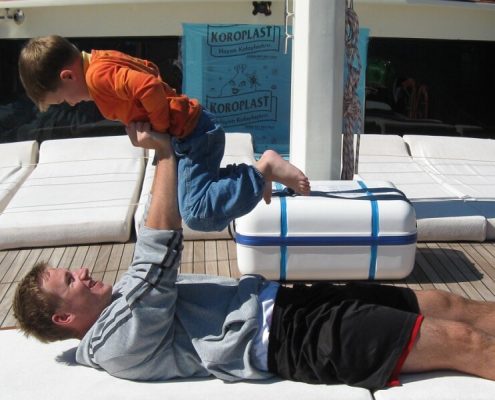 4. Read your favorite book while lying on sun mattresses or have fun with your kids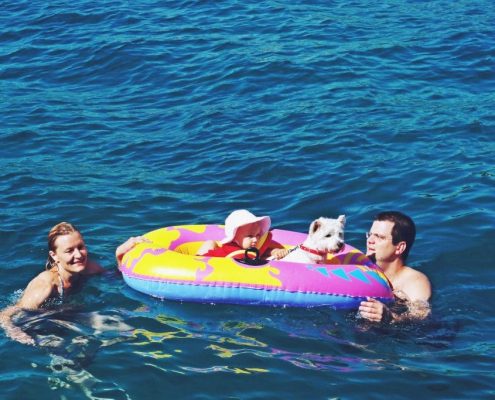 4. Go snorkeling in crystal clear sea and explore the sea with your kids
5. Book a babysitter to follow you on board so you can enjoy in more privacy and alone time while kids are being taken care of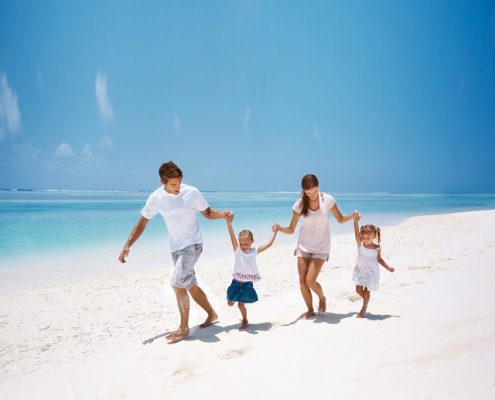 7. Explore historic cities and islands with your kids and let them meet and learn all about the new culture that will enrich their life
Payment methods: