Family luxury gulet cruise in Turkey
Traveling anywhere for a holiday when you have children can seem challenging at the start but we can help you with that. It is a good idea that your kids are involved in planning so everyone can enjoy in perfect family cruise, especially teens because incorporating some of their wishes can be very helpful later on. We are bringing you answers to some of the most important questions you should know before booking a family luxury gulet cruise and some useful tips and advantages of renting a gulet.
1.) Are gulet cruises in Turkey suitable for your family holiday?
Yes, gulet cruise holidays are fun for the whole family and particularly stress-free for parents and engaging for children. For those families that enjoy the idea of having their days spent on the beach, love the sea and bit of adventure and being on the go, you will love gulet cruising. You can enjoy and have fun on and off the water during the wonderful 7 days or more. This type of holiday can bring your family even closer together since your days will be filled with numerous fun activities you will do together.
The adventure never ends and allows you and your kids to create amazing memories. Consider booking full board on your cruise (this includes breakfast, lunch, and dinner) – this makes mealtimes easier and less stressful waiting around in taverns and restaurants on land. Plus food on gulets is absolutely delicious and high quality! However, if you and your family prefer staying in hotels,and you don't like the idea of visiting a new place each day and you or kids hate the sea and the sun, perhaps gulet cruises are not suitable for you.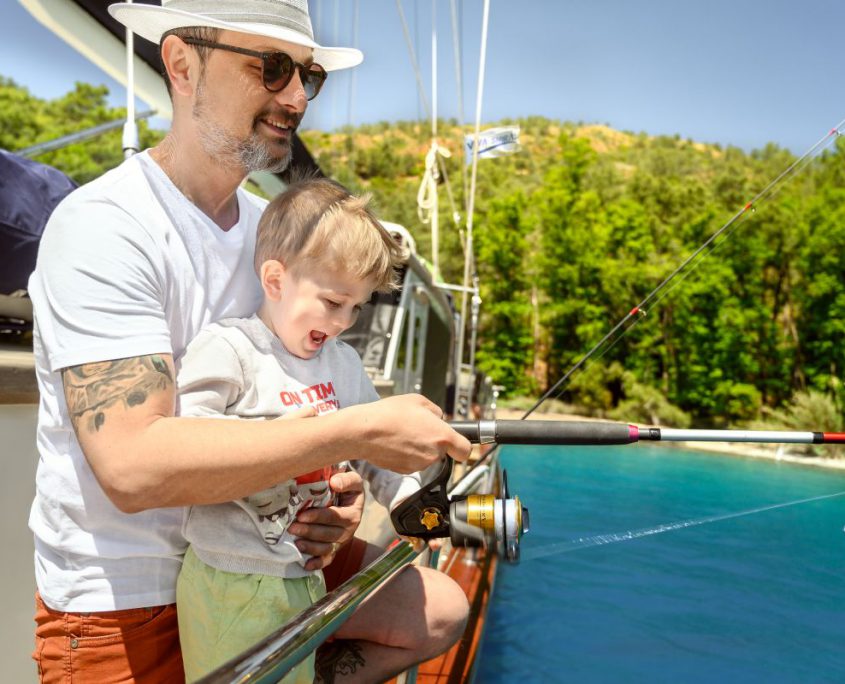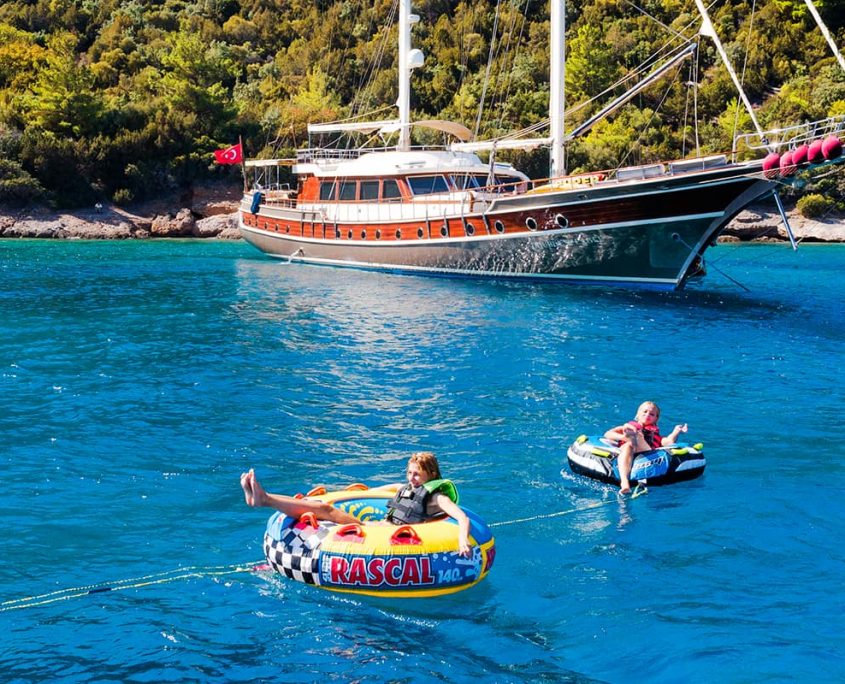 3.) Will my kids be bored onboard?
No, because gulet cruises are flexible and planned in advance to suit you and your kid's preferences. No one gets bored and everyone has fun on gulet cruises. Luxury gulets can be very family-friendly so kids can safely play on large dek while parents relax and enjoy the sun or favorite book. If you want some alone time for you and your partner during the cruise, we can help you with arranging a babysitter on board that will watch over your kids. Besides that, all luxury boats have a vast choice of amenities on board that will keep you amused. All those activities will be customized and adapted for all ages. For example, kids can participate in fun games, learn a new skill, take part in watersports. It's all about giving your kids and yourself an excellent time on gulet but also on land too. In the cause of bad weather, the crew onboard will organize fun activities for your children, so they can still enjoy and do fun stuff until the sun comes up. You and your kids can stay active by using water toys, paddleboarding, kayaking, jet-skiing for adults, snorkeling, windsurfing, hiking, biking, and other activities. You can equally choose to just relax on the boat while reading a good book.
4.) What about children safety on board?
When it comes to safety on board, family-friendly gulets are safe, they have specially made deck that keeps kids safe so they don't fall in the sea, but you should always keep an eye on your kids, especially the young ones. Family-friendly gulets have a safety net, wider beam, and large comfortable salon where kids can be safe when the vessel is on the move or in case of bad weather to avoid kids slip and fall on deck.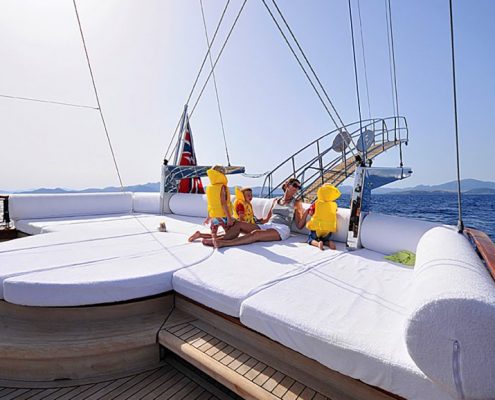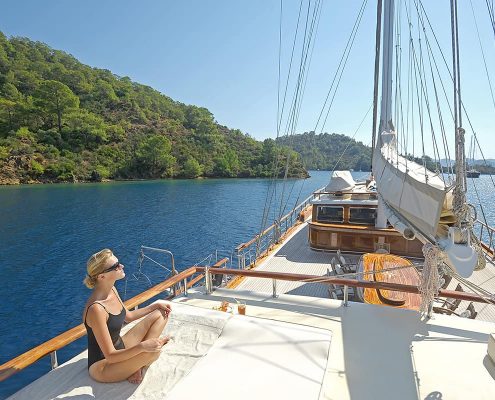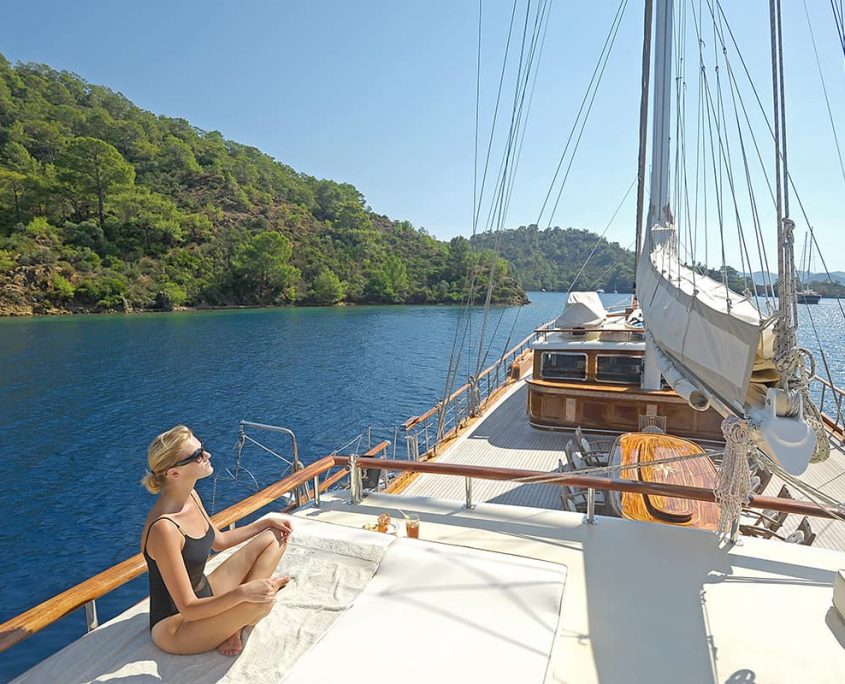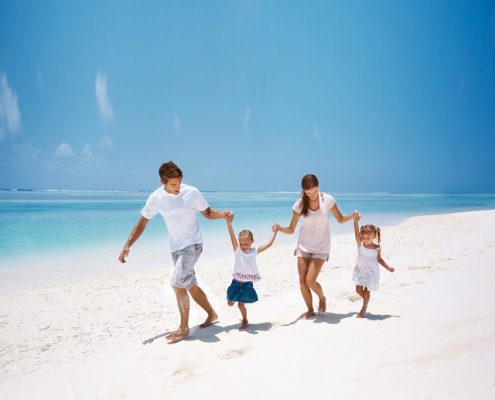 5.) Why should I choose Turkey as the next luxury holiday destination?

Turkey holds some of the most beautiful towns, beaches and crystal clear waters that can provide safe space for your kids to have fun and get in touch with nature. Turkey offers you the chance to explore historic cities and islands with your kids and let them meet and learn all about the new culture that will enrich their life.
You will be able to experience the traditions, culture, idyllic destinations and much more while enjoying in world-class luxury and comfort of your yacht. You can get in touch with us at any time and discuss your wishes and share your vision of the perfect cruise. Our gulet experts will brainstorm all the options and come back to you with suggestions on activities and itinerary that would suit you the best. For every wish, we have an option to give back, and Turkey truly offers something for everyone.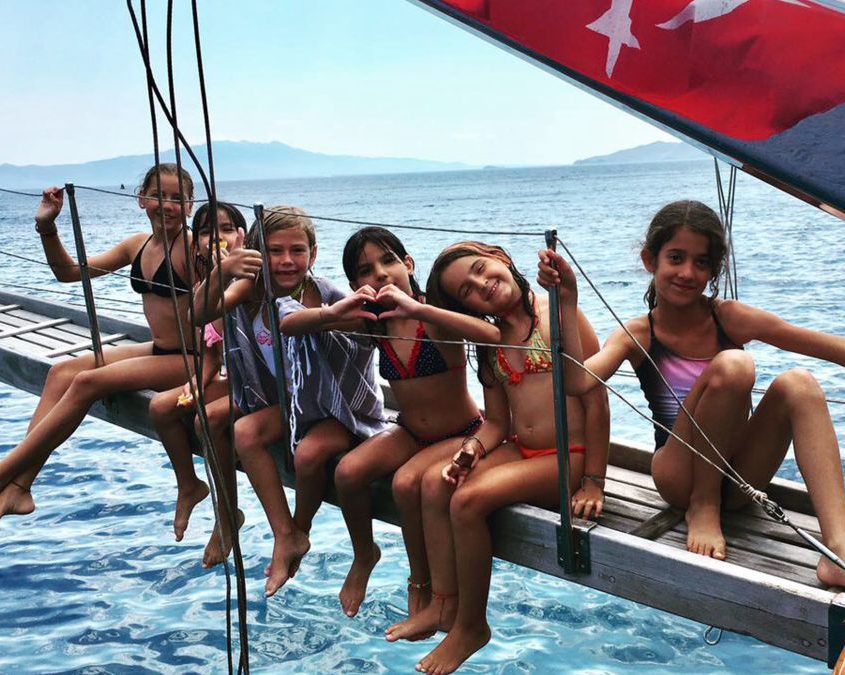 Some of the best luxury gulets for families we recommend!
Double Eagle
Gulet Double Eagle is 39-meter ultra luxury gulet yacht that can accommodate 12 guests on board in 2 masters,1 double,2 triple cabins. This gulet is a great choice for families that like to stay active and adventurous. She is ideal for cruising in bays of Turkey with a vast choice of watersports for endless fun for you and your kids, and if you need any help with water toys just ask your crew and they will gladly assist you. A professional 6 person crew will provide you with everything you might need and offer high-end service that matches the luxury and design of the yacht. The crew onboard consists of the 5 members (Captain, Chef, Waiter, 2 Deckhands), who will make sure that family safety comes first.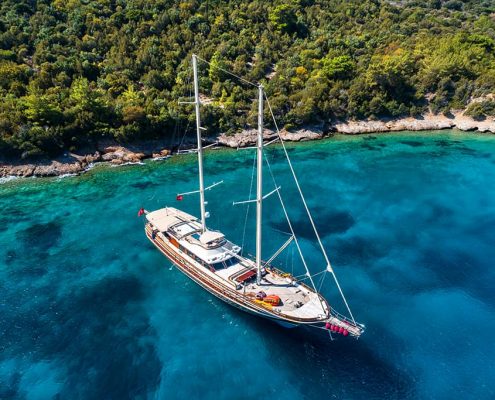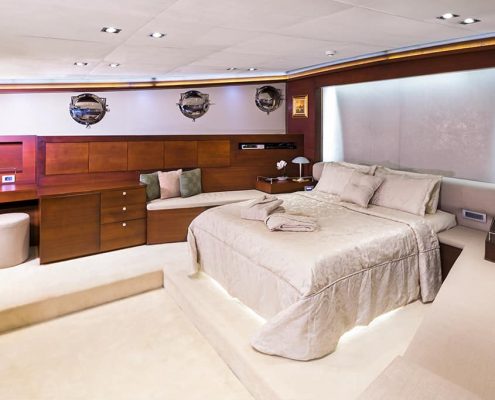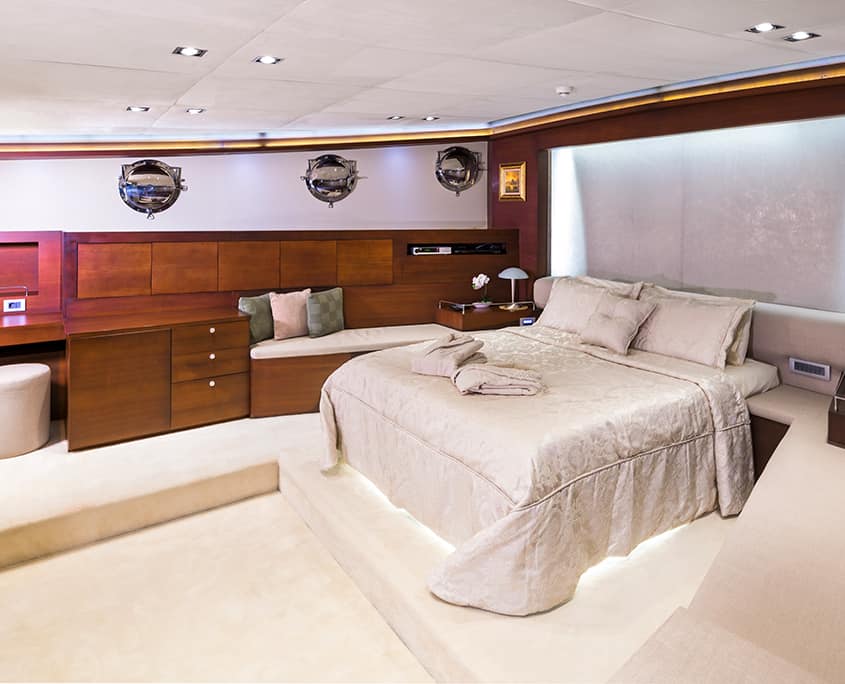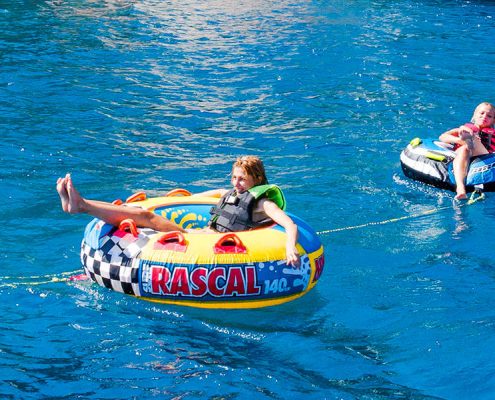 Silver moon
Silver moon is the most preferred super luxury yacht that comes with superb amenities and design!
35-meter long it was built in 2010 provides astounding Blue Cruise experience to our its dear clients who come back with a hundred percent satisfaction that is secured by 5 dedicated crew members. The crew is English speaking so you and your kids shouldn't have troubles with communication. Gulet can accommodate 8+2 guests in 4 deluxe suits consisting out of one Master, two double and one twin cabins that are a great choice for children. Except for luxury interior, the size of the cabins is impressive and all of them offer everything you and your kids might need for a safe, comfortable and luxurious stay that can be compared to hotel rooms.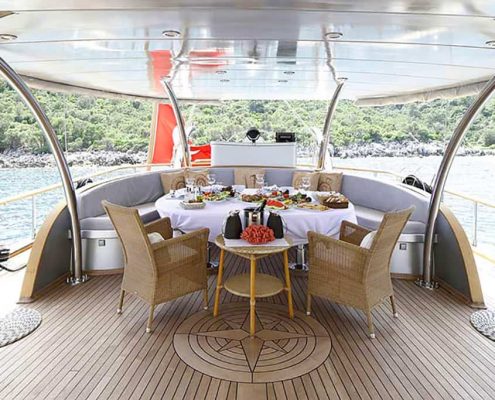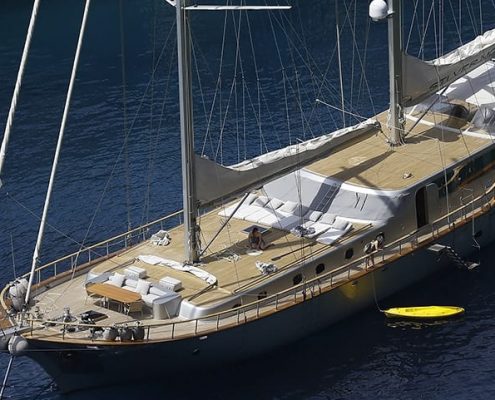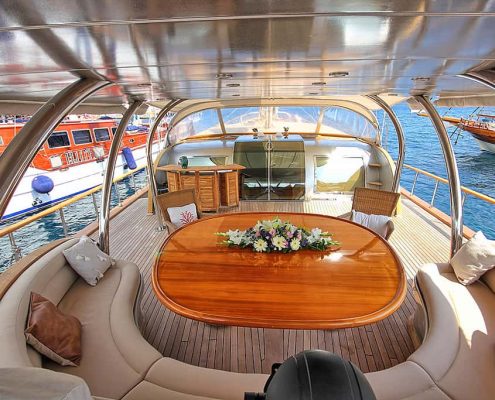 White Soul
White Soul is among the most elegant modern gulets with a wide choice of watersports so you and your kids won't be bored. With 38 meters in length and only 5 cabins, it provides lots of comfort for all guests. There are mentioned 5 cabins that can accommodate up to 12 guests and each cabin is equipped with bathroom, air conditioning, TV and DVD players. The elegant saloon is beautifully furnished, while the deck has cushioned lounge seats and wide deck expanding towards the bow for deck chairs. The English speaking crew of 7 members is the final touch to this equation since they will be making sure you are having the best holidays of your life and that your family is happy and safe.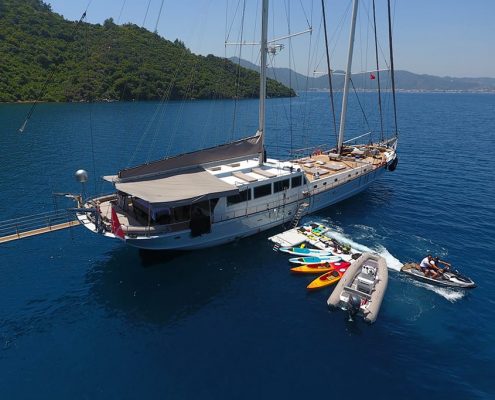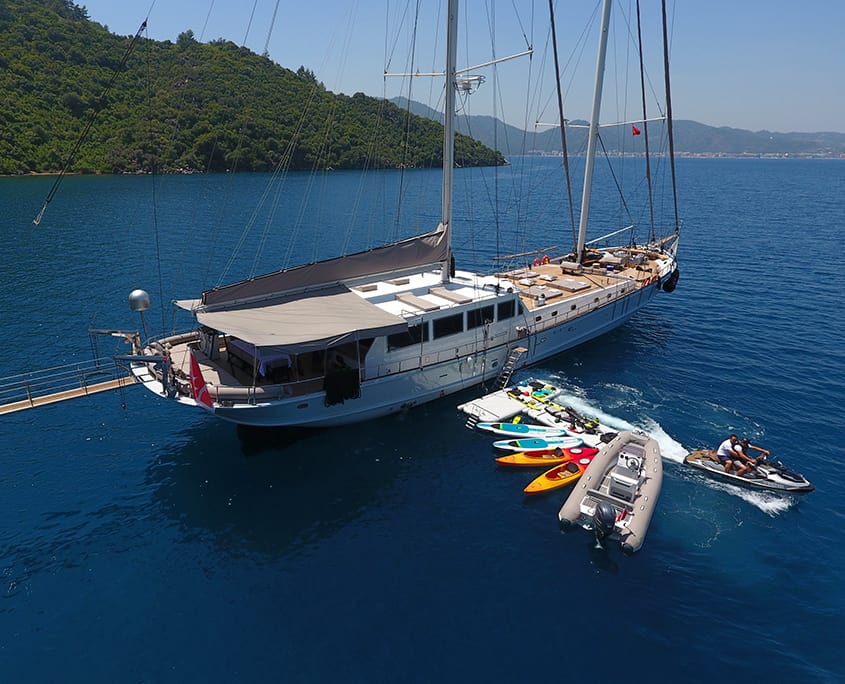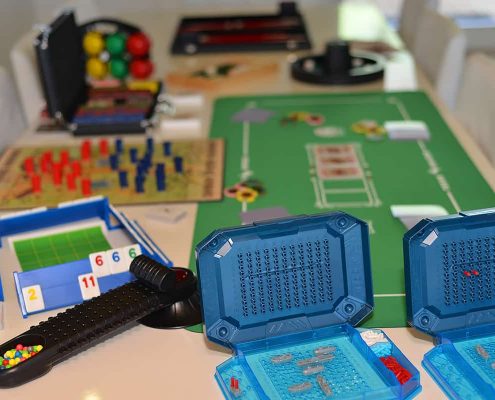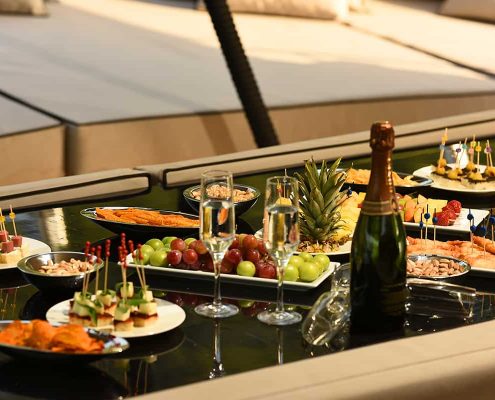 Dolce Mare
Dolce Mare is a luxurious gulet popular among many clients looking for a fine relaxing family cruise.
Beautifully designed exterior and interior provide comfort for 12 guests onboard. On deck, you'll find spacious lounges, jacuzzi, water toys, jet ski on request and sun cushions ideal for relaxing and enjoying during the cruise. You and your kids surely won't be bored! Your personal Chef will take care of your luxury meals, buffet breakfasts, and dinners suitable for the kids who are sometimes the toughest critics out there.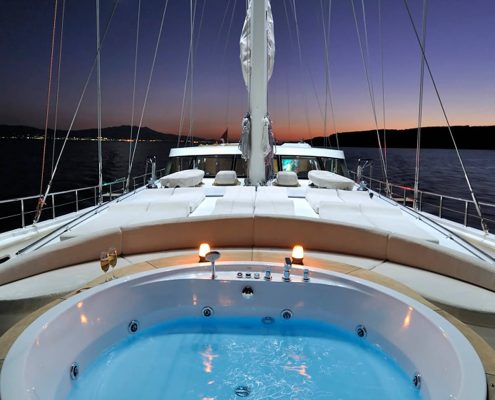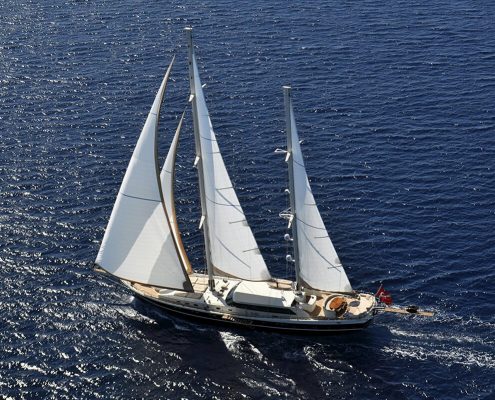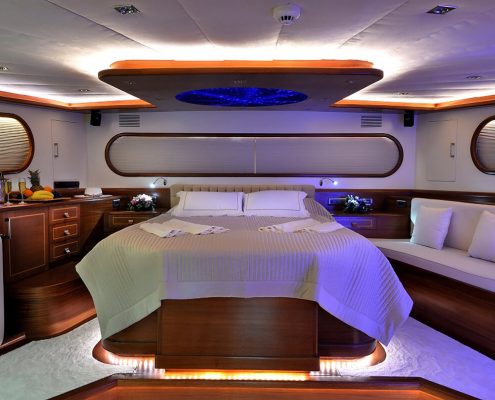 As you can tell, gulet luxury cruise in Turkey can be a great choice for family bonding, relaxing holidays and enjoyment in pristine nature and views from the luxury of the yacht. You and your family will be able to enjoy privacy and safety while exploring historic cities, hidden bays, magical islands where your kids will meet and learn all about the new cultures and skills that will enrich their lives and create many nice memories. Make sure you start planning early and your holiday will be as smooth sailing!
Payment methods: