WHY TURKEY IS THE BEST DESTINATION IN THE WORLD FOR A GULET CRUISE
Gulet cruising has quite a long history that originated from Turkey. To go back to the beginning, it all really started centuries ago when the Turks realized that the best way to explore coastline is by sea. Once potential was seen the Blue cruise concept was born, and of course, with that the growth of gulet type ships too. Read further and discover answers to all the main things you should know and why Turkey is the best destination in the world for a gulet cruise!
What is a Blue Cruise Turkey?
This concept is truly nothing more than pleasurable sailing along the gorgeous Turkish coast and it can expand its ways to close Greek islands. This type of holidays offers a unique and special experience which many love, and it allows you to see Turkish coast that is full of preserved bays, inlets, and beaches. Their scenic beauty of the coast is undeniable and it offers a rich legacy of archaeological ruins and historic sites. To conclude the best way to visit Turkey and explore the most of it in the shortest amount of time is by going on a luxury gulet cruise with a crew that will pamper you, and makes your holidays even better.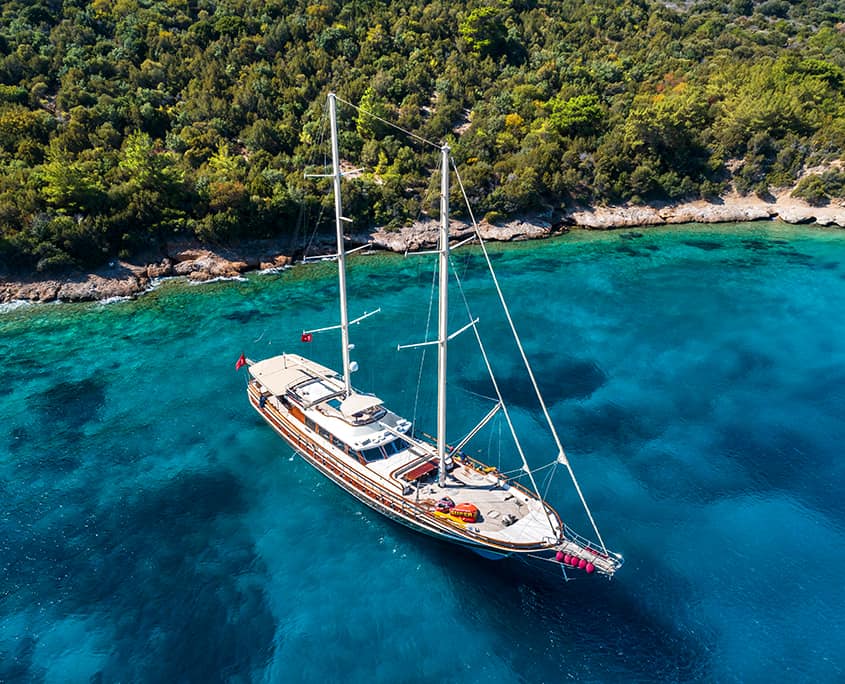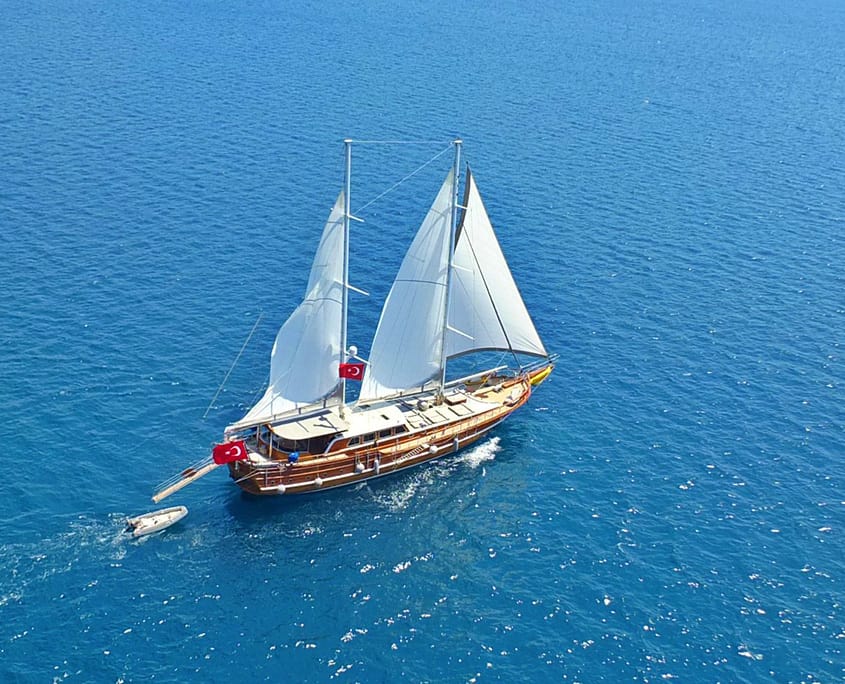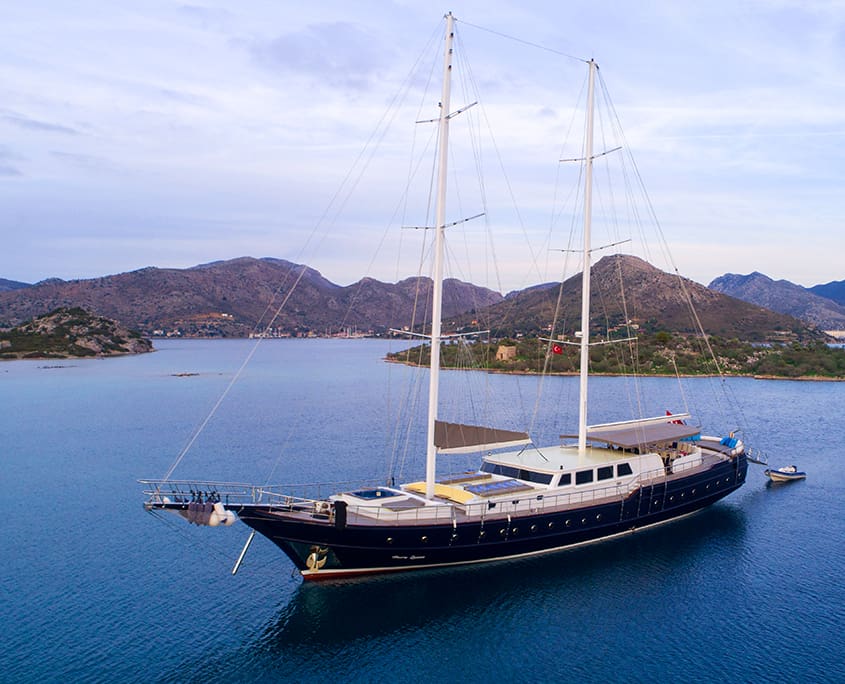 Generally, gulet is a traditional mostly wooden sailing vessel that originated from Turkey and developed from its primitive usage to beautiful luxury vessels. His average size can vary from 20 – 55 meters in size, coming with well-equipped 4 to 8 comfortable cabins. These cabins can accommodate between 6-16 people (sometimes more on special gulets). All gulets also come with a professional English speaking crew on board that will make sure you have an amazing holiday.
Since Turkey is the origin country of gulets market that continued to develop to this day got really big, so there really are many gulets to choose from. So many that nobody is quite sure how many gulets are there actually are. Some will say 500 ships, and some 1.000 or even more! But in our fleet, you will only find special luxury gulets that we personally would recommend and some of them truly could be the perfect option for you and your group.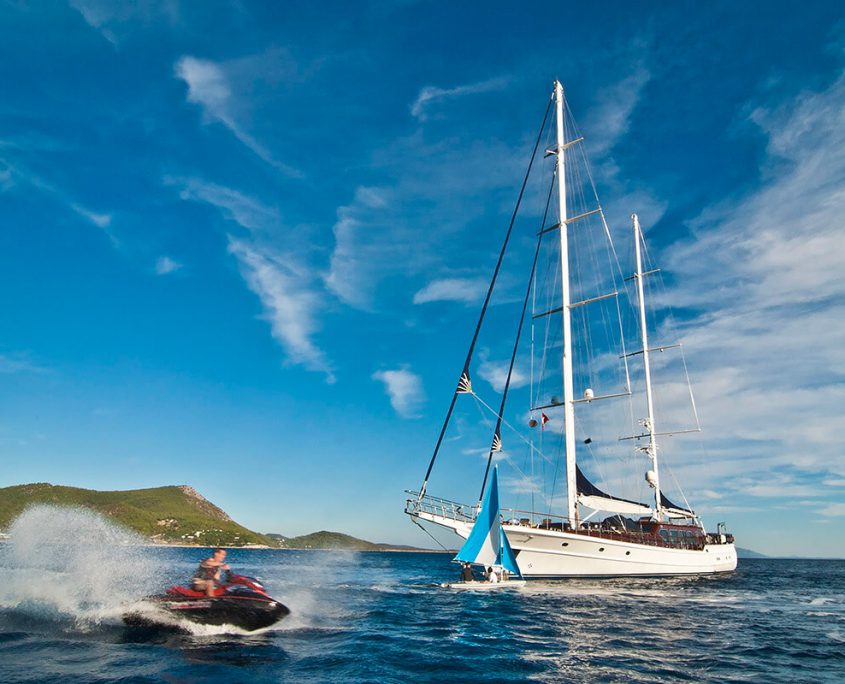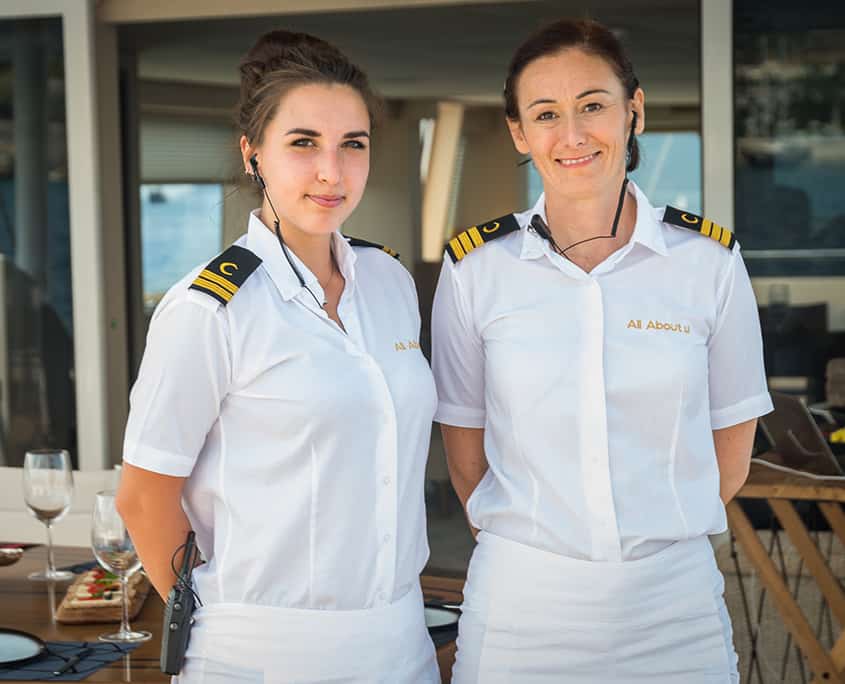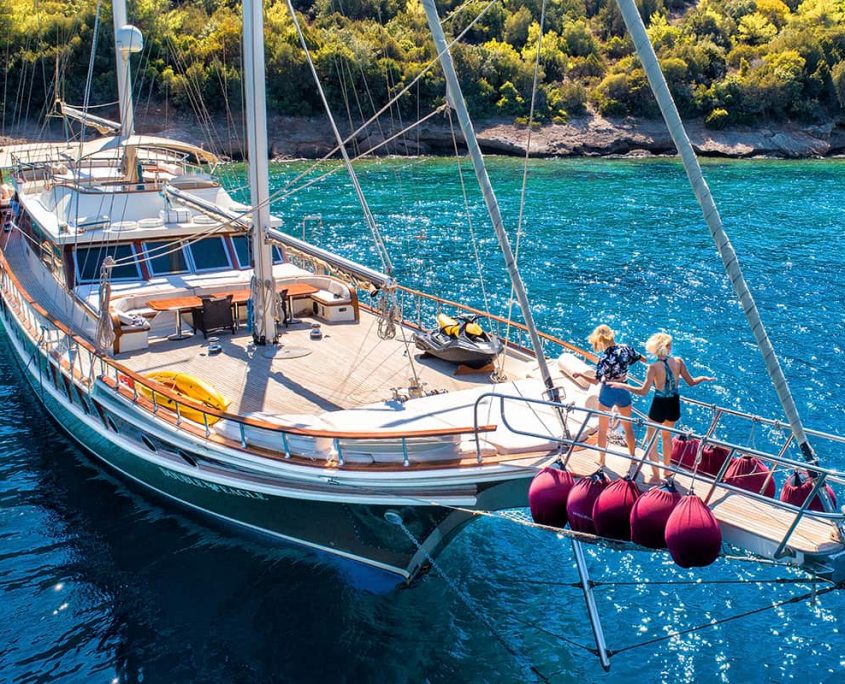 What to expect and what are the best historical sights worth visiting?
Once you decide that Turkey will be your next cruise destination, you will soon realize that this was one of your best decisions ever. You will be amazed by the variety of Turkish archipelago that features so many tiny shore islands, most beautiful beaches in the world, and sleepy charming villages! You can find easily areas that are peaceful and enjoyable; or towns that are full of life and culture, either was you will be able to say you had the best time of your life! There are many stunning lively historic towns to visit such as Bodrum, Gocek, Antalya, Marmaris, Fethiye… But we created a list of historical sights you must visit.
1.) Bodrum Castle and the Underwater Archaeology Museum
This Castle is a true treasure trove!  But it's not any old museum, though. The monumental facade and structure of the caste dominates in the horizon from any viewpoint along the waterfront and is the main navigational point. The structure and building complex itself could be a museum but on the inside, you can find more than ten shipwrecks along the Turkish coast. The most recent vessel is about 400 years old. Besides that, you can see coins, weapons, jewelry, glass bowls, and much more everyday stuff retrieved from the depths of the ocean.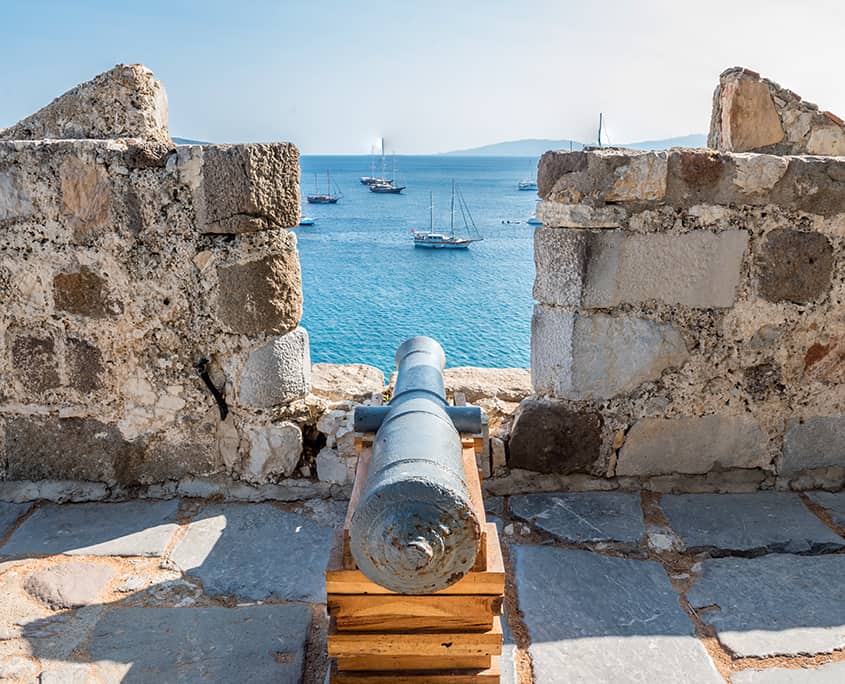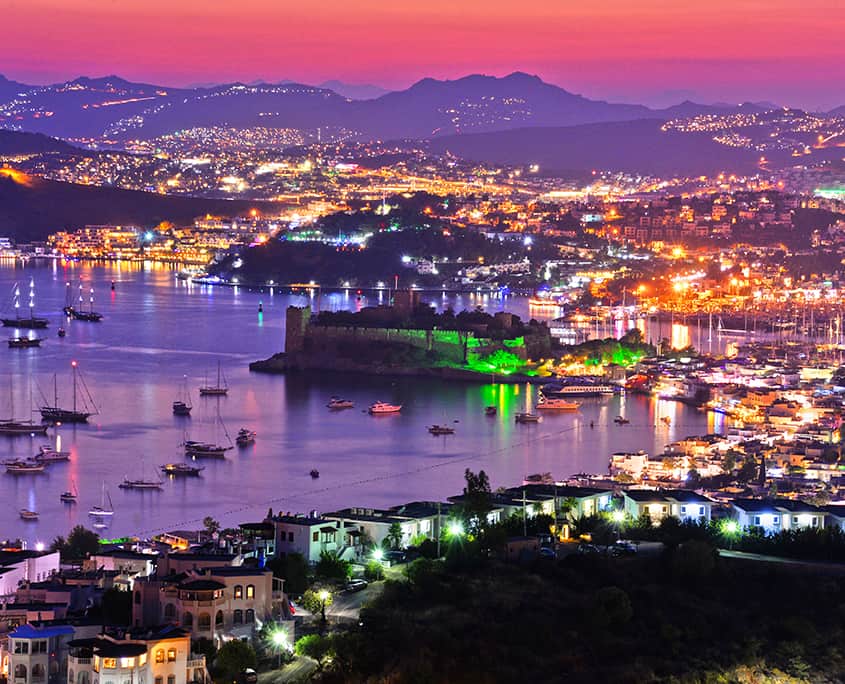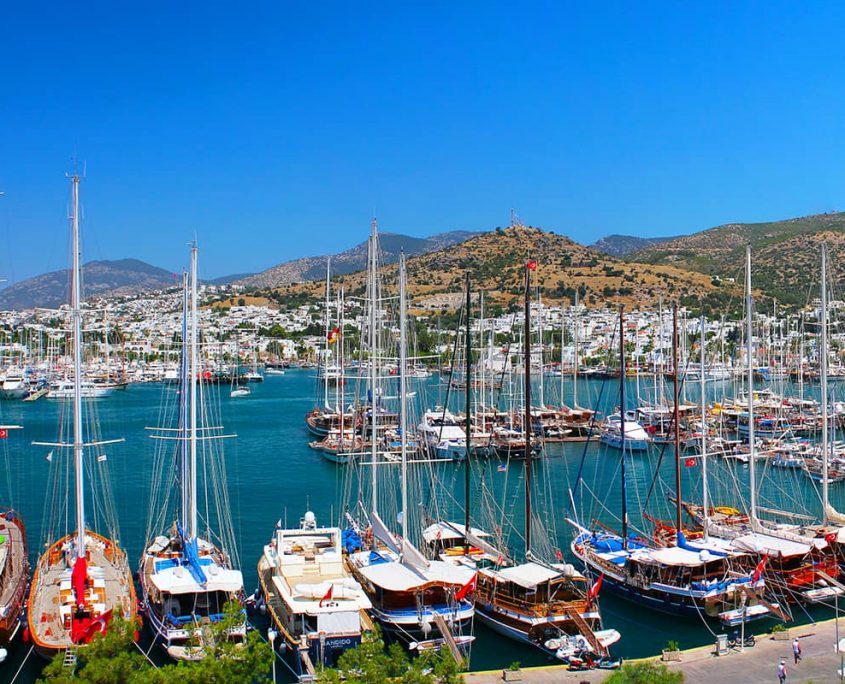 2.) Ghost Village of Kayakoy in Fethiye
Ghost Village of Kayakoy is situated near the bustling popular city of Fethiye which might come as a slight surprise. All the people who love to explore hidden gems and enjoy a bit of mystery will love to visit these deserted houses, chapels, and schools are eerie relics of the time when Greeks and Turks lived together in this region.
Everything can be reached by foot and all you need except a bottle of water and a hat to protect you from the sun is a little bit of imagination and you will transport yourself to roughly 100 years ago, to the times before the village lived before it turned into a ghost town.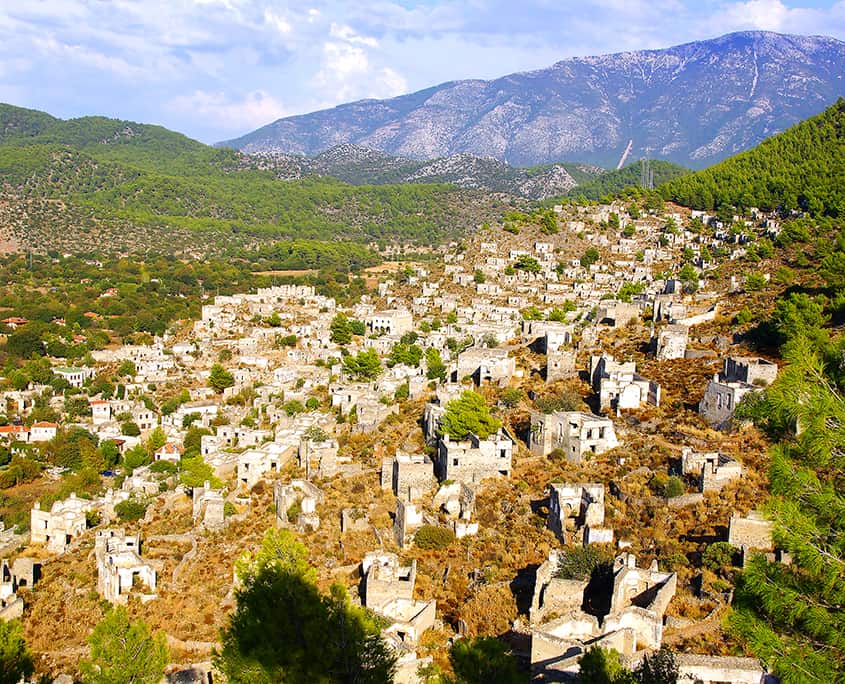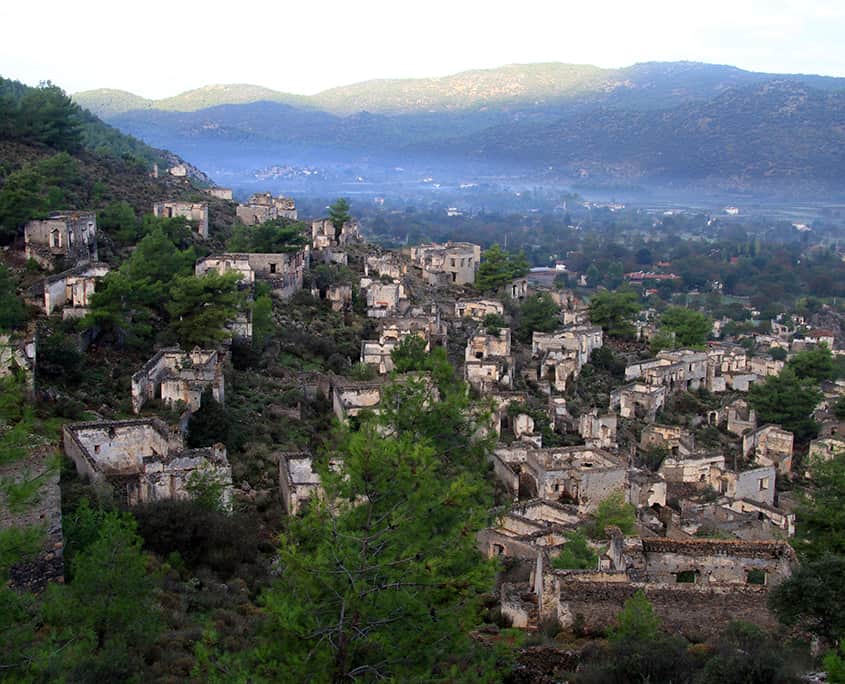 This is a stunning and very interesting sight that should be on everyone's "must visit list". These tombs are gloriously and proudly placed right alongside the harbor of Fethiye and they will take your attention right away while your boat is entering the harbor. Lycian Rock Tombs got their name because they were literally built into the side of a mountain so that, according to beliefs, ancient angels could reach the dead. This beautiful monument is carved into the side of a Turkish mountain and facade can be seen from the outside. The earliest examples of these are said to have been carved in the 5th century BC and can be found in places such as Myra and Amasia.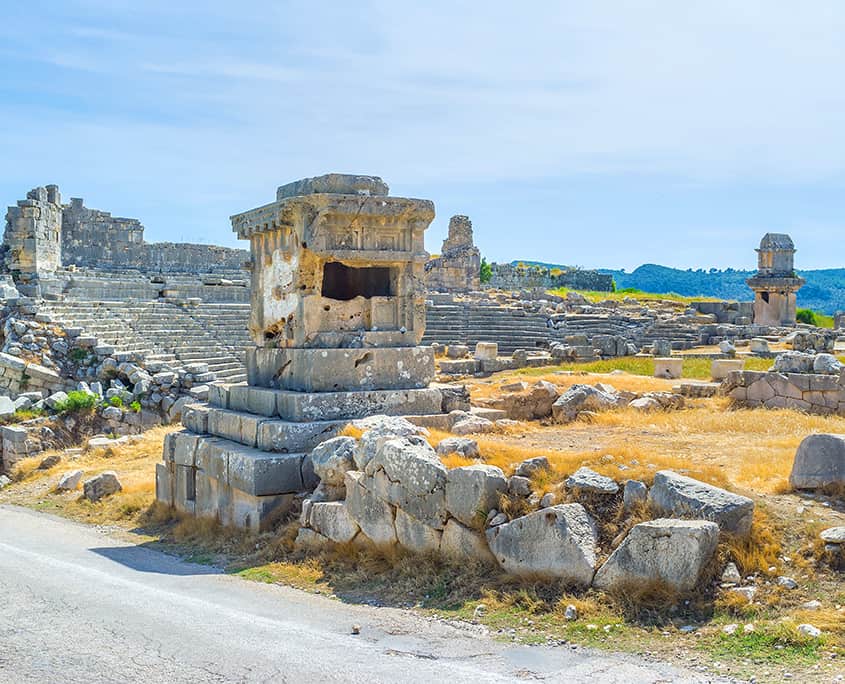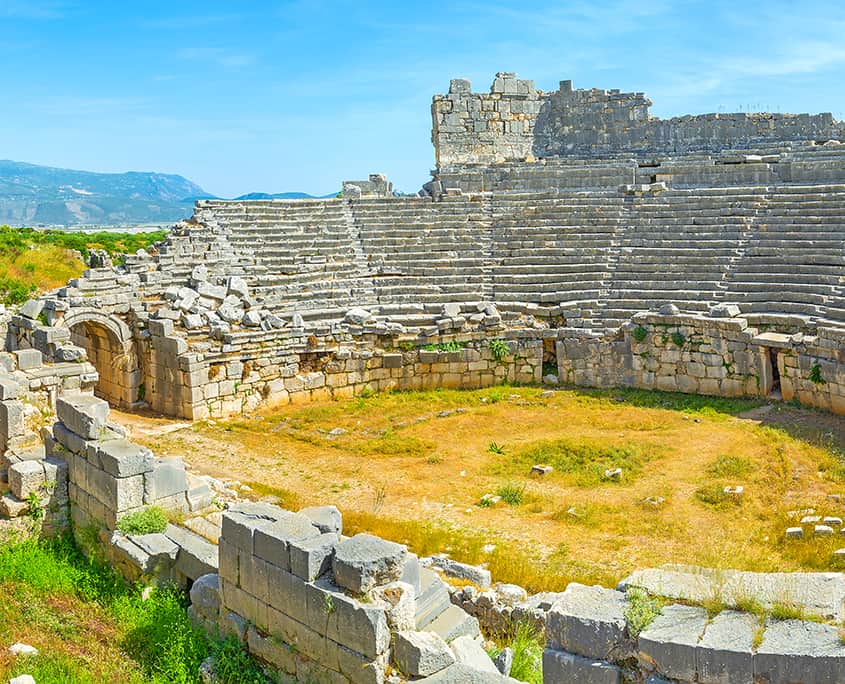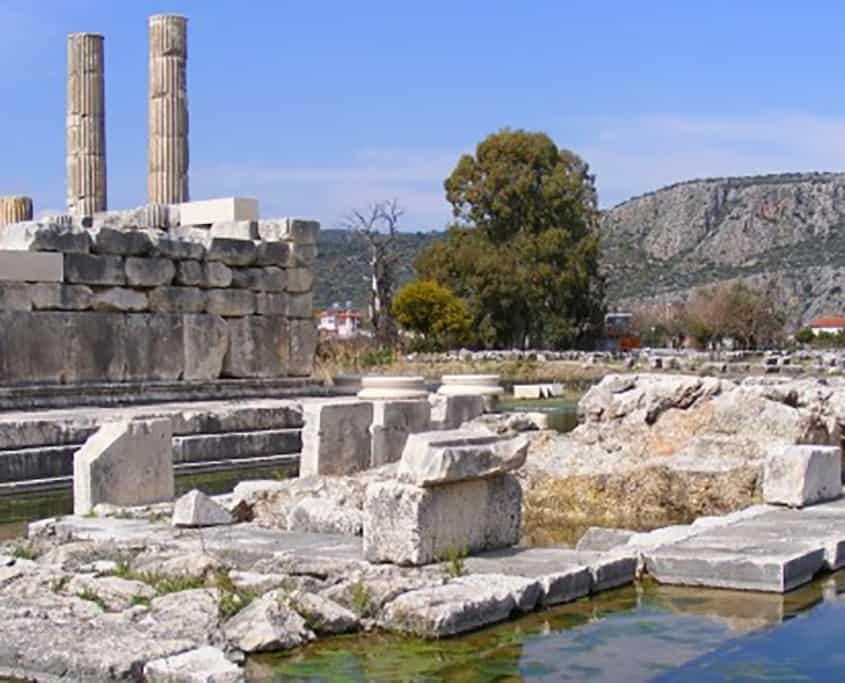 While enjoying your cruise and traveling to a new location each day, you even have your own chef and crew who is there to be at your service. The crew will do their ultimate best to make sure you have everything you need and that you feel completely relaxed and stress-free. Personal chef on board will prepare you and your group delicious dishes according to the pre-planned menu that will be completely personalized. The benefit of eating on luxury gulets is exactly in the fact that:
The whole food menu can be personalized according to your wishes
Your personal chef will prepare delicious meals that will be pleasing to the eye and tasty
There is no waiting for dinner to be served like in restaurants, you are the one getting the full attention and special treatment
Turkish food is full of varieties and different regional influences, so it will easily please even the toughest critics.
Our destination manager and gulet expert will hand-pick all the food from Turkish markets and well trusted suplliers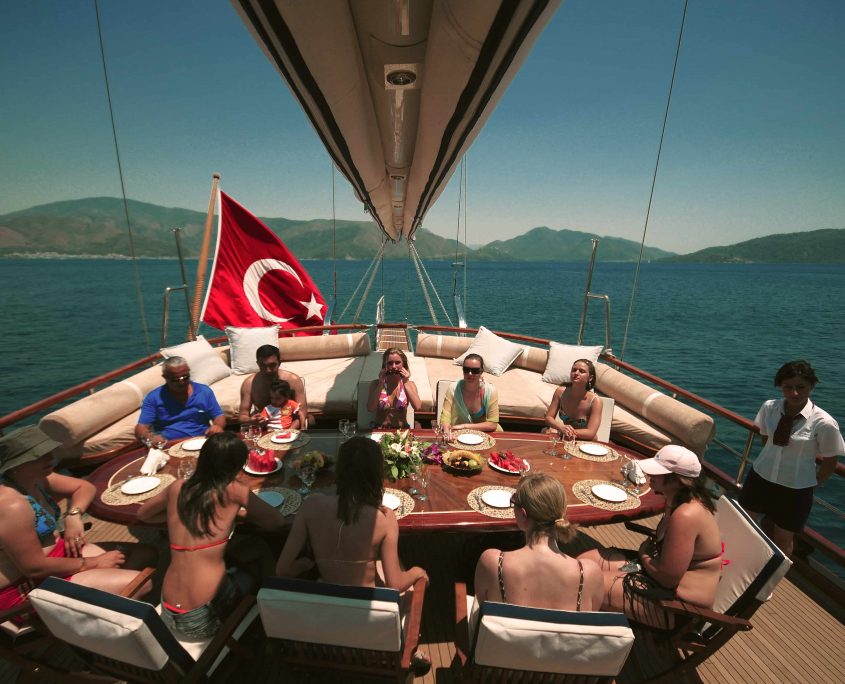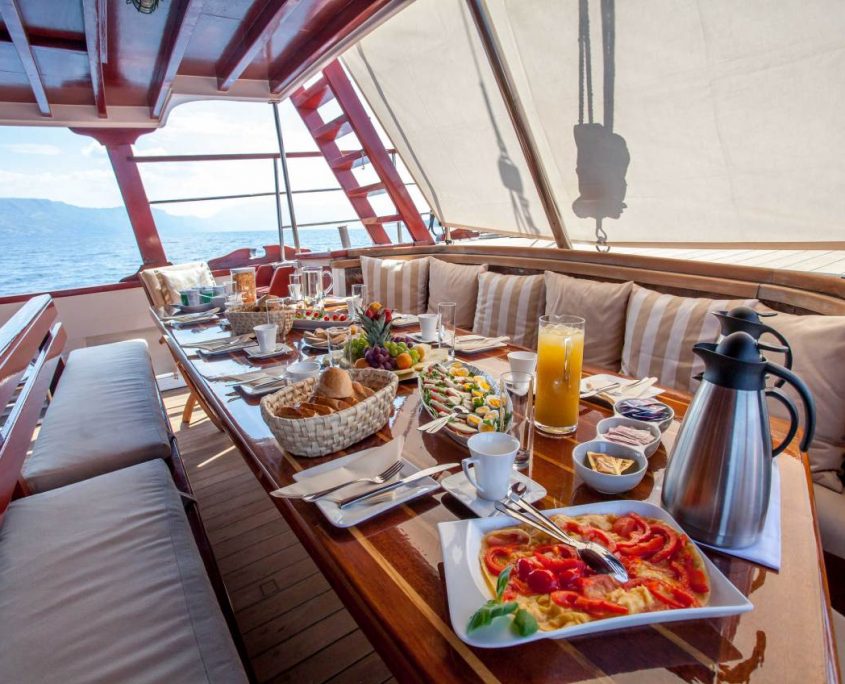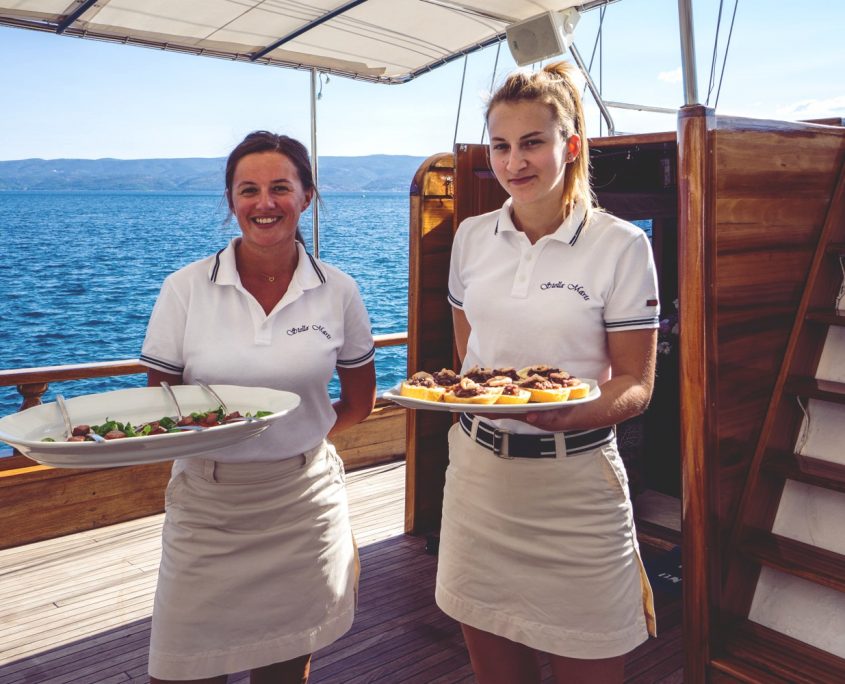 2 most famous embarkation points
We first need to mention city called Bodrum.  Bodrum is located on the coast next to magical turquoise sea and is a popular destination of many around the world who come here with their boats, yacht, and mega yachts. Once you arrive at the marina you will be amazed by St. Peter's castle that dates back to middle ages. Amazing Marina is located at the center of the Bodrum which allows you to stroll to the city center in only a few minutes. Everything there is clean, safe and extremely well organized. You can also explore the town, enjoy amazing views and sunset, try some local food among one of many restaurants, try some tea or coffee, visit shopping stores, and markets… Possibilities are endless! Bodrum is one of the most popular destinations for the start of the gulet cruise adventures.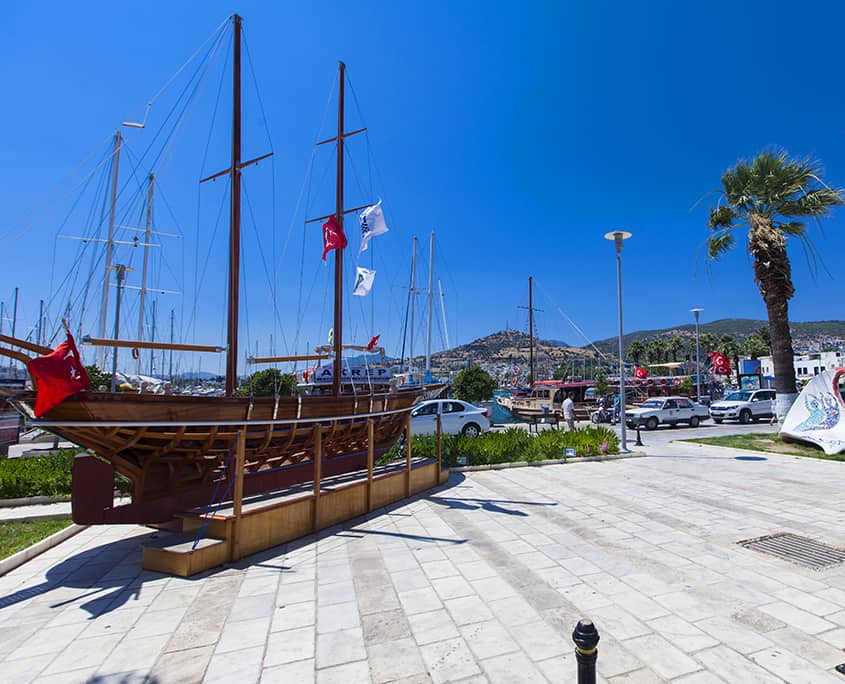 Another interesting fact is that gulet from Bodrum is different when compared to other regions in Turkey. The main characteristics of Bodrum gulets are the back decks that are rounder shape and their full body is close to the sea so you have a real sense of cruising and sailing. Boat builders are also more focused to provide and design all luxury features and ambiance that follows the latest trends.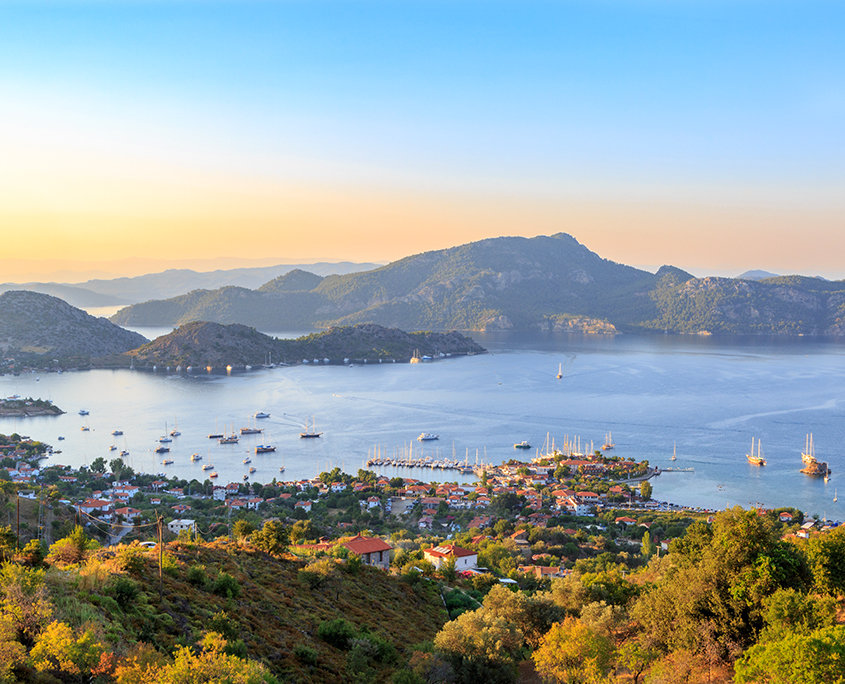 The town of Marmaris is one of the largest natural harbors in the world and important International Cruise Ships port. But not only that, but it is also a nice holiday spot for tourists from all over the world with regular connected flights.  Besides the sheer beauty of the town and its center, gorgeous pristine nature is so generous here.
You can go on long walks among lush forest or enjoy on the beach and crystal clear sea. Marmaris is also an area filled with many historical sites, the castle, old houses and narrow streets in the town are all worth seeing. If you decide to take a walk you will stumble across little plaza close to the Ferry Dock leading into the old town and Bazar. This area is full of colorful shops, cafes, luxury restaurants where you can enjoy for many hours with no end.
Payment methods: