BLUE VOYAGE TURKEY – GET ANSWERS TO THE MOST FREQUENTLY ASKED QUESTIONS
Blue Voyage in Turkey is one of the best and most relaxing vacations you can ever have. It is both an adventure and relaxation for body and soul in most beautiful settings. You can discover the beauties of Turkey and it's coast with your family or friends. This post will help you in getting all the answers to frequently asked questions. Learn more, get informed and start planning on your next perfect summer holidays!
What is the concept behind it?
If you love exploring new places, crystal clear waters, and a hidden bay, then a blue cruise is for you! With blue voyage, you will get to explore all the hidden gems of the Turkish coast that you wouldn't be able to visit during regular holidays on land.
Gulet cruising has a long history that originated from Turkey from where Blue Voyage developed and now it is a unique type of holiday. Cevat Şakir Kabaağaçlı known as the 'Fisherman of Halicarnassus' was the Founder of Turkey's famous Mavi Yolculuk "BLUE VOYAGES". A historian, humanist and ecologist, he was one of the country's most popular writers and has been described as a modern Homer. He was known also as Turkey's first professional tourist guide. This how one of the most beautiful and attractive ways to discover Turkey and Greek island has been created. During the cruise, you'll have a special opportunity to explore stunning beautiful places, wake up each day on a different location.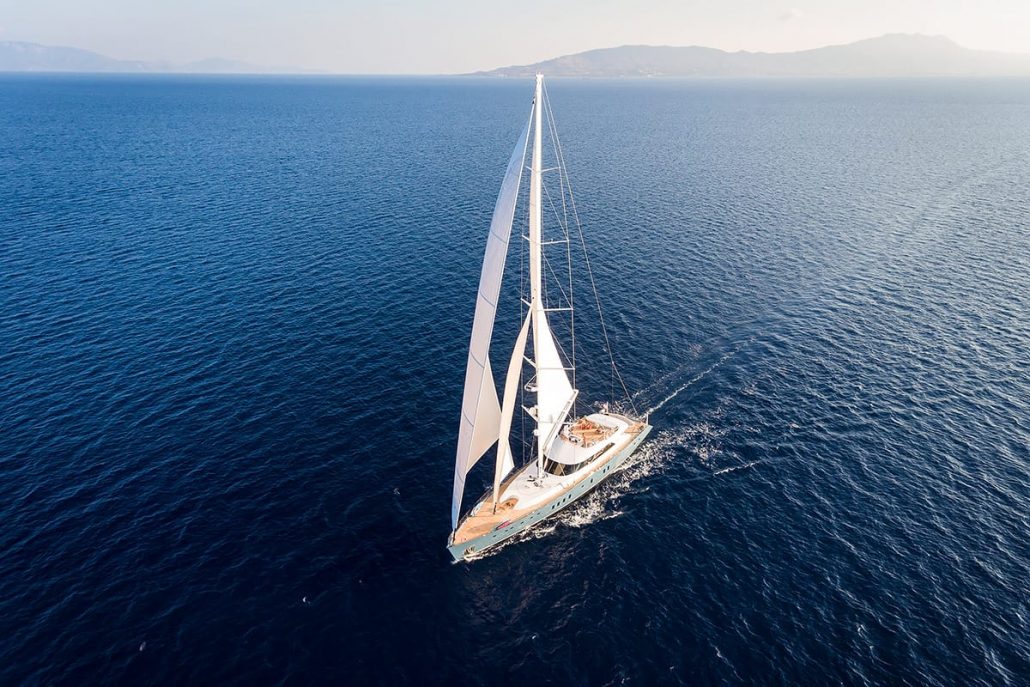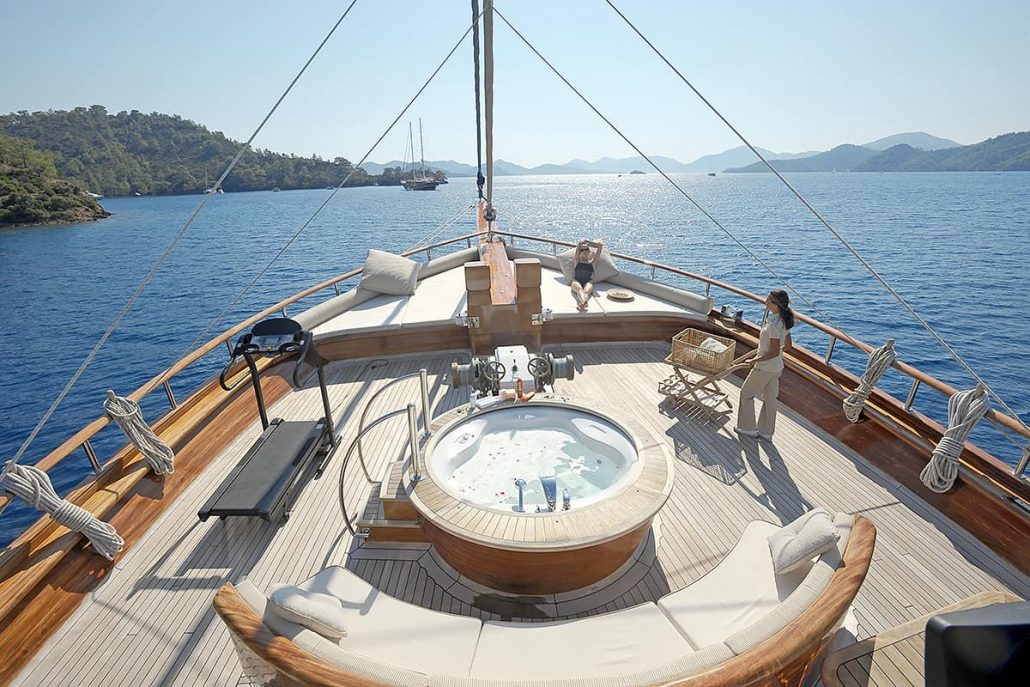 You will also be able to visit hidden gems but also beaches and bays that you wouldn't get to see on a regular trip. Luxury Turkey Blue Cruise offers something for everyone's taste and it is organized in a way that it can please even the most demanding clients. Turkish and Greek Islands hold scenic beauty, archaeological and historic sites and amazing weather ideal for a summer holiday.
Additionally, luxury gulet yachts have excellent equipment and many amenities. For this reason, you don't need to worry that you or your kids will be bored during the cruise. Furthermore, all yachts come with a professional crew. While you enjoy your cruise your crew will be there to be at your service and help you with anything you need.
What is the duration on the Blue Voyage holiday?
It usually lasts 7 days which is the minimum amount of time you need to explore and see everything. However, if you desire you can book your gulet yacht for a longer period. Just let us help choose a good fulfilling itinerary that will, of course, be based on your demands.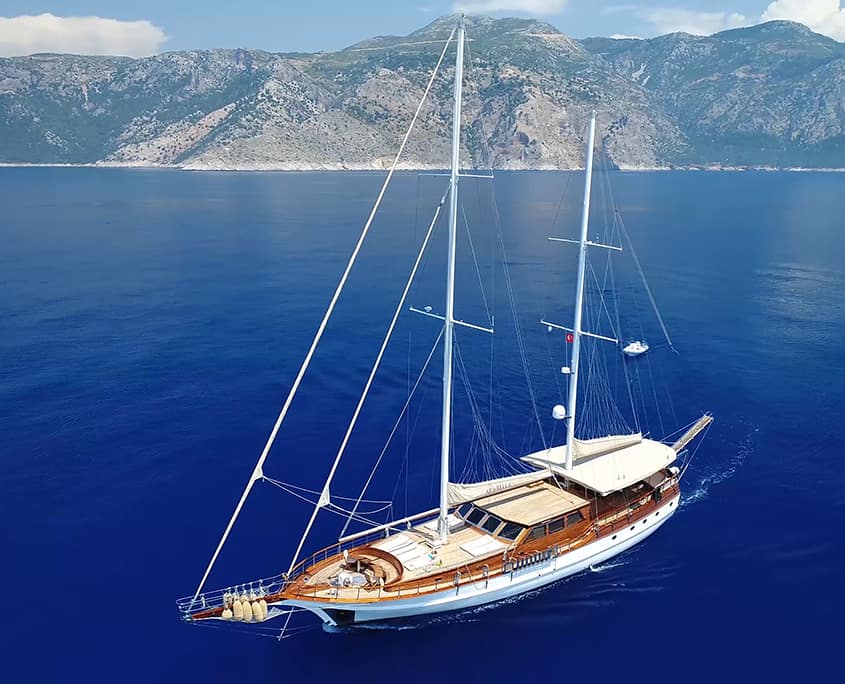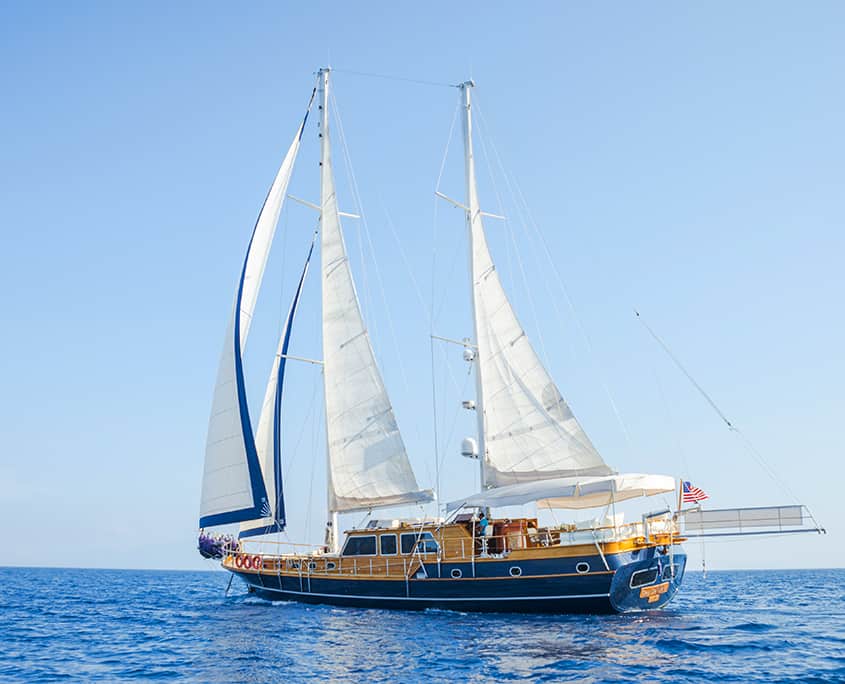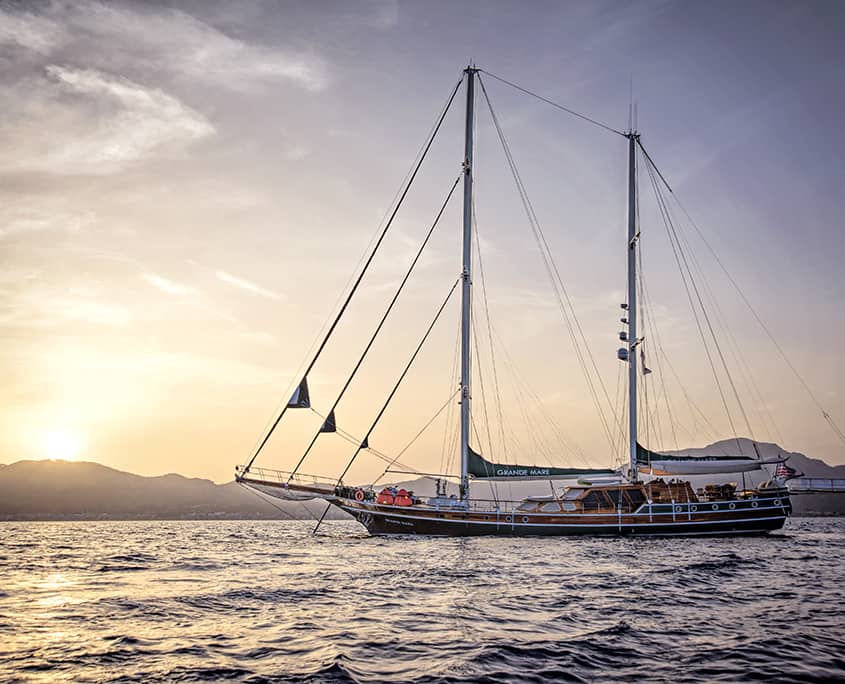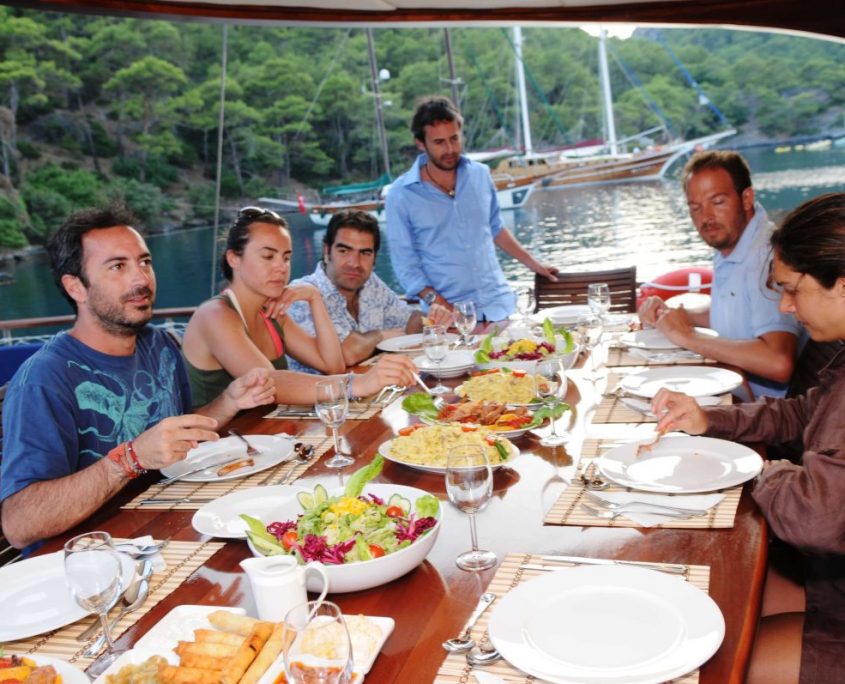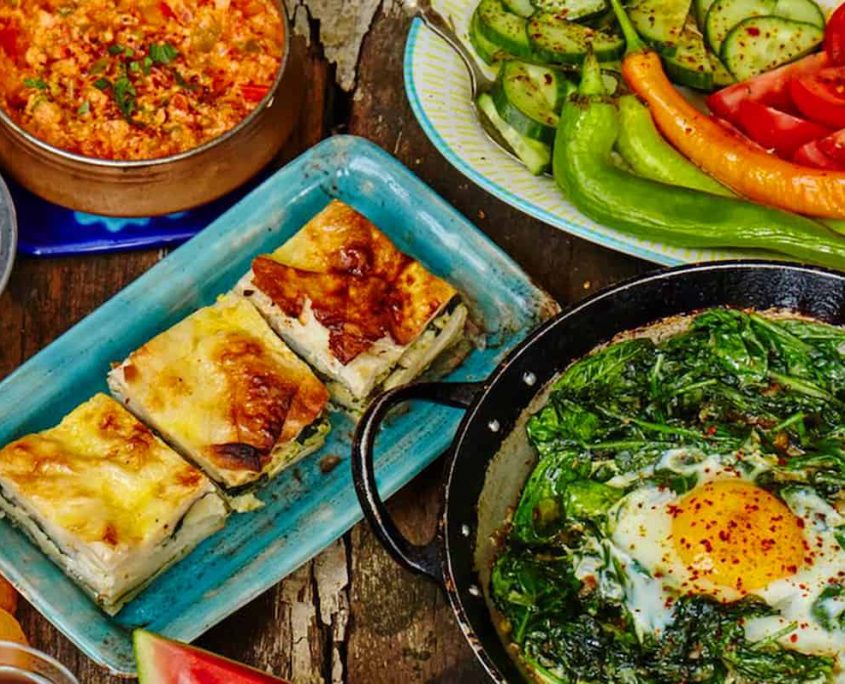 This is an ideal choice for almost everyone who loves the unique type of holidays. These holidays are more private and active, but still, you will enjoy in comfort and luxury of the boat. It is a perfect choice for mixed groups, families with young children or teenagers, couples, friends or a group of seniors… The maximum number of guests you can join luxury blue voyage is 20 passengers. Keep in mind that now every gulet is, however, suitable for every group. It makes difference if you are traveling with small kids, teenagers, or you are maybe a group of seniors and… But do not worry, our experienced team of gulet experts will find a perfect fit for you!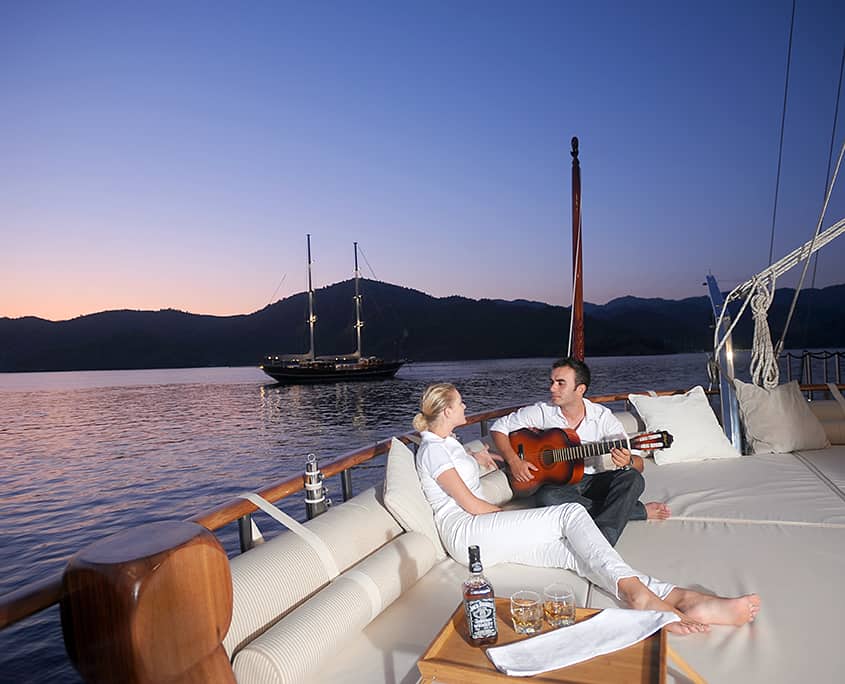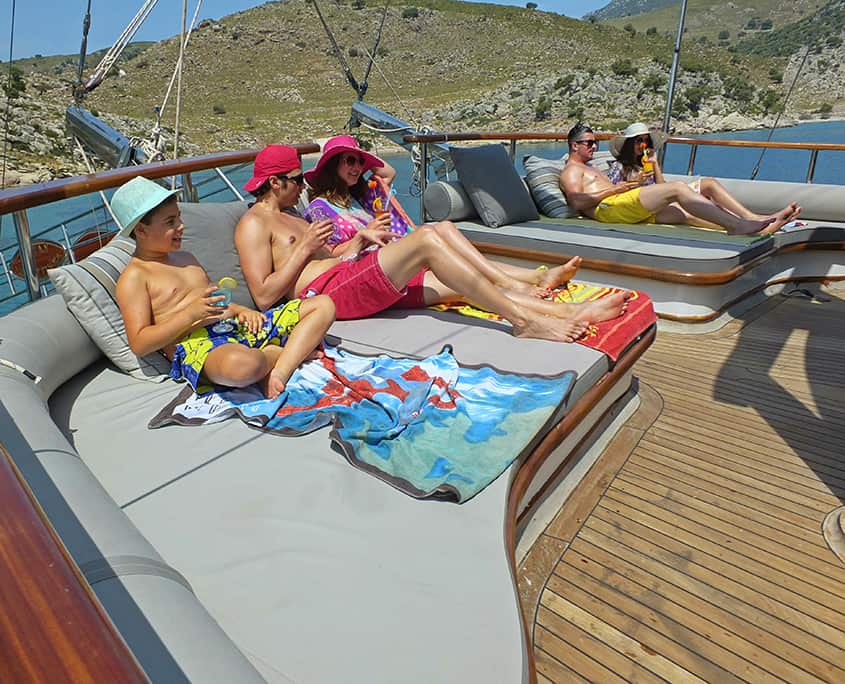 How much does a gulet cruise cost?
Costs of cruise depend on the season you decide to travel, so at high season you can expect higher prices and in middle or early season lower prices. Also in our fleet, you can find luxury yachts ranging from 14.000 up to 150.500 € per week.
Generally included in price:
Personal assistant, professional preparation for the cruise, route planning, during the cruise support

Fuel for cruising

Port and tourist taxes (included in Turkish waters)

Yacht charter, crew
Extra payments:
VAT

A.P.A: 25% of charter price/week

Food (according to consumption),

Drinks (according to consumption)

Port and tourist taxes (Greek port taxes, private marinas, and all customs fees)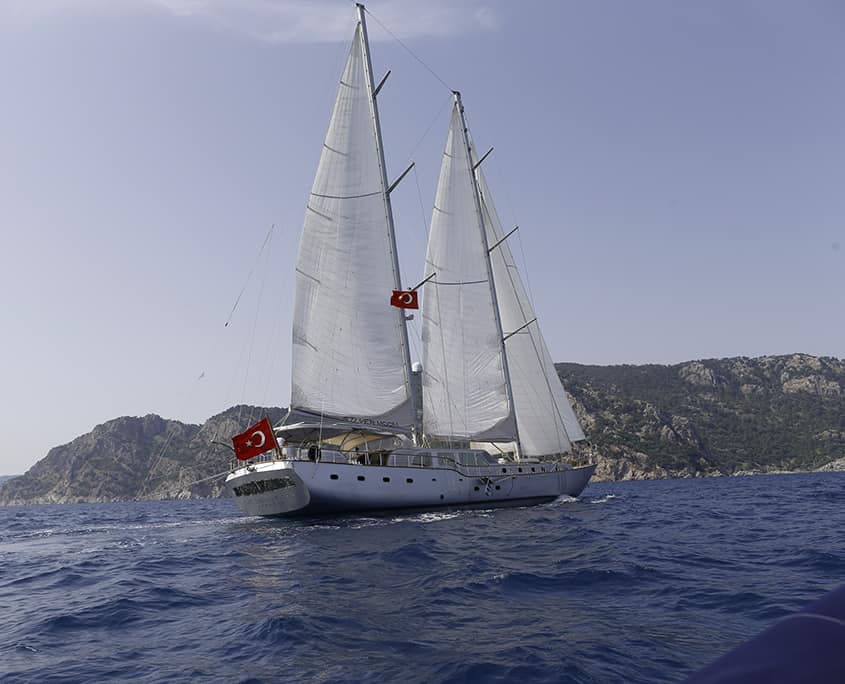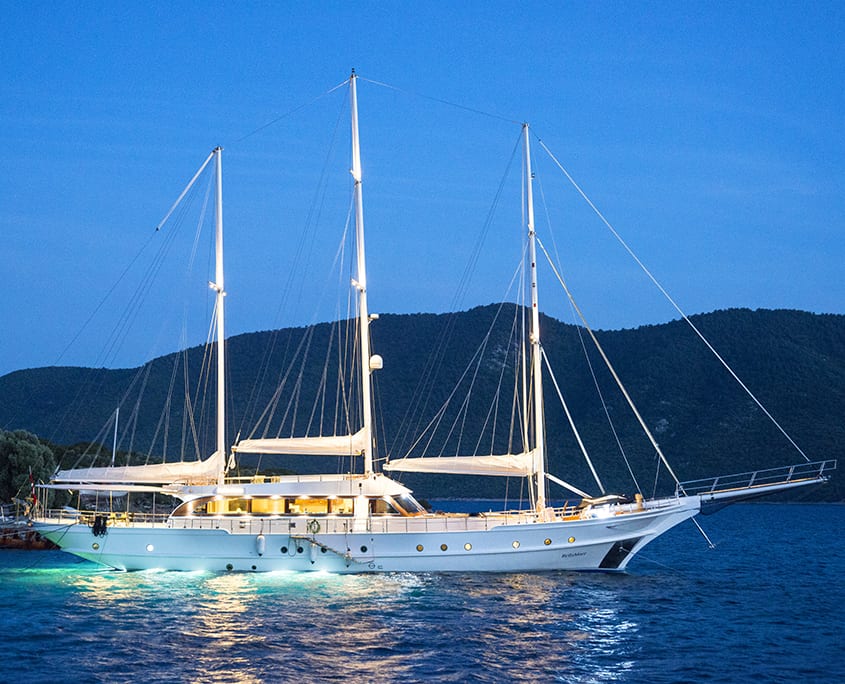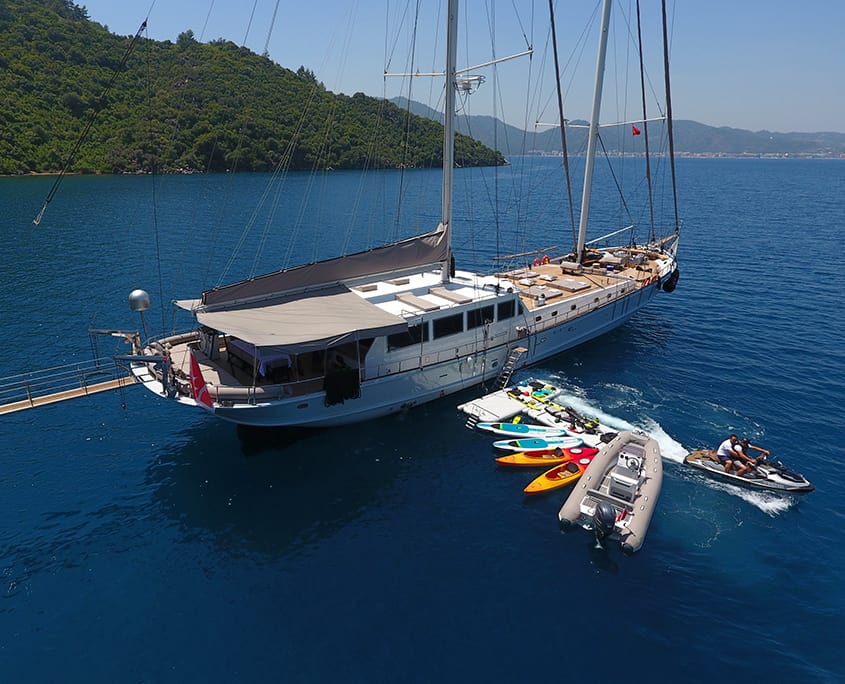 What are your recommendations for the best luxury gulets in Turkey?
Luxury sailing is one of those yachts that will leave a forever lasting impression on all guests who board on this gorgeous yacht. All About U provides the highest levels of luxury and comfort, and with 50 meters is the length it provides more than enough space for leisure time.
On this yacht, you will be taken care of by 8 professional crew members.  They will be equally superb as the design and feel of the yacht itself. Panoramic windows in saloon area and 6 cabins as well provide a lot of natural light and mesmerizing views.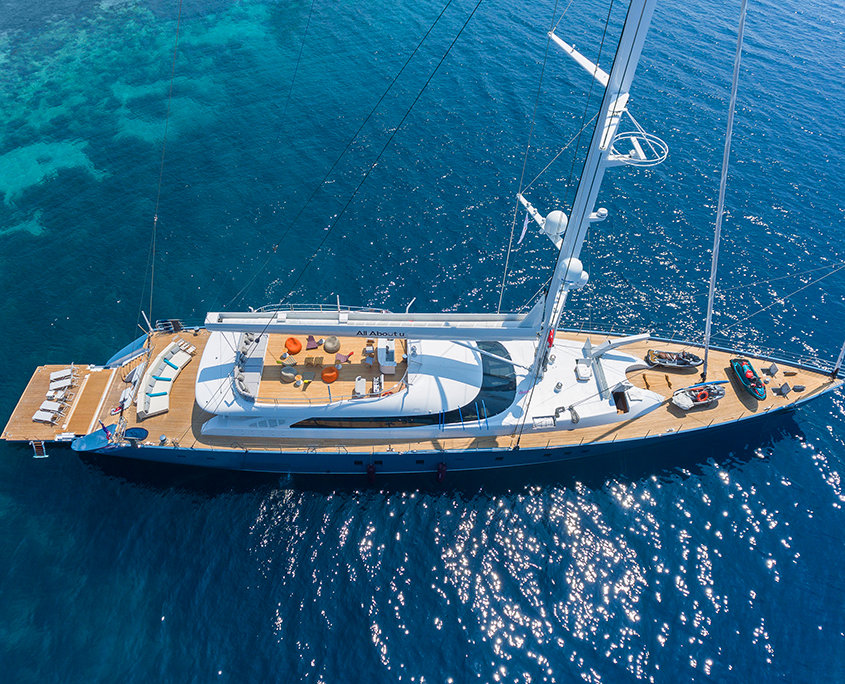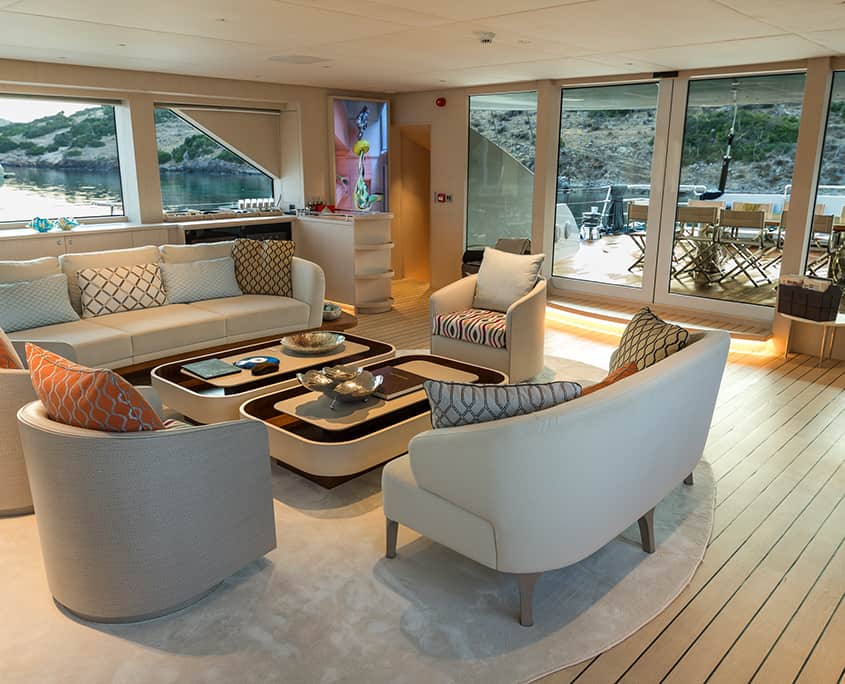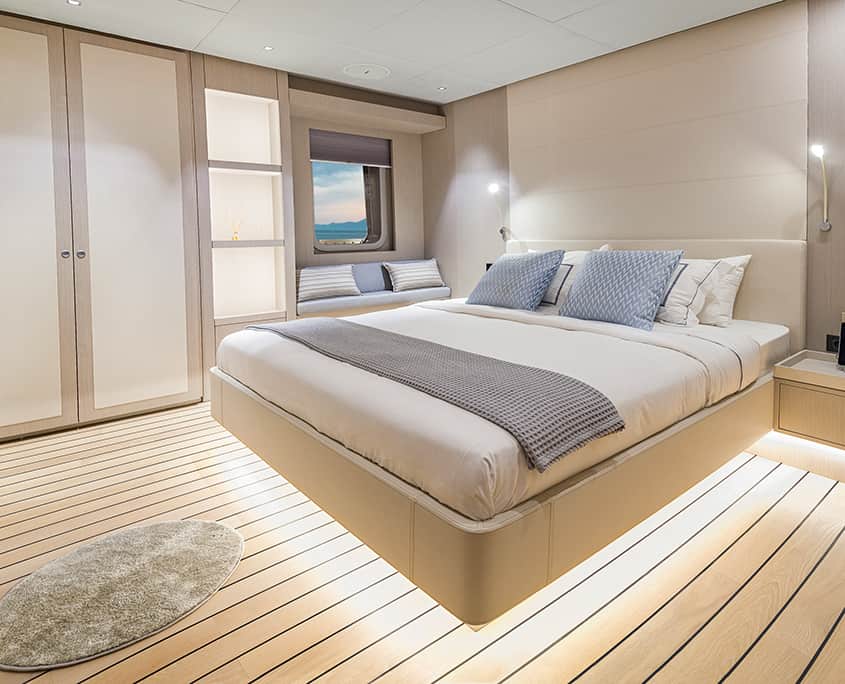 Bella Mare is designed in a way that it is guaranteed that each guest will be provided with high levels of comfort during a whole cruise experience. You will be able to fully enjoy the luxurious atmosphere of this 36 meters long gulet. She offers 6 very comfortable cabins for 12 guests.
Furthermore, there is lots of outdoor deck space. There you'll find nice Jacuzzi and relaxing/sitting area is placed on the top of the gulet where you can watch the mesmerizing views. 7 members of the crew will provide you with continuous high-end services that will please even most demanding groups! For you active time you can use Water Toys on deck.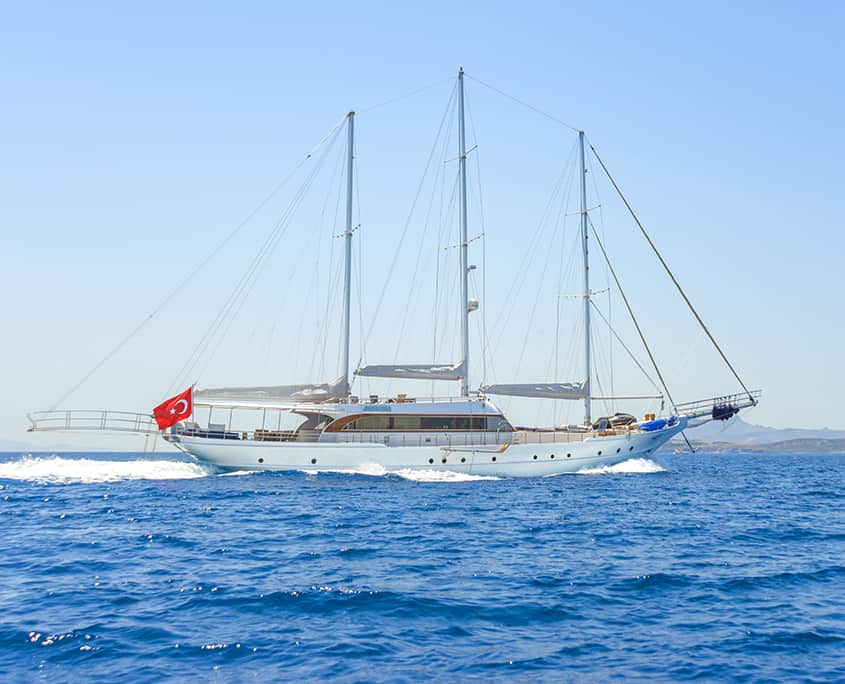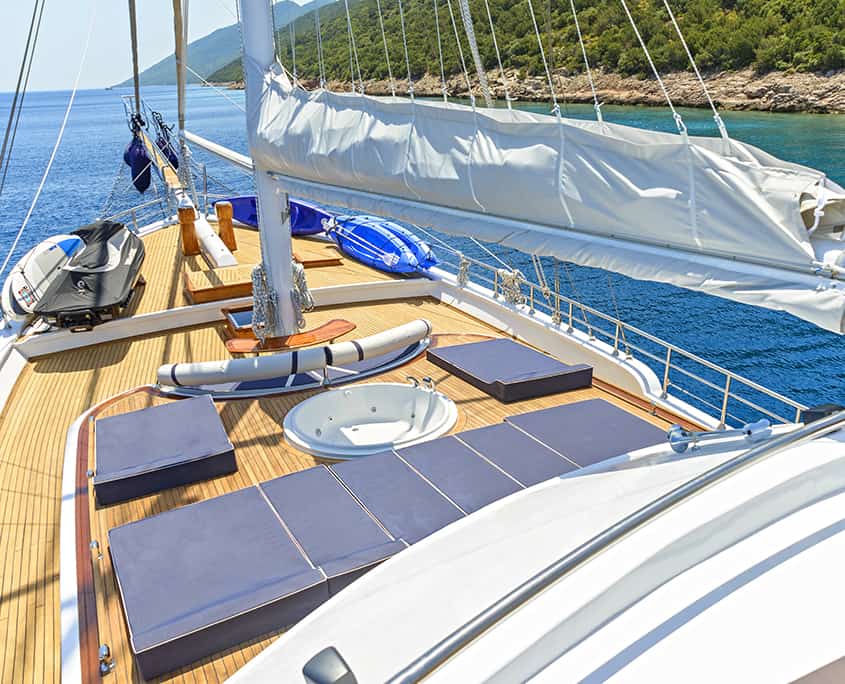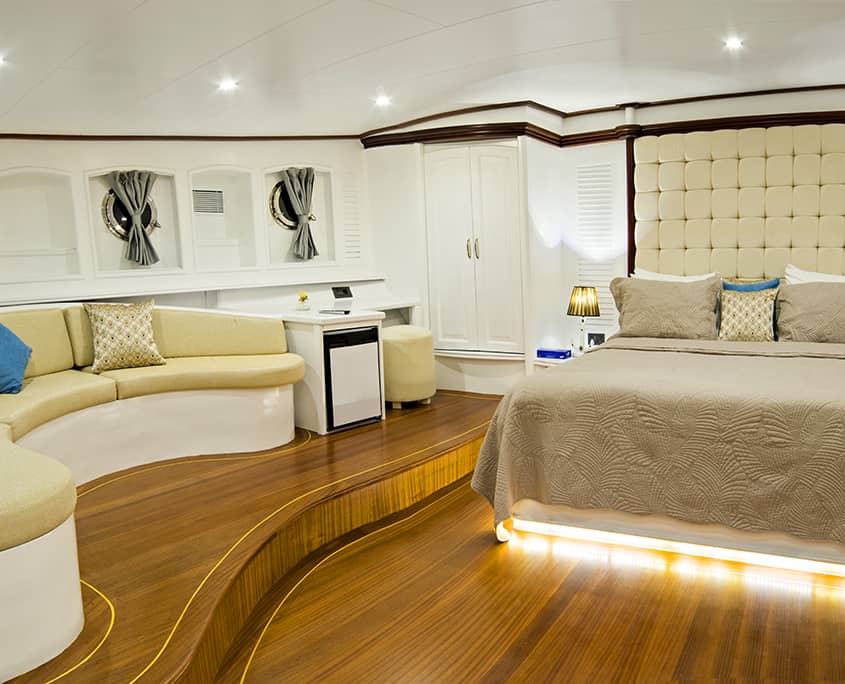 One of the best and most desirable super luxury yacht with many luxury amenities and modern design and sleek lines. This 35-meter size provides astounding Blue Cruise experience and excellent service that is rewarded by with repeat clients who come back with a hundred percent satisfaction.
However, nothing of that would be possible without 5 dedicated crew members who will go an extra mile for you. Gulet can accommodate 8+2 guests in 4 deluxe suits that have enough space for storage of personal luggage and comfortable stay.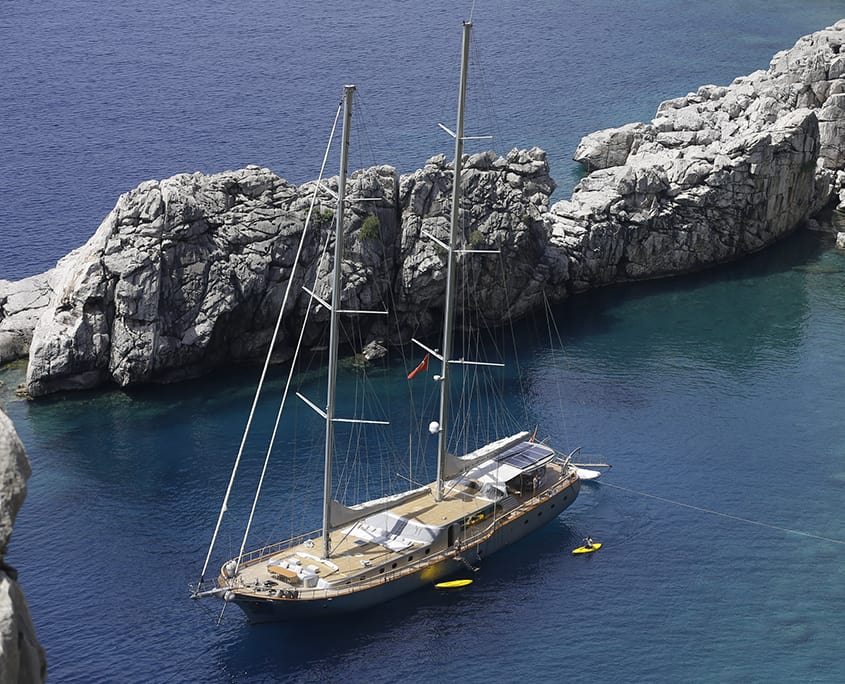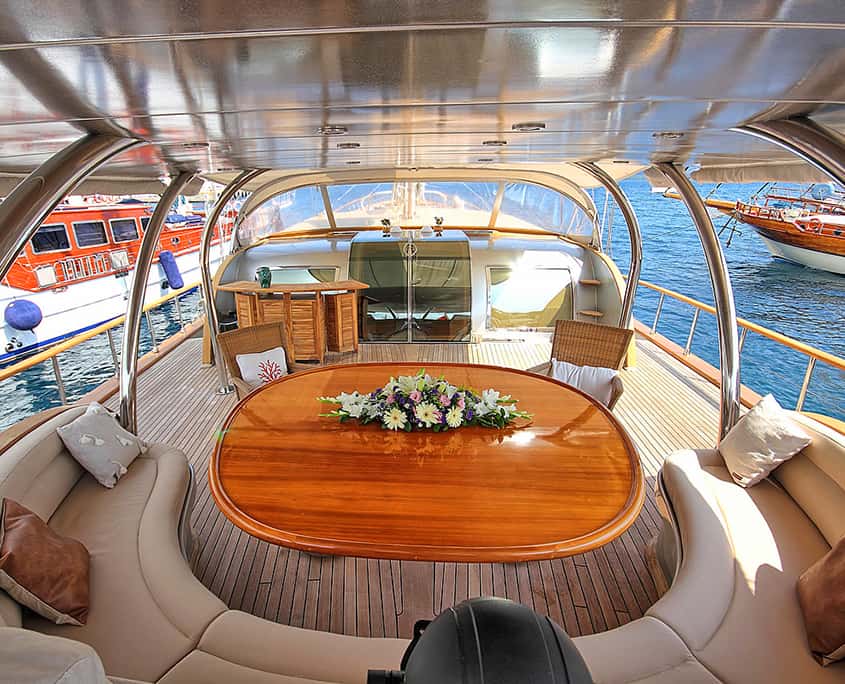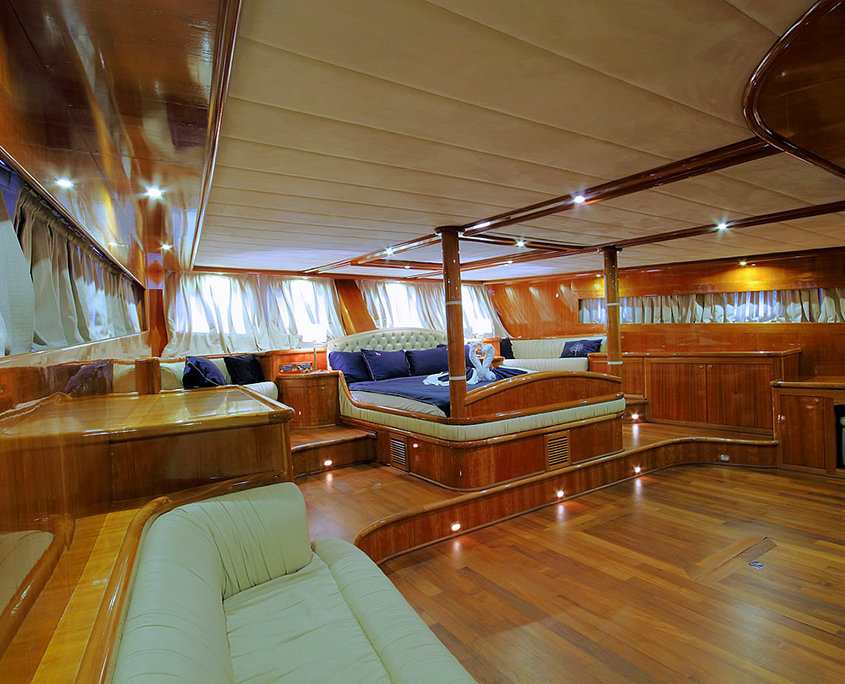 This is a great choice for all sports enthusiasts and those who want to stay active on their cruise. 39-meter of ultra-luxury features will satisfy all your needs for a cruise in style. A professional 6 person crew will provide you with everything you might need and offer high-end service that matches the luxury and design of the yacht.
Also if you need any help with usage of watersports they will gladly help you out. The chef's skills will impress even the toughest critics since when he prepares his delicates inspired by Turkish cuisine and personalized according to your wishes.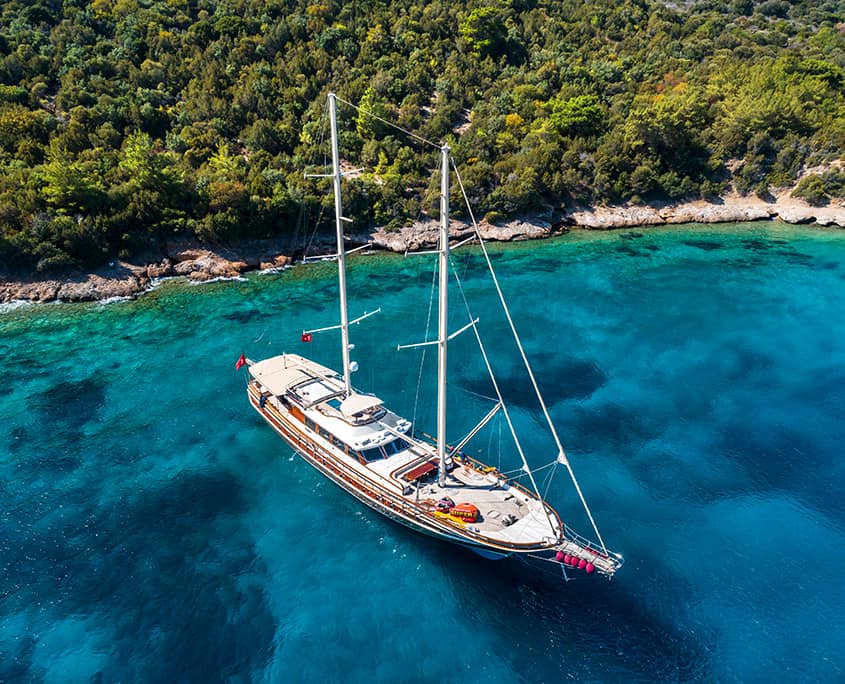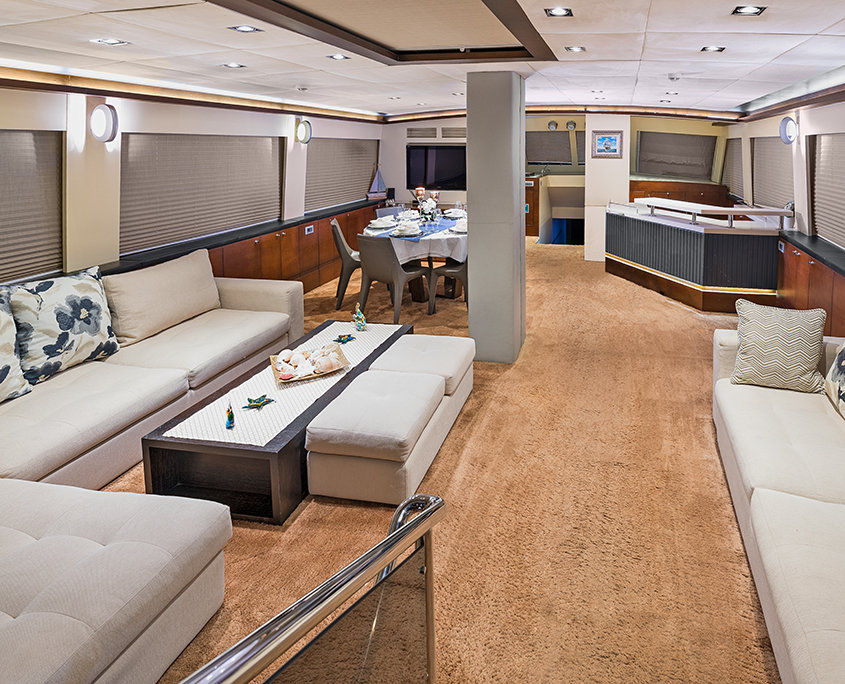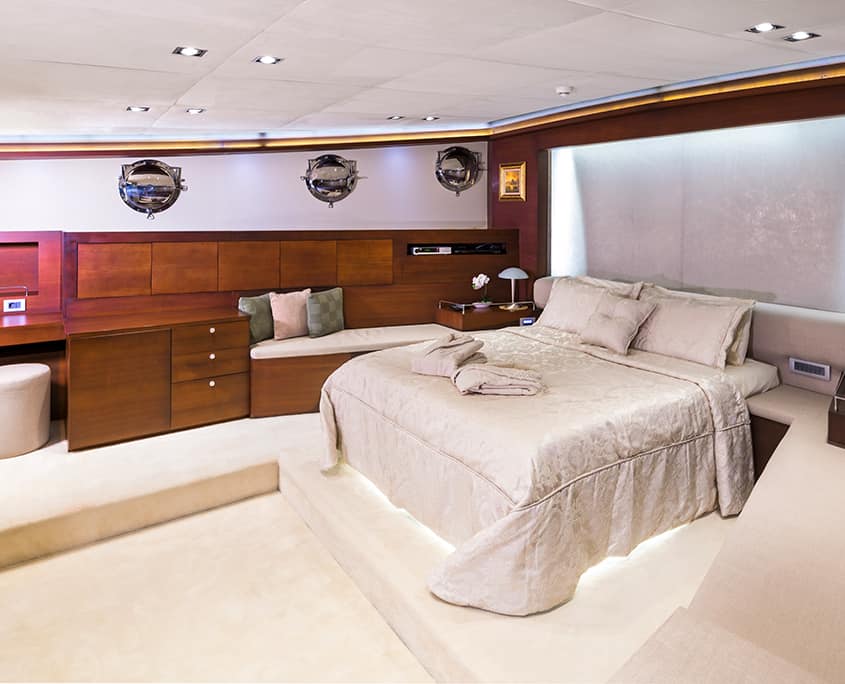 This deluxe yacht is available for private charter and has much to offer to its guests, starting from her impeccable design and excellent service provided by the attentive and experienced crew. This yacht is very popular among many clients who are looking for a relaxing cruise on the Turkish coast. It can accommodate up to 12 guests on board in spacious cabins that could easily compare to 5-star hotel rooms.
On deck, you'll discover spacious lounges, jacuzzi, water toys, jet ski on request and sun cushions where you can enjoy the breeze and the sun while reading your favorite book.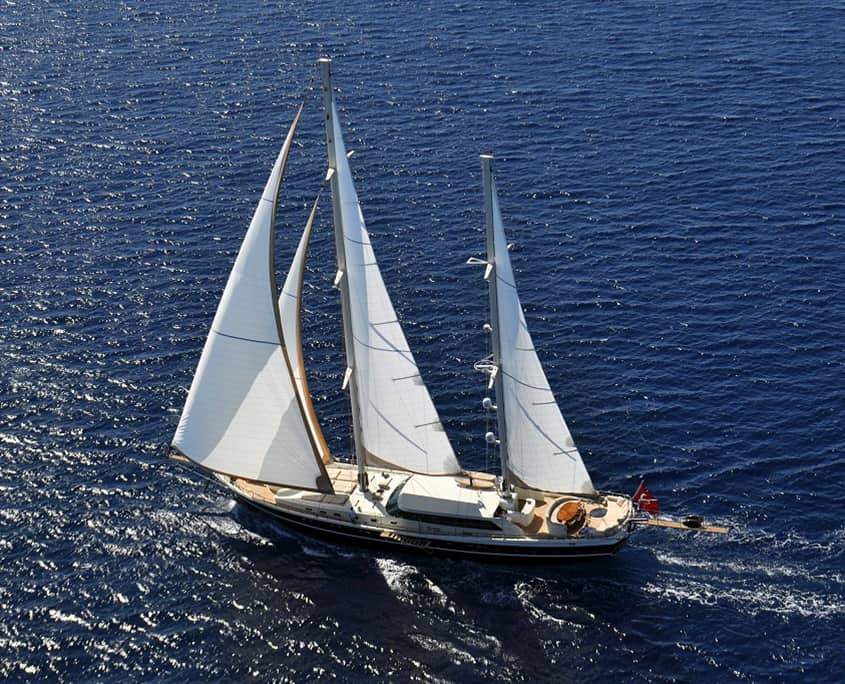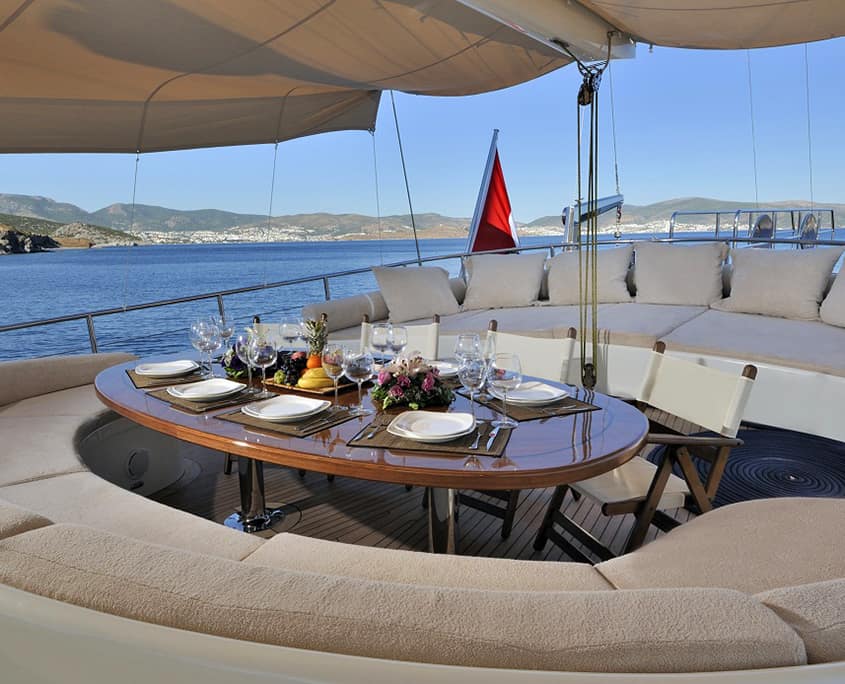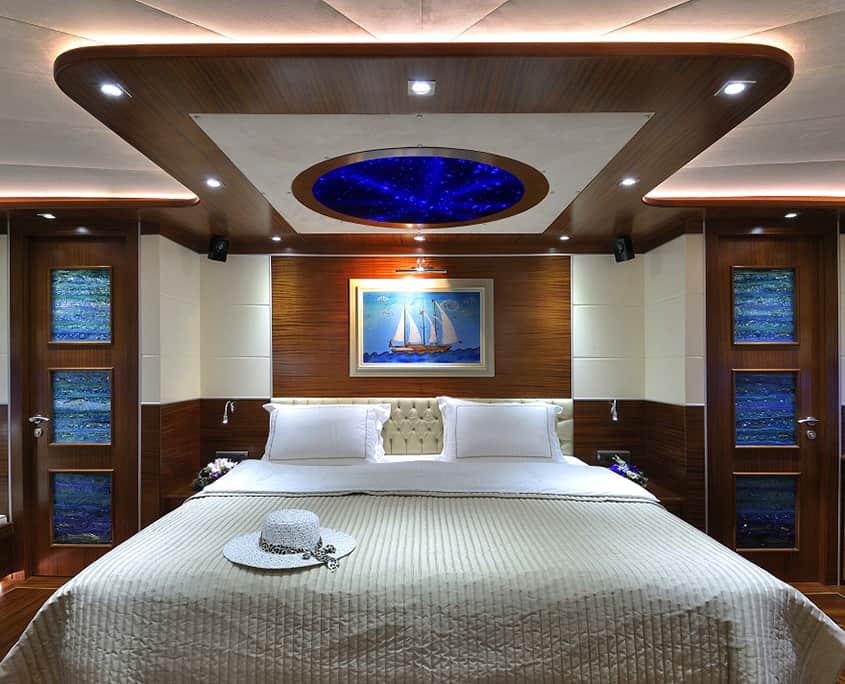 Payment methods: