What you should know before you book?
Turkey gulet charter is one of the most amazing ways to spend your holidays, and all you have to do is just lay back and relax and enjoy the ride. Turkey is the origin country of gulet type boats, and this is where it all started. A gulet a wooden classic yacht is built usually in Bodrum or Marmaris from the southwestern coast of Turkey. Due to high competition and a big market, there are many gulets to choose from. Even though there are 1.000 or even more gulets in the country we selected only the best of the best and created our luxury Turkey fleet we personally would recommend. Since we picked only the best ones it will be much easier for you to gulets to find a perfect option for you and your group sou you can start planning your holidays.
1- Type of gulets: categories (standard, luxury deluxe) style (Bodrum, Marmaris and Fethiye style)
However, not all gulets are the same. Looking on exterior some gulets may look very similar to each other, but the truth is they can be quite different. Generally, there are 3 main categories (Standard, Luxury, and Deluxe) and all of them are coming with a professional experienced crew which will ensure that you have the best experience possible. Better the conditions of a gulet, amenities, and features the higher the price.
The main difference besides the origin of the gulet is also the shape of the boat.
Gulet types of boats characteristically have their back decks in more round shape and their full bodies are quite close to the water, but this is not the rule.
Enjoying a fancy dinner in some luxury restaurant is, of course, a nice thing to do, but that can't compare with having dinner on the gulet. You'll be amazed by food your personal chef will prepare that will not only make your mouth water but also will be pleasing to the eye. While enjoying in the feast you and friends or family company you will get a chance to admire the abundant landscapes and magical sunset on the ship away from civilization.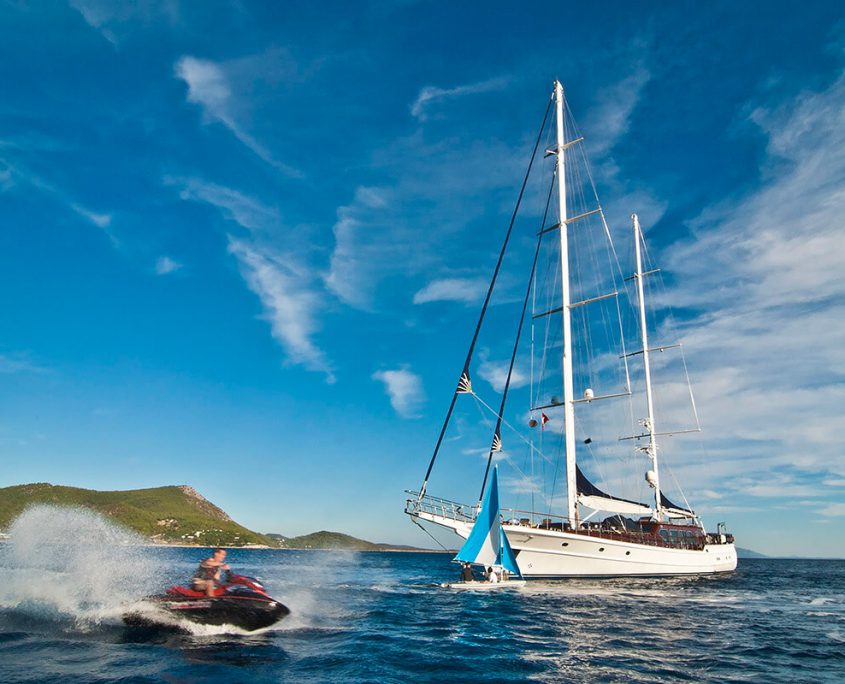 Bodrum boat builders dismissed idea about the round shape and decided to give it a different edge. For that reason, all gulets from Bodrum are easily recognizable. Shipbuilders nowadays are paying more attention to also other details and strive more than ever to make luxurious gulets with great features instead just focusing just on the shape.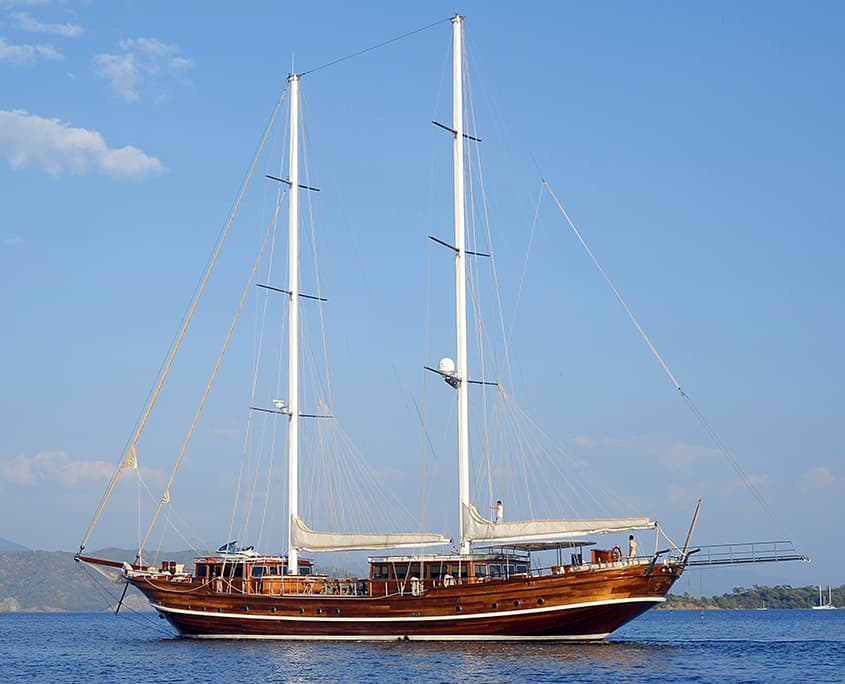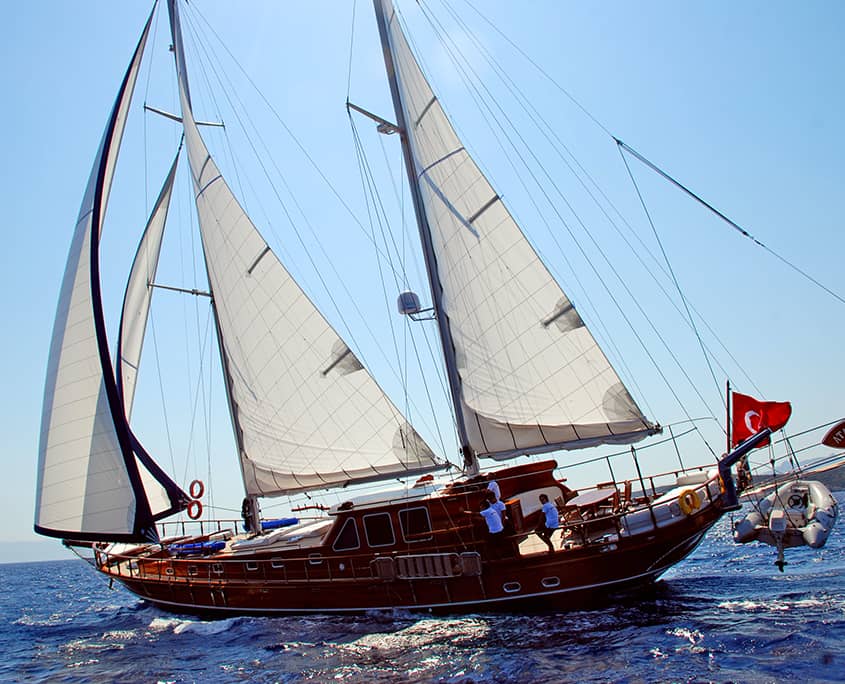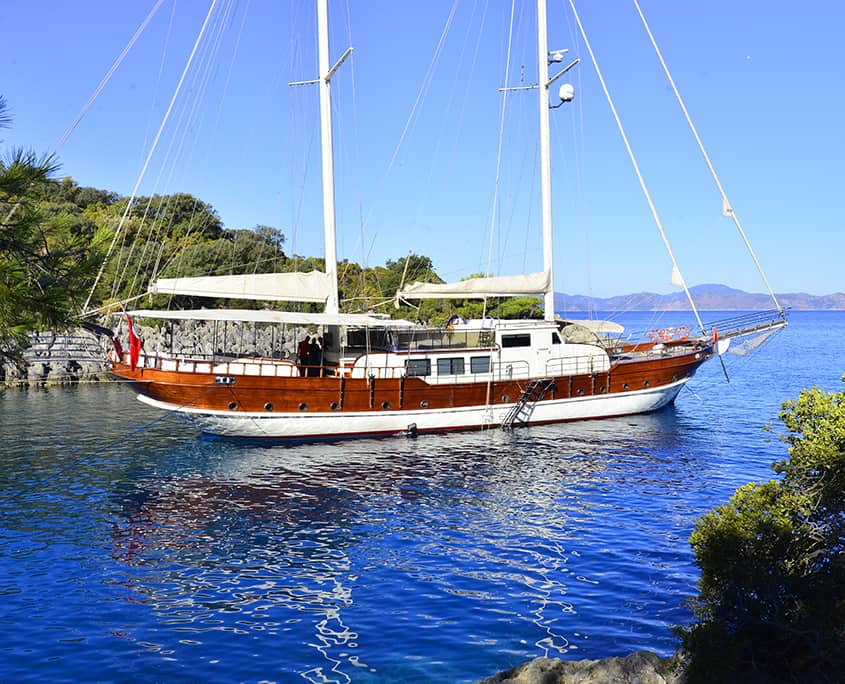 MARMARIS AND FETHIYE GULETS
The other areas Marmaris and Fethiye boat builders realized that they can get more boat space in the interior if they lift the back deck higher. Once they lift the back deck and got more interior space on the exterior it resulted in a sort of like a knife cut shape which is called KETCH type of gulet.
Because of knife-cut shape and lifted up deck; they manage to place up to 2 extra cabins at the back deck. One more gorgeous feature of this design is that cabins have panoramic windows so guests can easily see the water from their cabins and enjoy the view.  
Naturally, this new design affected the boat's height as well so ceilings are a bit higher and the whole gulet is a bit more distanced from the water than regular gulet.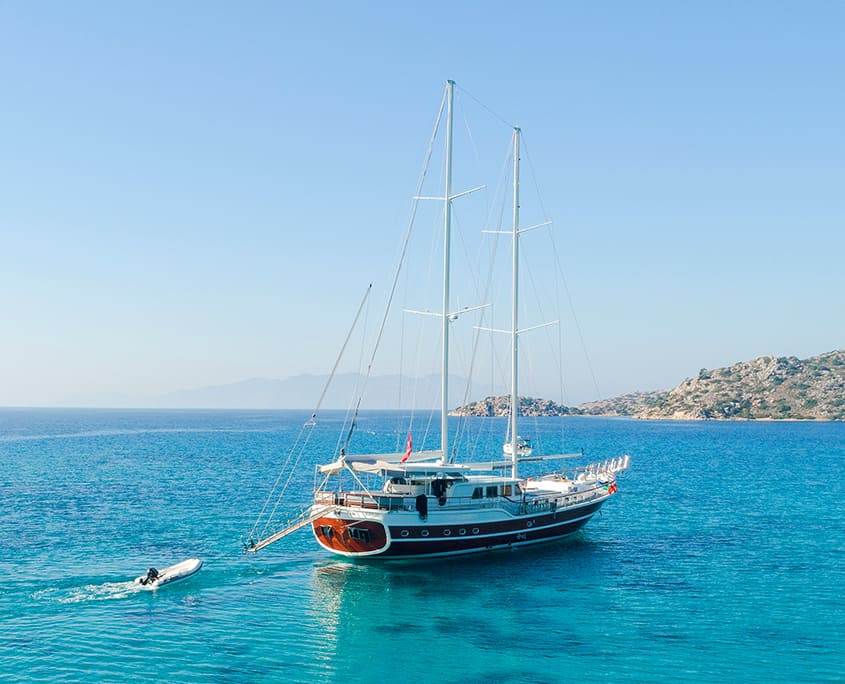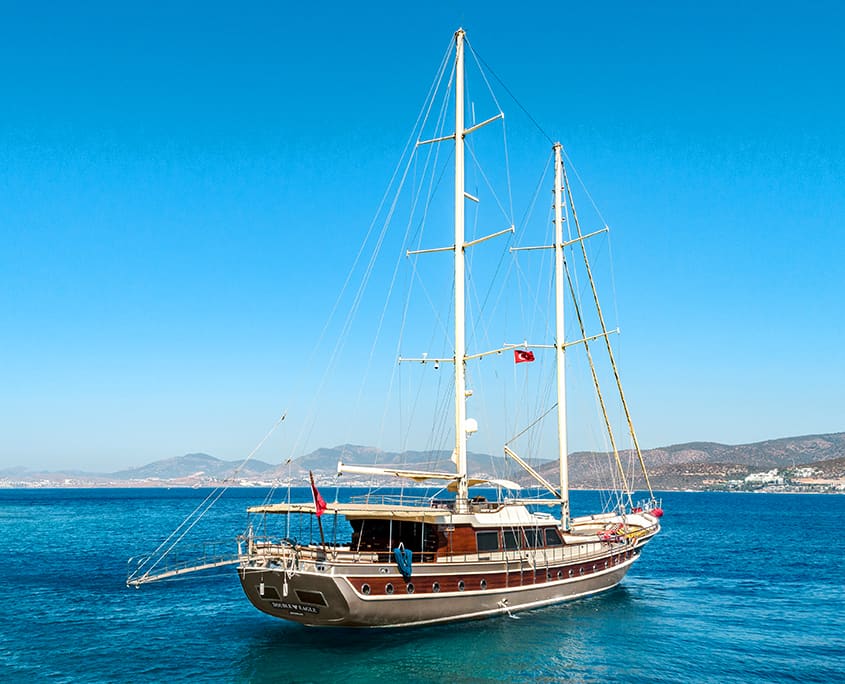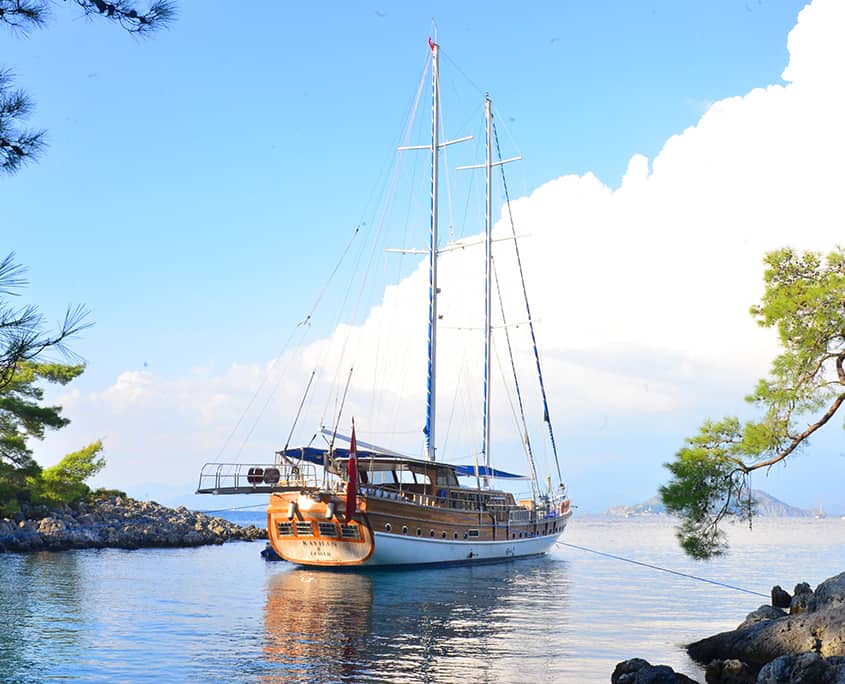 2 – Top luxury gulets to consider
A – Best large gulet
40 meters, 10 cabins, 20 guests, 7 crew members – from 28.000 – 42.000 €/week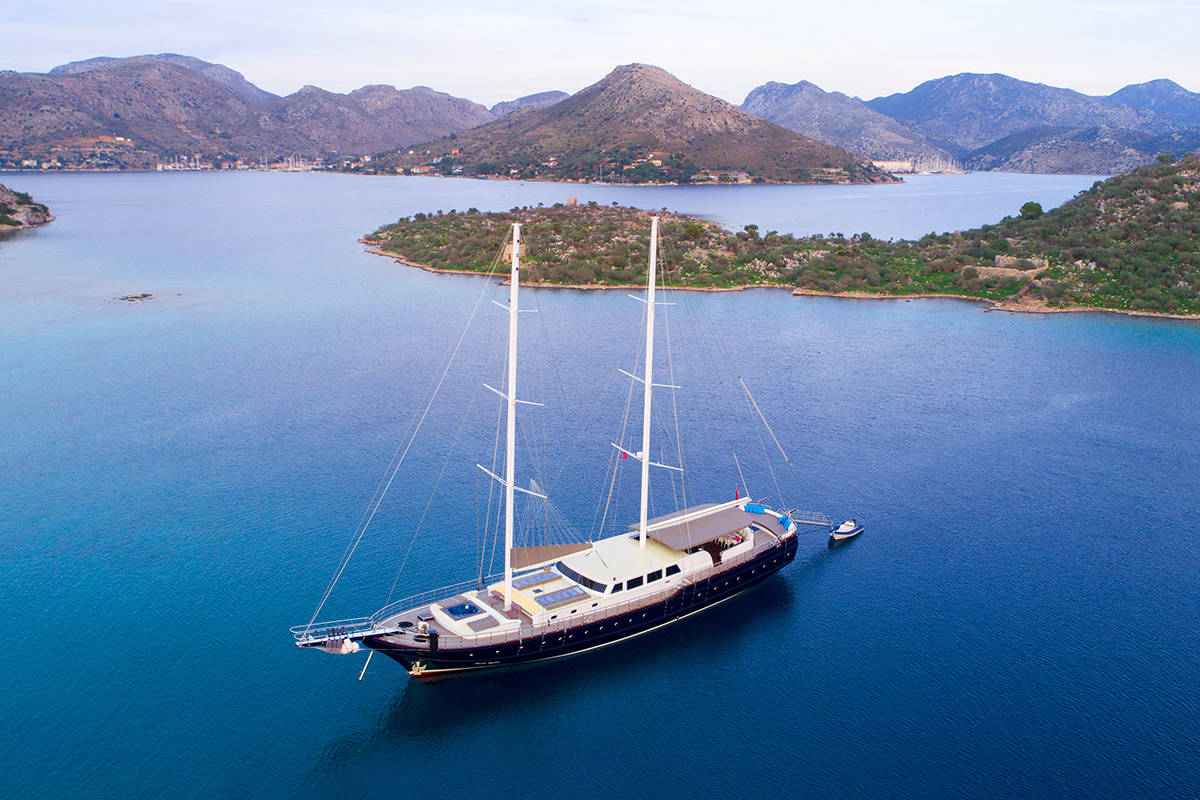 45 meters, 8 cabins, 16 guests, 7 crew members – from 45.500 – 59.500 €/week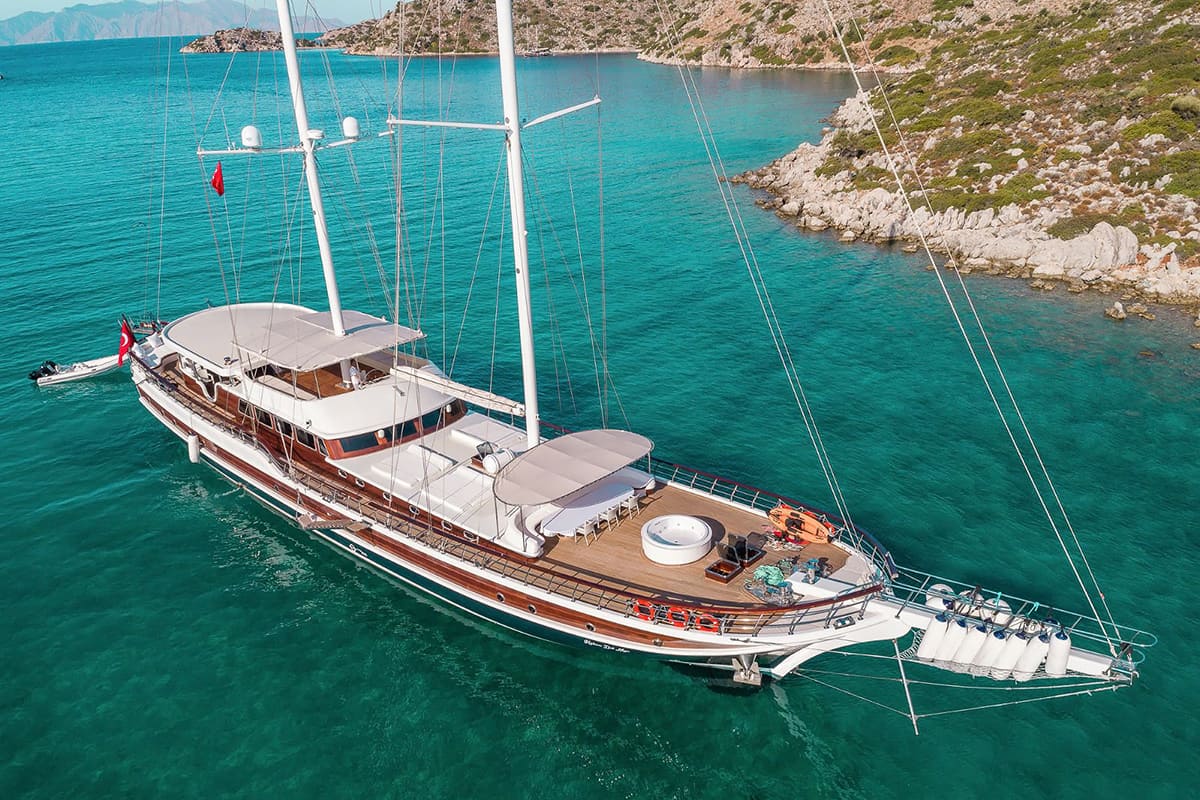 24 meters, 3 cabins, 6 guests, 3 crew members – from 14.875 – 20.580 €/week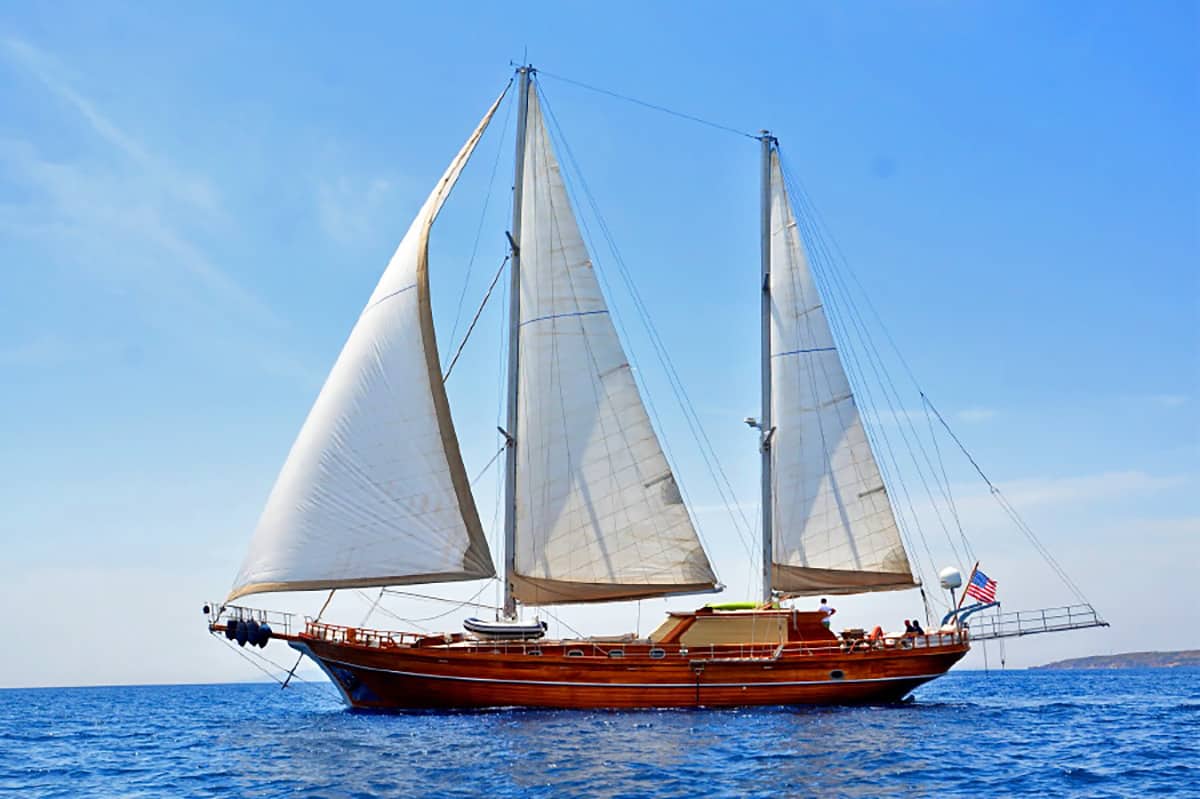 29 meters, 3 cabins, 6 guests, 3 members – from 14.000 – 17.150 €/week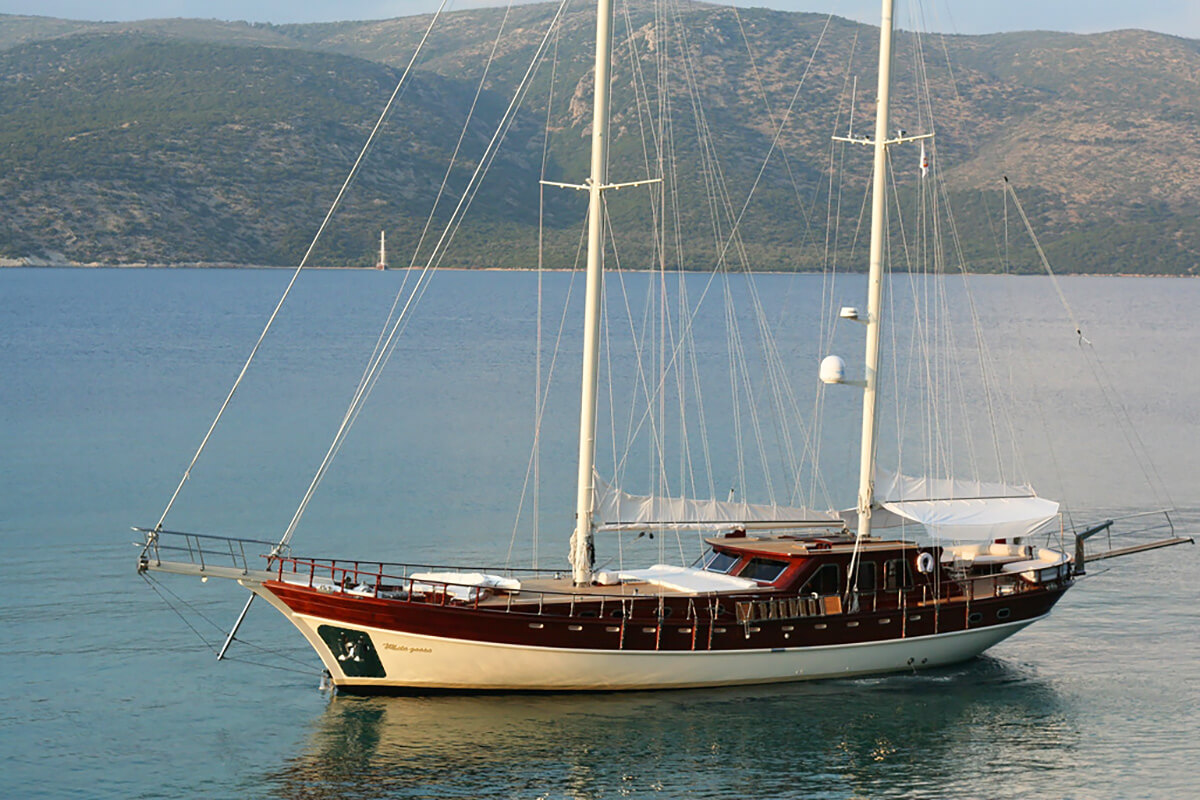 36 meters, 4 cabins, 8 guests, 5 crew members – from 28.500 – 31.250 €/week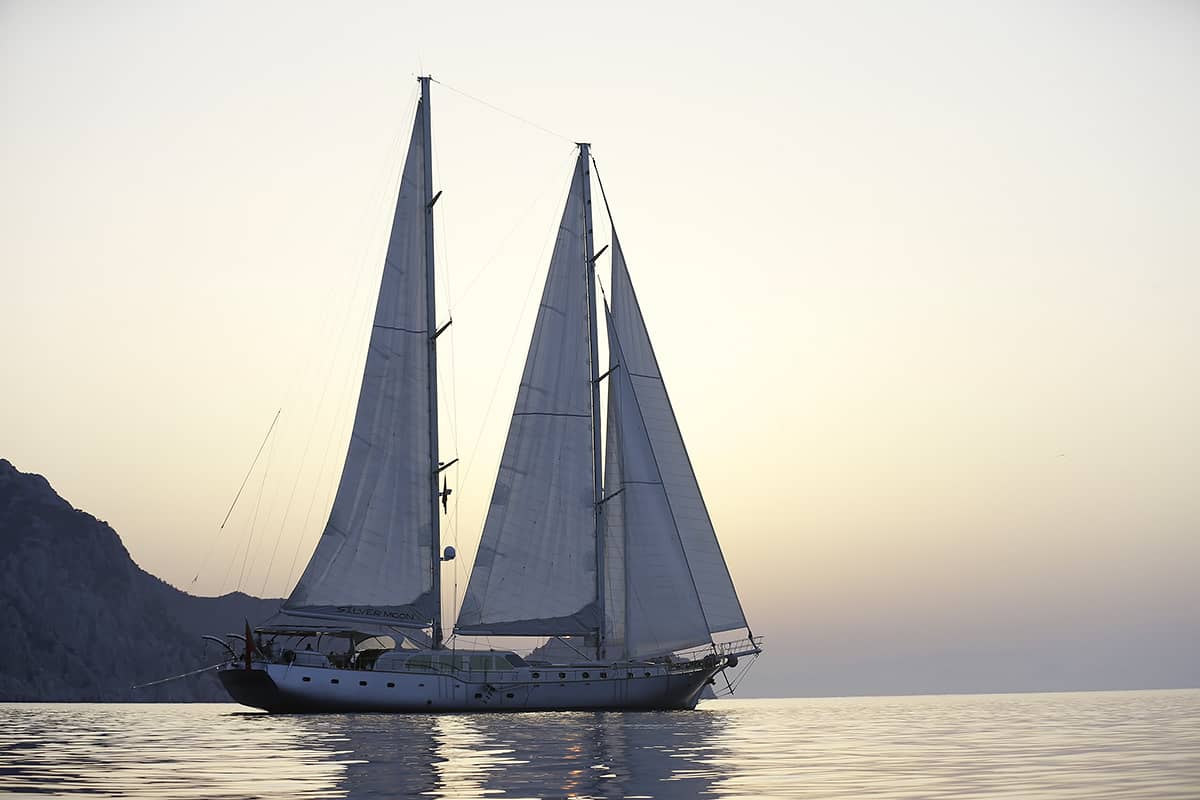 39 meters, 6 cabins, 12 guests, 6 crew members – from 23.765 – 43.365 €/week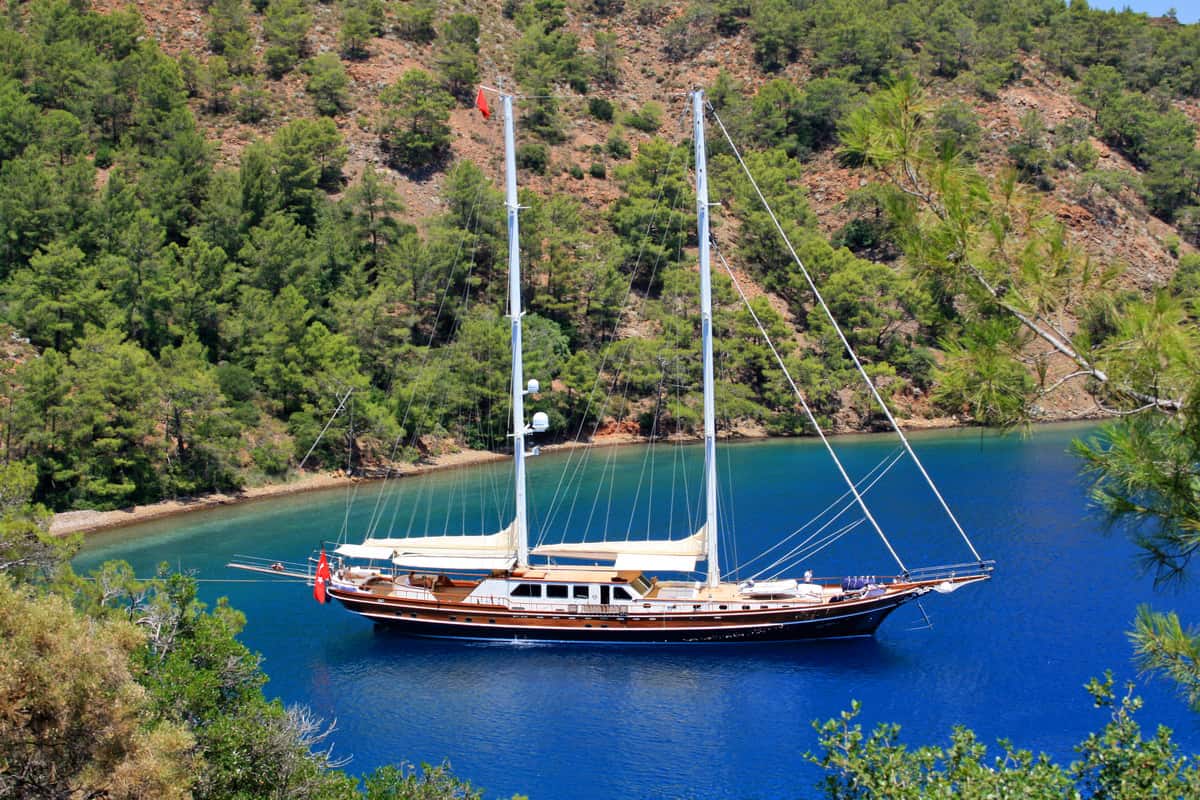 42 meters, 5 cabins, 10 guests, 7 crew members – from 65.000 – 75.000 €/week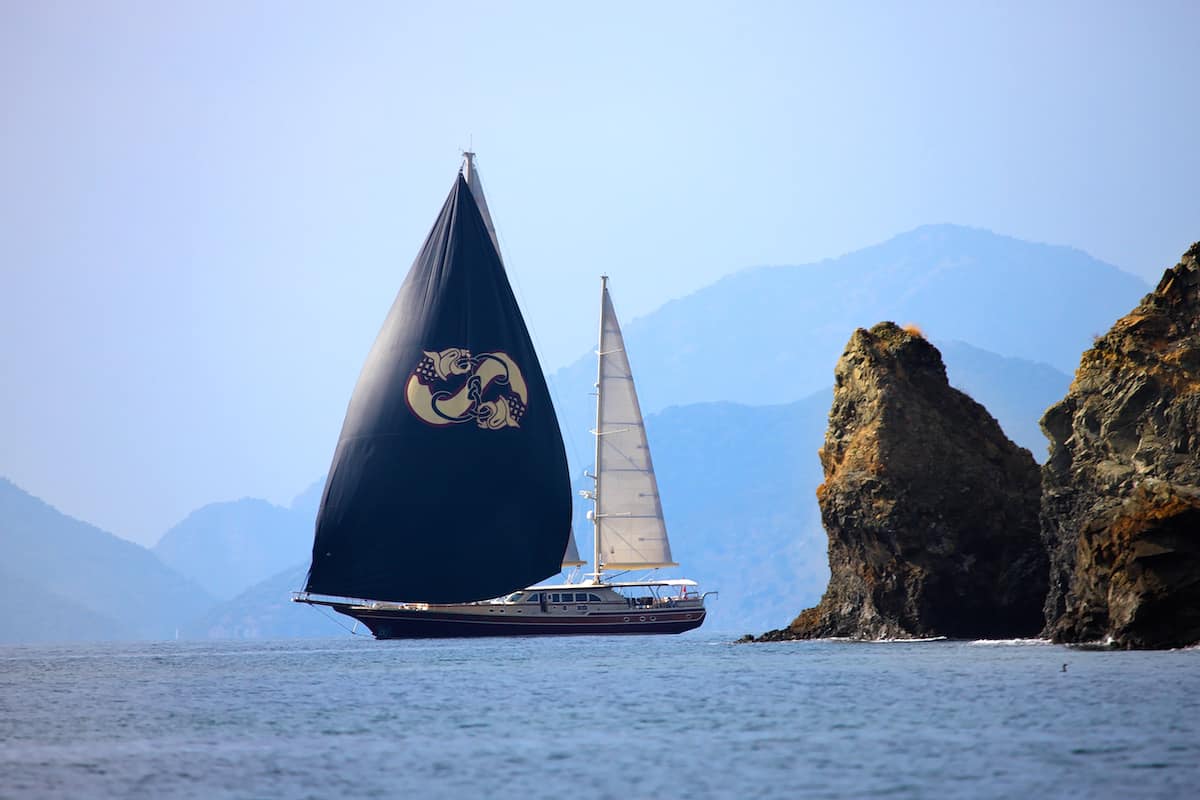 D – The most equipped gulet
3 – Best routes to consider
Enjoy the treasures of the Bozburun peninsula with a touch of Greece.
This route is a perfect choice for those who want to enjoy in all the benefits of the relaxing gulet cruise and explore the nature of Turkish coastline with a touch of ancient Greece. Here you'll enjoy endless opportunities for watersports activities, spending days under the sun on the beach and ultimately relaxing and having truly the best holidays of your life. It's a nice mix of two countries in just one week.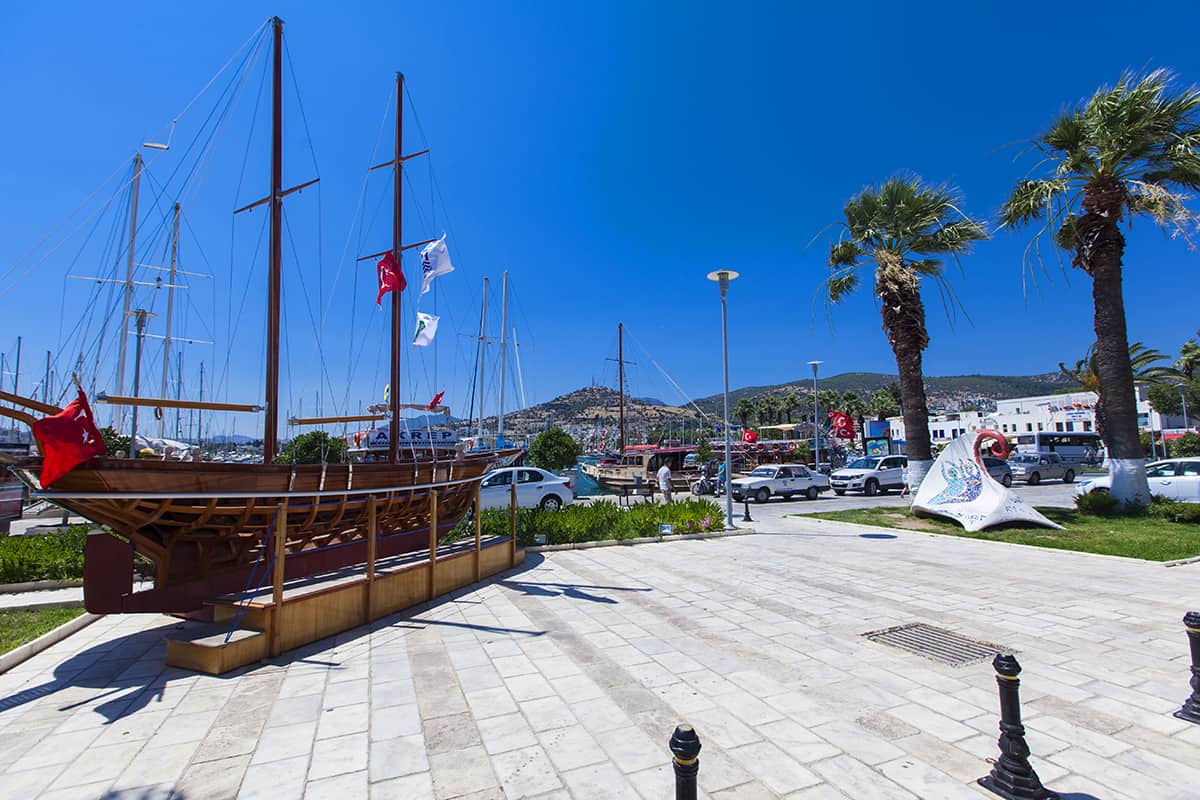 Blue cruise route sample: Bodrum – Gökova gulf – Bodrum
Enjoy in active holidays on the Turkish peninsula.

This amazing route will amaze everyone who wishes to have a balanced mix of active and relaxing summer holidays filled with unforgettable memories, beautiful destinations. nature, cities, and islands. Continuous beauty, delicious food, diverse activities and ultimately relaxing are for great cruise experience!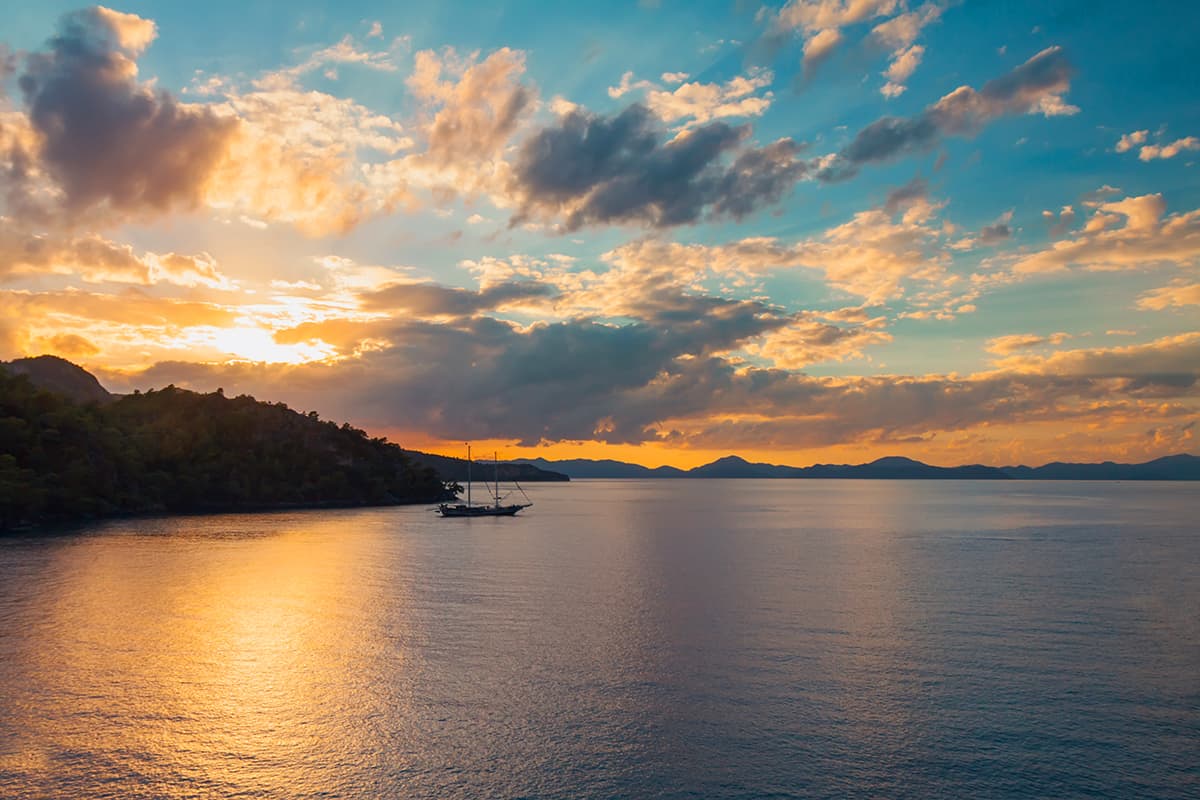 Gocek – Gulf of Fethiye – Gocek
Discover the all the breathtaking beauty of Turkish coastline.
Ideal route for groups who want to explore all the hidden gems of the Turkish coast to the fullest. Visit some of the best beaches, islands, and get away from mass tourism. Enjoy and relax in the stunning secluded picturesque bays, anchor swim in the clearest sea, sunbathe and enjoy in watersports.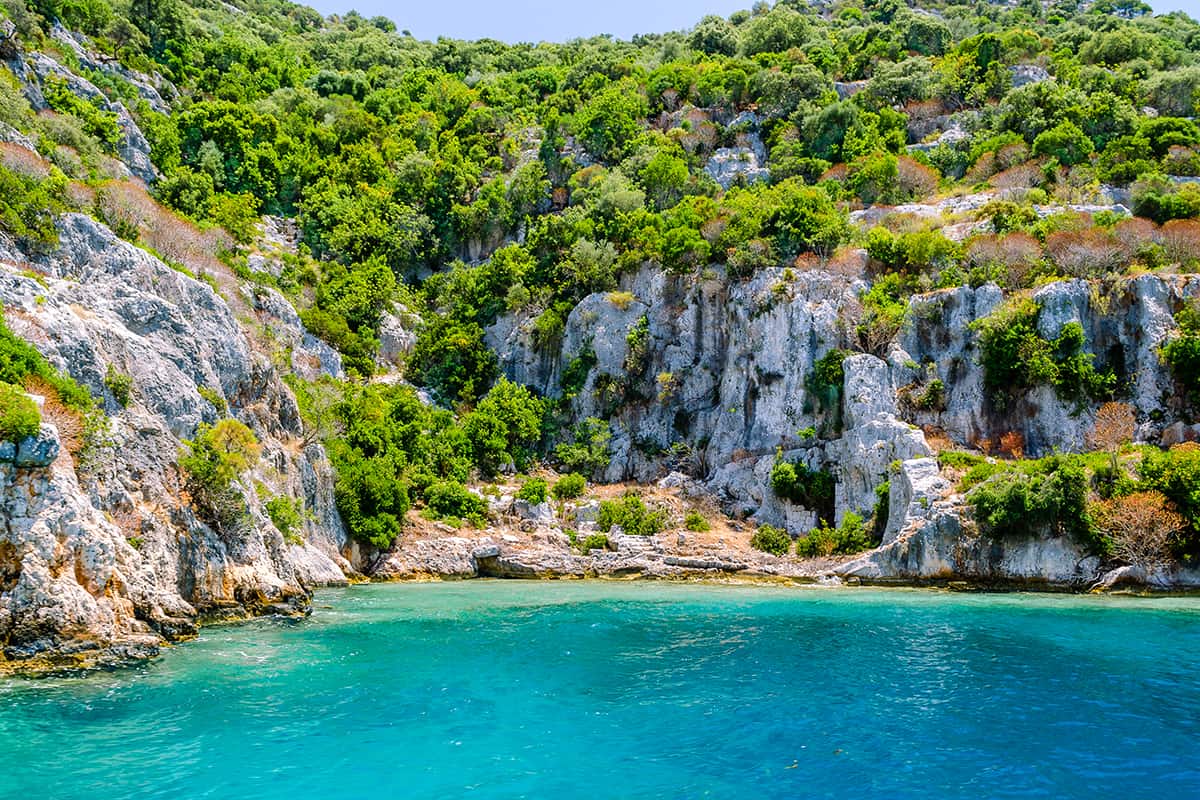 Gulet Charter Route: Gocek – Kekova – Gocek
Perfect holiday getaway away from mass tourism.
If your idea of perfect holidays consist of going on a getaway from mass tourism and large crowds than this route might interest you. With this route, you will get to see some of the most amazing bays and hidden gems that the Turkish coast has to offer. There will be many opportunities to have fun on the sea and on land as well, with watersports, hiking, paragliding, enjoying on beaches etc. 
Payment methods: